Google Inc. (NASDAQ:GOOG), one of the world's largest and most successful internet advertisers, has been absolutely on fire this summer. Boasting gains of over 30% since July, and over 10% in the past 30 days, Google shares have crushed the S&P 500 (NYSEARCA:SPY), and other companies in the space, such as Baidu Inc., (NASDAQ:BIDU) and Yahoo Inc., (NASDAQ:YHOO). To the surprise of some, even the market's sweetheart, Apple Inc. (NASDAQ:AAPL), was no match for Google, despite the excitement of the iPhone 5 launch.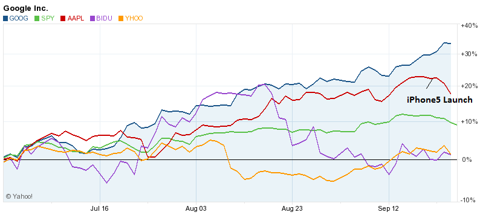 A closer look at Google's recent move from 600 to 750, and the RSI at the top of the range: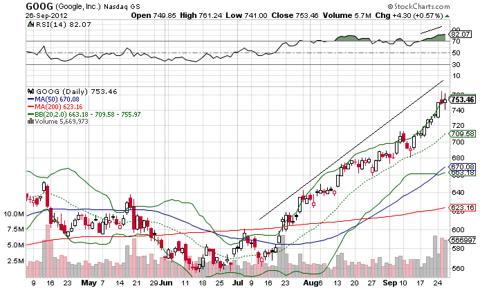 Even after this big run, Google is still a reasonable value by comparison to others in the industry.
Valuation:
| | | | | |
| --- | --- | --- | --- | --- |
| Company: | GOOG | AAPL | BIDU | YHOO |
| P/E Ratio ttm | 22.21x | 15.83x | 28.89x | 17.68x |
| 3 yr Revenue CAGR* | 30.28% | 53.23% | 75.31% | 8.9% |
| 3 yr EPS CAGR* | 21.80% | 66.75% | 97.89% | 21.64% |
| Price/Sales ttm | 5.68x | 4.24x | 13.49x | 3.73x |
*Calculated using the most recent quarter's results, then going back 3 years.
Google has been a great performer over the past several years, as indicated by its revenue/EPS compound annual growth rates. It does seem slightly more expensive than AAPL; perhaps this is due to a slightly broader product mix, and its smaller market cap. Google seems much cheaper than YHOO, despite its clear dominance in the internet space by comparison. Relative to Baidu, "the Google of China," Google seems comparable by these metrics after consideration of Baidu's impressive growth and greater perceived risk.
Overall, there is a clear value in Google's shares at this point, however, there is some reason for caution.
The Future of Mobile Internet Use:
Cisco Systems Inc.'s (NASDAQ:CSCO) Visual Networking Index predicts amazing growth in mobile internet usage in the future. "Overall mobile data traffic is expected to grow to 10.8 exabytes per month by 2016, an 18-fold increase over 2011. Mobile data traffic will grow at a CAGR of 78 percent from 2011 to 2016."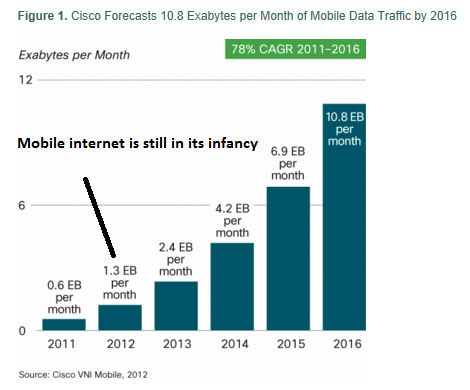 With such huge mobile internet growth projected, Google is in the sweet-spot long term. As network speeds and users grow, so in theory will Google's business. However, in the short term, there are some concerns that perhaps are not being addressed and/or acknowledged by management.
Mobile Concerns:
Google's second quarter revenue, almost all of which came from internet advertising, was quite impressive with 35% growth, totaling $12.21 Billion. However, there was a 16% decline in the average click price (the fee Google charges advertisers when a web surfer clicks an advertisement). On the July Q2 conference call, Patrick Pichette, the Senior Vice President and Chief Financial Officer, said, "Our aggregate cost-per-click "CPC" growth was down 16% year-over-year, and up 1% quarter-over-quarter. And please remember that the currency headwinds also obviously had a quite negative impact on the CPCs in Q2."
Mr. Pichette made no comment about the impact of mobile users on the CPC metric, even though this is a critical growing segment for Google that is certain to have an impact on pricing. In fact, I feel the decline could be less related to currency headwinds and more indicative of an increase in mobile usage, as click prices from mobile devices are lower than that of PCs, according to Marin Software's State of Mobile Search in the U.S. report.
Lower prices from mobile clicks seem logical, since it's probably less likely for consumers to buy a product on their smartphone once they are led to a website from clicking an ad. Marin Software's report also predicts that up to 25% of all paid search clicks on Google will originate from mobile devices by the end of 2012. With this in mind, the fact that Google fails to elaborate on mobile clicks, mobile click growth, and mobile click prices in its quarterly reports is somewhat surprising. My feeling is perhaps it's a sign the company is hiding imminent challenges in this important, growing segment.
Back in April on the Q1 conference call, Pichette again failed to elaborate on a decrease in "CPC" pricing. "Aggregate cost-per-click growth was down 12% and down 6% quarter-over-quarter." He did mention the shift to mobile as one of several factors, but then failed to give any details, "In general, we attribute these trends...(to)...the mobile versus tablet versus desktop shift..." He goes on to say:
Many in the financial community have tried to isolate or often I hear pick one of these among these factors as the primary driver for CPC or click trends. Some even say it's about -- all about mobile. Others suggest that it indicates weakness in demand for Google advertising. Well, on the latter point, I want to be very clear that that's not the case. One important signal we have for advertiser demand is bidding behavior. And in fact, our advertisers' bid continue to be very strong and are growing.
Again, mobile is acknowledged as an issue, but the topic is skipped over and attention is diverted to the overall strength in advertising revenue growth. That was a neat trick.
Here is a look at the recent history of Google's cost-per-click growth:
It seems CPC has been in a significant downturn, however, it has been offset by increased revenues, as indicated in the first table. How could revenue increase while CPC decreases? This is indicating an increase in overall advertising and clicks itself, which has offset the declining cost per click metric, which is a positive sign of robust growth of Google and its strong position in the industry. Still though, we can see a trending pattern of worsening CPC, perhaps correlating to the growth of mobile devices this year.
Another possible problem that coincides with mobile web use is the screens of portable devices are much smaller than that of desktops and laptops. Think about it, most PCs have screens from 16" up to 22" or even bigger. Tablets are generally in the area of 7", and smartphones are even smaller. For example, the iPhone 5's screen is 4", up from 3.5" in the 4s. Think of it like ad real estate: The smaller the advertising space, the less ads can be displayed. They are also smaller and less intricate. With tablets and smartphones sales cannibalizing that of the PC, it will be interesting to see how Google can adapt to these challenges going forward.
I believe that translating mobile usage into accretive revenue is still proving to be a challenge for this company, since the topic is so blatantly avoided during conference calls, and the obvious decline in CPC as mobile use grows. But Google is not alone, as similar issues have been experienced by Facebook Inc. (NASDAQ:FB). Perhaps the entire industry is trying to adapt to the huge growth in mobile usage at this point.
Summary:
Google's valuation metrics seem reasonable, and long term this tech titan seems like a solid investment. However, I would exercise caution going into earnings next month, especially considering the tremendous move the stock has had since July. If lower pricing from mobile's cannibalizing of PCs catches up with Google's overall volume growth, shares may be too stressed to appreciate at the rate we have seen. In other words, will the increased use of the internet, enabled by mobile devices, continue to outweigh lower click prices and reduced ad space it causes? We will just have to wait till the next earnings announcement, scheduled for October 10th, to find out.
Some things to look for: 1) If CPC pricing will continue its downward trend. 2) If Pichette will have more to say about the growing use of mobile devices and its direct effect on CPC pricing, and other aspects of advertising pricing. Hopefully he will use less diversionary tactics, and instead bring this important discussion out in the open for investors to hear. Mobile internet is the future, and it is already growing at a rapid pace. It's time for Pichette to be honest about any challenges, if any, this trend is causing advertising prices.
Disclosure: I am long AAPL. I wrote this article myself, and it expresses my own opinions. I am not receiving compensation for it (other than from Seeking Alpha). I have no business relationship with any company whose stock is mentioned in this article.
Additional disclosure: I also have long/short positions on stocks in the S&P 500 index (SPY)