The Federal Reserve's Open Market Committee held a key interest rate steady on Tuesday in an effort to supposedly nurse the economy back to health. This is apparently to be done without further exacerbating inflation.
The decision by the U.S. central bank leaves the benchmark federal funds rate target at a low 2 percent, where it has been since April.
The Fed had reduced rates by a total of 3.25 percentage points since mid-September in response to serious housing correction, mortgage crisis and the turmoil in the credit markets in general.
If you believe that an accommodating monetary policy, low interest rates, government (at tax-payer's expense) bailouts of brokerage firms like Bear Stearns (BSC) and publicly-traded companies like Fannie Mae (NYSE:FNM) and Freddie Mac (NYSE:FRE), and other economic stimulus efforts are not inflationary, I have a wonderful bridge near my home that I want to sell you.
Tuesday's Fed decision also signals to me that they are not concerned about supporting the US dollar or from preventing its ongoing devaluation.
Right now the markets are buying into the idea that energy prices are going down, the cost-of-living is either stabilizing or falling, and that the Fed will buy their way out of the worst credit and monetary crisis in modern times.
I for one don't buy it, and I speak as a pragmatist and not as a bear. Take a look at chart below. Do you sense a healthy correction going on?

click to enlarge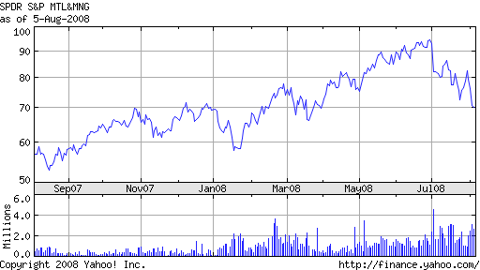 It's a good thing there are ways to hedge against the current round of "irrational exuberance".
Have you checked out the ProShares Short S&P 500 ETF (AMEX:SH) which seeks daily investment results, before fees and expenses, which correspond to the inverse of the daily performance of the S&P 500 index?
When calmer, clearer heads prevail in the next few months, I sense investors will be looking at inflation with both eyes open. This might lead to some nice rebounds for funds that own traditional inflation hedges like the Gold ETF (NYSE:GLD) and the Silver ETF (AMEX:SLV).
Right now the gold and silver producing companies like Barrick (NYSE:ABX), Godcorp (NYSE:GG) Silver Wheaton (NYSE:SLW), Pan American Silver (Nasdaq:PAAS), Hecla (NYSE:HL), Agnico-Eagle (NYSE:AEM) and Kinross (NYSE:KGC) are being treated like they have leprosy.
Experienced investors know that this kind of negative sentiment can turn on a dime and these very companies will once again have their day in the sun.
Energy stocks will likely begin to rally again at some point. On Thursday I'll be interviewing the CIO of a new energy alternatives fund and he promises to share the names of some of the stocks that he thinks will benefit from the high price of energy as well as the Pickens Plan which has received lots of publicity of late.
So keep reading this section and we will keep telling you what the best minds in the investment world are saying about how the Fed's decisions and policies are most likely to impact different sectors of the economy and the stock market in particular.
We will also share with you the names of companies whose stocks look particularly attractive to them. Who knows, they might even tell us why!
Disclosure: Long GLD, SLV, ABX, GG, SLW, PAAS, KGC, AEM and HL.