by Eric Roseman
The Dow Jones Utility Average [DJUA] is widely regarded as one of the most sensitive interest rate barometers in the market. And this summer, the DJUA continues to break down. On Friday, the index hit a fresh 52-week low and now sits 15% below its best level since August 2007.

The utilities index enjoyed a big advance off the 2002 bear market low - the DJUA is powered mostly by electric and gas companies so it's profited from the run-up in utilities over the last five years. Electricity rates have surged over the last several years and boosted revenues for once staid utilities. But this bull market is looking increasingly frail and now just 5% from bear market territory.

The DJUA index currently trades at 15 times earnings and yields 3.9% annually. Both figures aren't exactly attractive, especially compared to the bombed-out financials.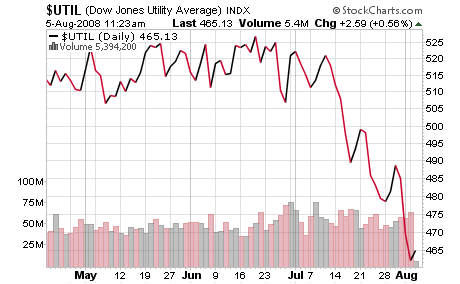 The decline of the DJUA index might have more to do with looming interest rate hikes than rising electricity bills for consumers.

Historically, this index has been highly sensitive to changes in monetary policy. In fact, long before the Fed starts hiking rates, the DJUA typically begins a long correction process in anticipation of higher interest rates. But the technical picture for this index now looks pretty bearish, as you can see on the chart above.

Looks like the market expects higher rates...but will they get them? Doubtful.
Disclosure: none