This last week, oil stocks have been sharply down, as profit takers cash in from a strong run up since June. Most everyone seems to be taking a breath and watching for clues to the future. It is a fractured market, with high crude prices from the North Sea and Africa while most U.S. production fields are at a discount. But this is an election year, which tends to head higher in October to the new year. What does this hold in store for big oil companies for the remainder of the year?
I looked at several big issues, including: BP (NYSE:BP), Chevron Corporation (NYSE:CVX), Conoco Phillips (NYSE:COP), Exxon Mobil Corporation (NYSE:XOM) and Occidental Petroleum Corporation (NYSE:OXY). All of them have histories of paying excellent dividends. Here is their recent price performance: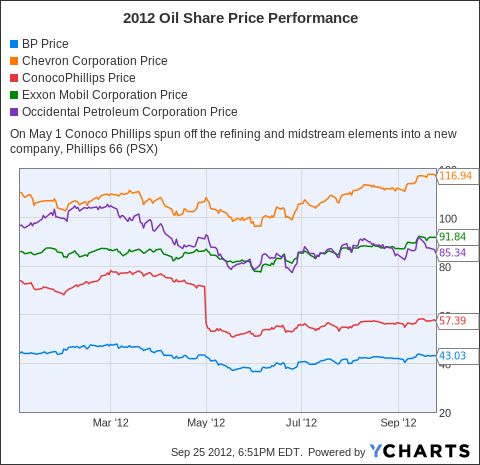 Last week I wrote this article on the behavior of the stock market during presidential election years. It is worthwhile looking at the entire article. In short, an extremely predictable pattern goes as follows:
A strong rally that starts around the end of June start of July - CHECK!
A correction off up to 30% of the previous gains beginning around the middle of September and goes into the first 1-2 weeks of October - Seems that is where we are now as stocks have been sharply down over the last week - Check so far
About mid-October another sharp rally hits, makes up all of the losses of the correction and more. It lasts into early December - Not there yet.
A short correction around the first week of December before a final upward push to end the election year. - We can hope.
So as the current selloff plays out, investors can be identifying which company issues might be setting up some excellent buying opportunities. Then we can pounce when the correction peters out. With the year end, and the possibility of raising dividends and the possibility of stock buybacks, this can be a good time to strengthen positions.
While looking at the company basics, I wanted to pay particular attention on current ratio and P/E Ratio. Current Ratio is an excellent indicator of a company's financial strength. A ratio above 1 is what you want; the higher the better. Meanwhile P/E ratios are a good indicator of their relative valuation versus their earnings and an indicator of how they are priced against their peers. International oil stocks have been trending around a P/E of about 11.
BP
BP is the biggest hydrocarbon producer and boasts the second lowest production cost of supermajor energy companies. It has a recent closing price of $43.04, which places it towards the upper range of its $33.62-$48.34 52-week trading range. It pays a $0.48 quarterly dividend for a juicy yield of 4.46% supported by a reasonable payout ratio of 29.7%.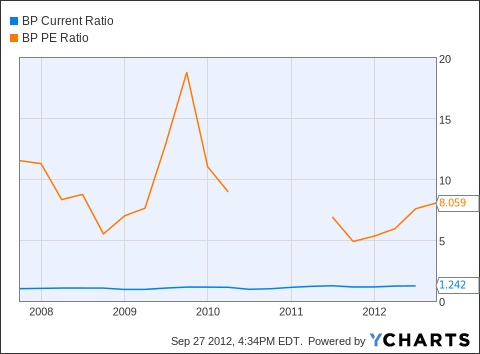 BP Current Ratio data by YCharts
It has been swamped since 2010 with the infamous Gulf of Mexico oil spill, resulting in massive liabilities from the disaster. BP continues to get hit by negative publicity, including a recent announcement that the company will need to sharply increase investment in its oil fields in Azerbaijan due to falling production rates. Earlier this month, the U.S. government also indicated BP may have to pay $17 billion more in fines for the gulf oil spill than the company budgeted for.
BP also temporarily suspended their dividend shortly after the Gulf of Mexico spill, although they have since restarted paying.
Although BP has a high level of debt and liabilities, SA author Jeff Williams makes a compelling analysis that BPs financial situation is solid and is well set to handle any such future investment. That is backed up by the 1.2 current ratio.
While BP is still probably 18-24 months from really getting the past behind it, the P/E of 8, coupled with a strong cash flow and a solid yield makes it a good investment looking towards the end of the year.
Chevron
Chevron has a recent price of $117.20, which is just off its 52-week high end of $86.68-$118.53. The dividend of $0.90 per quarter gives a 3.08% yield. The payout ratio is 24.5%.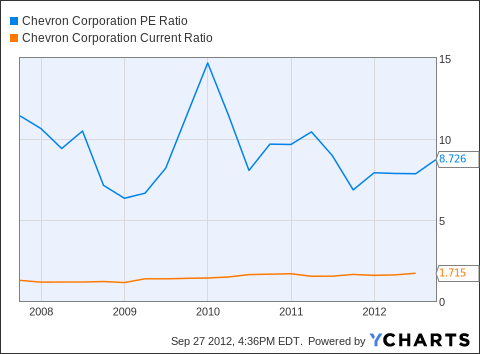 CVX PE Ratio data by YCharts
Chevron's stock took a big hit after reporting an earnings drop in Q2 2012 due to several one time events. The stock has been firing higher. It has exceptional economics and gets the most earnings per barrel of any of its peers by over $7/barrel. Meanwhile, the 1.7 current ratio gives it a rock solid balance sheet, while the P/E ratio is a very reasonable 8.7.
It does have two worries in lingering legal problems due to disputed liabilities caused by separate oil leakages in Ecuador and Brazil. However Chevron is another cash flow machine, with fewer risks than BP. I expect the company to raise the dividend sometime in the next 6 months.
ConocoPhillips
This international energy producer has a recent closing price of $57.39. The 52-week trading range of $50.62-$78.29 is deceptive, since it fails to take into account changes to the company's share structure. It pays a quarterly $0.66 dividend for a 4.60% yield. The payout ratio is a safe but relatively high 49.7% and the P/E ratio is 6.7.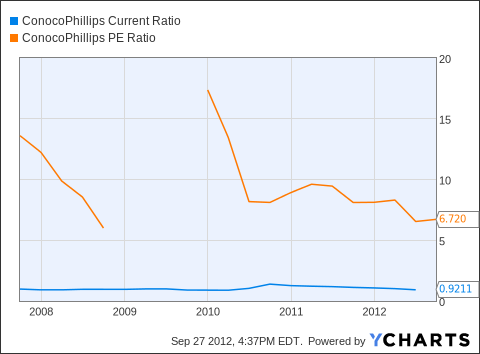 COP Current Ratio data by YCharts
Conoco's numbers do not look as strong as the others in this group, but a lot of this is a legacy ofits May 2012 divestiture of its midstream and chemical units into the new Phillips 66 (NYSE:PSX). I have long positions with both Conoco and Phillips, and believe they are both excellent long term investments.
Why Conoco is on this list: while Phillips shares have roared upward, Conoco has lagged. I believe that in the long term Conoco will be the better investment of the two. In the meantime the dirt cheap P/E, high dividend, allied to an incredible cash flow engine, makes up for the worrisome .9 current ratio and higher payout ratio.
Exxon Mobil
Exxon has a recent price at $91.80 and offers a 2.50% yield off a quarterly dividend of $0.57. The 52-week trading range goes from $69.21 to $92.57 an has a PE ratio of 9.6. That payout ratio is a low 20.9%.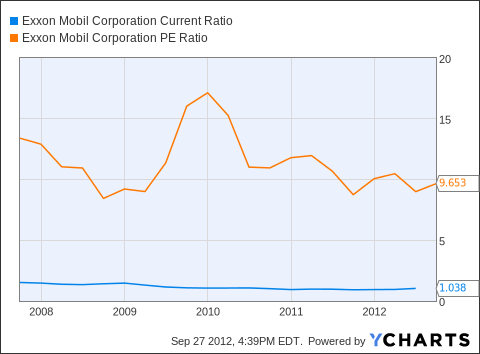 XOM Current Ratio data by YCharts
The company is probably the most aggressive of this group in trying to expand its holdings into cheaper sources of oil, including the Bakken oil shale deposits in North Dakota and Canada. The P/E is an okay 9 while the current ratio is the lowest of the group except Conoco. I do expect these shares to rise more by the end of the year, but I think it has less upside short term until it raises its dividend, which I give it a 50/50 chance of doing this last quarter.
Occidental
Our final company, Occidental, has a recent share price of $86.26 on a 52-week trading range of $66.36-$106.68. The dividend of $0.54 each quarter gives an anemic 2.54%, although it has a very conservative 25.8% payout ratio. The P/E Ratio is the highest of this screen at just over 11.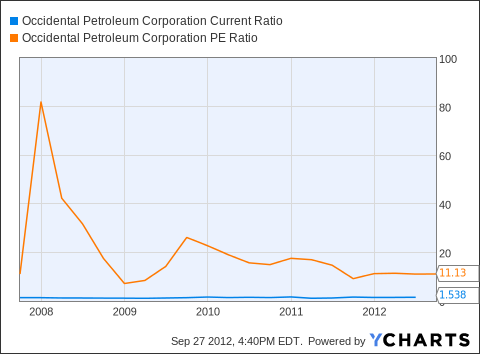 OXY Current Ratio data by YCharts
SA Contributor Valuentum recently wrote a provocative article on the likelihood that Occidental will be raising their dividends in the near future. It has a strong balance sheet with better than a 1.5 current ratio. But with its current higher valuation and lower dividend I would want to see Occidental go town to below $80 before I would want to open a position.
Disclosure: I am long COP, PSX. I wrote this article myself, and it expresses my own opinions. I am not receiving compensation for it (other than from Seeking Alpha). I have no business relationship with any company whose stock is mentioned in this article.