Most stock market indices declined again in July.  The S&P 500 Index had negative returns of 0.8% for the month. (So far, August is down also.)  Last month marked the seventh down month in the last nine.  The current correction hit its lowest point on July 14, 2008, with the S&P 500 Index closing 22.3% below its October 9, 2007 peak.
The dismal performance of the last ten months has helped to pull down long-term returns as well.  The 10-year annualized total returns for the S&P 500 for the period ending July 31, 2008 is 2.9% – significantly below the 10% historical average (80 years) that is often used as a benchmark for long-term equity performance.  It's ugly enough to make some people question the soundness of equity investing. 
However, low returns for trailing 10-year periods have actually been a bullish indicator for future long-term periods.  (To make the analysis simple, I'll use 10-year periods ending on December 31 as my sample.)  Since 1940 there have been six 10-year periods that produced annualized total returns below 5%.  The following 10-year periods averaged 15.2%.  At this rate money quadruples in 10 years.  Each of these six 10-year periods had annualized returns in excess of 12.7%.
click to enlarge images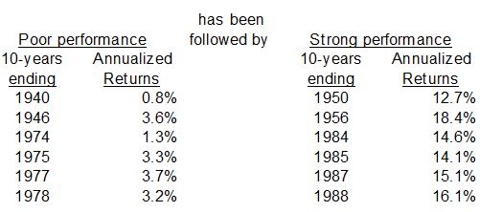 The conclusion is that poor performing long-term periods have been followed by strong performing long-term periods.  (This pattern is sometimes referred to as a reversion to the mean.  This reflects the tendency for statistical observations to return to their long-term averages.)  It is fairly easily observed in the following chart.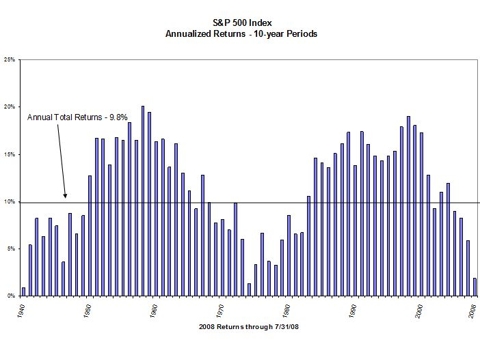 This phenomenon holds up for one-year periods too.  For example, in 15 of the years since 1940, the S&P 500 has had negative total returns.  In the one-year periods following these down years, the market has had average annual returns of 15.6%.
It might be considered naive to be optimistic simply because the past has shown a pattern in which periods with strong performance followed periods with poor performance.  However, this trend actually portrays the strength of our economic and market systems – both have many self-correcting mechanisms at work. 
When gasoline prices rise too high, consumers begin to take mass transit, purchase more fuel-efficient vehicles, or move closer to work. These actions will eventually moderate the cost of energy.  When our economy is relatively weak the U.S. dollar falls in value.  While a weak dollar has negative implications, one positive aspect is that U.S. exports become more competitive, helping to strengthen the economy. 
When assets become overvalued, such as with the technology and housing bubbles, there is a correcting force in the market place.  The reverse holds true when assets become significantly undervalued, eventually investment capital will move to these areas. 
It is important to keep in mind that recessions are generally short in duration.  Since 1980, there have been four recessions which have averaged 9.5 months in length.  Over this time span, the U.S. economy had been in a recession 12% of the time and in an expansion phase 88% of the time.  Typically stocks begin their recovery before the end of the recession, as the market usually anticipates a recovery before there are visible signs of improvement.
So while it is difficult to find positive things to say about the current economic situation, and it is even more difficult to predict when the economy and equity markets will begin to show real improvement, it is possible to observe that similar past occasions have produced very attractive returns over long-term investment periods.
Disclaimer: The author is the president of Vista Investment Management, LLC, a Registered Investment Advisory firm. Under no circumstances does this article represent a recommendation to buy or sell stocks. This article is intended to provide information and analysis regarding investments and is not a solicitation of any kind. References to historical market data is intended for informational purposes, past performance cannot be considered a guarantee of future performance.   Neither the author nor Vista Investment Management, LLC has undertaken any responsibility to update any portion of this article in response to events which may transpire subsequent to its original publication date.