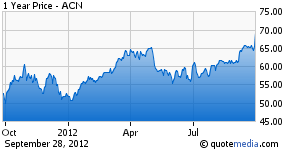 Since we last wrote about Accenture on June 25th, 2012, the stock price has appreciated over 22% compared to the 10.4% increase in the S&P 500. We are still bullish.
Yesterday, Accenture reported better than expected earnings and increased its full year forecast ending in August to between $4.22 and $4.30 per share. New bookings reached $32.2 billion, a new record, and the company also increased its dividend to $0.81 per share. That's a 2.4% dividend yield at today's price with the possibility of further increases and continued share buybacks. Last year alone, Accenture repurchased over $3 billion worth of their outstanding shares.
What makes us really bullish on the stock, however, is the increase in outsourcing, which tends to have much longer duration and a more predictable revenue stream. As the company continues to grow this segment of the business and smoothing its revenue, the business becomes much more predictable and manageable. And while consulting projects tend to be much shorter than outsourcing engagements, making revenue choppy, the icing on the cake on our conviction is that its consulting business reported longer projects with longer duration.
The longer consulting projects confirm our view that companies are still flush with cash and in a slow growth environment, will look to streamline processes, improve efficiencies, and generally reduce operating expenses.
As a technology driven stock, it has incredible upside potential. Our last price target was $82 and we are in the process of updating our model. But as a dividend paying stock, it may be the most attractive technology stock with price appreciation potential AND an increasing dividend.
Cash flow continues to increase, reaching a record $3.9 billion while operating margins expanded further to 13.9%.
We still think the stock is cheap and may provide the best of both worlds … price appreciation and dividend growth. For a technology stock, that puts in a very small group.
Disclosure: I am long ACN. I wrote this article myself, and it expresses my own opinions. I am not receiving compensation for it (other than from Seeking Alpha). I have no business relationship with any company whose stock is mentioned in this article.