I originally posted about Tempur-Pedic (NYSE:TPX) on August 1, 2012 (link), and stated that it was one of my two favorite stock picks. Yesterday's announcement regarding their acquisition of Sealy (ZZ) caught me by surprise. I had wondered why TPX was so soft this month on no news. Now I know.
The market obviously liked the deal, with TPX up over 14.4% on the day. However, I fail to understand the rationale for the acquisition. On yesterday morning's conference call announcing the transaction, both management teams made it clear that Sealy would continue to be operated as a separate company. So why buy the business?
Clearly, the acquisition broadens TPX's product line. So what? TPX purchased what I believe is an inferior business. Whereas TPX is focused on the high-growth, high-margin specialty segment of the mattress market, Sealy is one of the three big players in the low-growth inner-spring segment. The latter segment is a much more commodity-like business. Being in a much tougher segment of the market, it isn't surprising that Sealy has lower gross, operating and net income margins and lower returns on capital. In addition, Sealy possesses a much more leveraged balance sheet (Debt/EBITDA of 6.4x).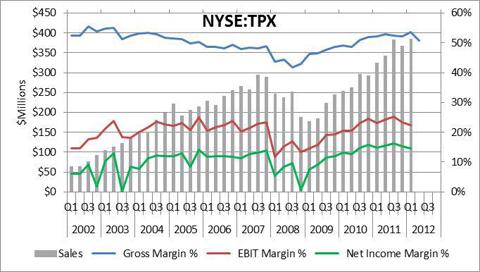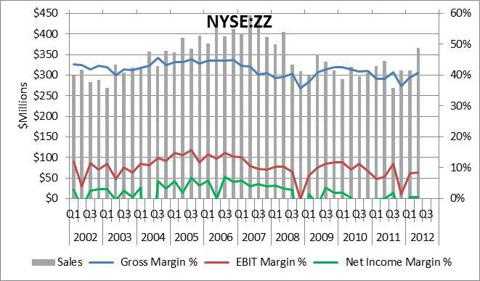 Source: S&P CapitalIQ, GreensKeeper.
There may be some synergies on the R&D side, but not enough to justify the acquisition in my opinion. Perhaps the broader product offering will give the combined company some additional leverage with their retail customers. Perhaps it will broaden TPX's distribution channel. Perhaps.
At the end of the day, I believe the combined company to be a less attractive business. Further, the combined company will have a pro-forma debt to EBITDA ratio of about 4.0x. Pro forma TPX will be a leveraged business as the transaction strains what was once a rock solid balance sheet. Despite management denying the need or desire for TPX to issue any equity to finance the transaction, don't be surprised if further stock price appreciation tempts them to do just that.
The good news is that TPX didn't drastically overpay for the business. They paid about $200 million for the equity and also assume about $1.1 billion of additional debt. The purchase price of 14.2x trailing Operating Income (EBIT) including the debt assumed isn't cheap, but it seems reasonable. Unfortunately, the fact remains that they took their fantastic business and married it with one that is less so.
Clearly, TPX was dealing with increased competition in the growing high-end segment of the market. That's the reason that I was able to buy the stock so cheap (cost base of $21.97 or less than 8.0x 2012E earnings). Had the acquisition improved their existing business, I would be a little more accepting of the transaction and deferential to management. But I just don't get it.
Perhaps I am mistaken and the transaction will work out splendidly for TPX. I don't intend to hang around to find out. I chose to take advantage of yesterday's price action by selling my fund's entire stake in the company. Sold to you, Mr. Market! I will take my 39% three-month return and deploy it elsewhere. When you buy great companies really cheap, good things happen.

Source: S&P CapitalIQ, GreensKeeper
Disclosure: I have no positions in any stocks mentioned, and no plans to initiate any positions within the next 72 hours. I wrote this article myself, and it expresses my own opinions. I am not receiving compensation for it (other than from Seeking Alpha). I have no business relationship with any company whose stock is mentioned in this article.