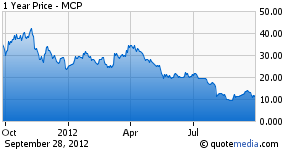 One of my favorite investment ideas is Molycorp (MCP). I am still kicking myself for not buying into the stock in September 2010 when the Diaoyu Islands dispute between China and Japan created a market opportunity for new rare earth producers. I discovered the stock when it was around $22/share. It subsequently ran up to as high as $74/share in April 2011 and now hovers below $12/share. Looking for an attractive entry point, I decided to drill down on the company with the article, "Molycorp And 'The Pain Ahead," which apparently caused a double digit decline in the stock. With the article, "Molycorp Down Nearly 11% In One Day," I explained how the stock was originally an opportunistic play on a company that served a market need; however, the supply/demand dynamics of the rare earth industry have since changed. Commenters thanked me for taking an objective view. One even pointed out something I may have missed - the real chance that Molycorp could be acquired:
I'm holding MCP long-term. This stock has a legitimate chance to double in six to twelve months; very few stocks have that potential. And with the recent heavy insider buying at $10, there seems little downside risk. One more possibility not mentioned: very real chance MCP could eventually be acquired or taken out, at much higher prices. This is fantastic speculative stock if you are able to handle the big swings.
To the contrary, Molycorp is an unattractive acquisition candidate for the following reasons:
Valuation Gap
At this juncture, Molycorp is difficult to value given its operating losses, and rapidly declining prices for rare earth minerals. Through six months ended June 2012, the company achieved an operating loss of $51 million on revenue of $189 million. The article, "Molycorp Down Nearly 11% In One Day," also made the following observation:
According to the company's second quarter 2012 10-Q, average prices for rare earth products declined over 40% in comparison to second quarter 2011. Rare earth products accounted for approximately 76% of its revenue for second quarter 2011. That price decrease was offset by average price increases of 10% and 122% for rare earth metals and rare earth alloys during that same period. Rare earth metals and rare earth alloys accounted for 14% and 7% of second quarter 2011 revenue, respectively.
A buyer would value Molycorp based on its current operating performance, while management and shareholders would most likely want the benefit of past performance. The valuation gap between the two negotiating postures would be difficult to close.
Valuation Ceiling
To receive the greatest value for Molycorp shareholders, management and its bankers would need to market the company to the universe of potential buyers. Molycorp is the only major rare earth producer in the U.S. and therefore, the government would be loathe to let its operations close. That said, the opposite would also be true. The government would be loathe to let Molycorp fall into the hands of a foreign buyer, regardless if a foreign buyer was willing to pay a premium relative to other suitors. So interest from Lynas Corporation (OTCPK:LYSCF) or Xstrata plc (OTC:XSRAF) may not be welcomed, but interest from Freeport-McMoRan (NYSE:FCX), Southern Copper Corporation (NYSE:SCCO), or Newmont Mining (NYSE:NEM) would be. Given the limited number of companies the government would allow Molycorp to be sold to, its value in an auction process would have a "synthetic ceiling."
Uncertain Economic Climate
The U.S. economy is still anemic, at best. According to Mass Lay Offs: Et tu, Bank of America?":
Big ticket items like housing and autos drive the economy. The Fed initiated its Quantitative Easing program in the fourth quarter of 2008. Yet housing starts have been flat since that period; starts were 906 thousand in 2008 and ranged from 554 thousand to 609 thousand from 2009 to 2011. Auto sales were 13.5 million in 2008, reached a trough of 10.6 million in 2009 and rebounded to 13 million in 2011. But they still pale in comparison to the roughly 17 million just prior to the financial crisis.
When business leaders are struggling with their own companies, they are hesitant to take on the additional risks that acquisitions present. Going forward, M&A activity will most likely remain anemic until the vital signs of the U.S. economy begin to turn. That said, the most likely buyers of Molycorp would rather see improvements in their own business prospects before taking on the challenges that Molycorp would present. Said "improvements" may take years to materialize.
For the avoidance of doubt, I am bearish on the U.S. economy and the market as a whole. I am enamored with the Molycorp story, but am looking for an attractive entry point. At just below $12/share, I still have not found it.
Disclosure: I have no positions in any stocks mentioned, and no plans to initiate any positions within the next 72 hours. I wrote this article myself, and it expresses my own opinions. I am not receiving compensation for it (other than from Seeking Alpha). I have no business relationship with any company whose stock is mentioned in this article.