Nokia (NYSE:NOK) could soon become a synonym for bear. This is not a joke. The once formidable handset maker now operates in the shadow of Apple (NASDAQ:AAPL) and Google (NASDAQ:GOOG), alongside other aggressive handset makers. Its diminishing market share and deplorable bottom line tell the story of a sinking ship. In fact, one more hole in the ship and Nokia will arouse a 'do you remember' scenario.
That aside, why do I adopt an undisguised bearish outlook on Nokia? It's simple, numbers don't lie. Look at the graph below. It may give you countless reasons why Nokia is a huge no-no, both at the moment and in the foreseeable future.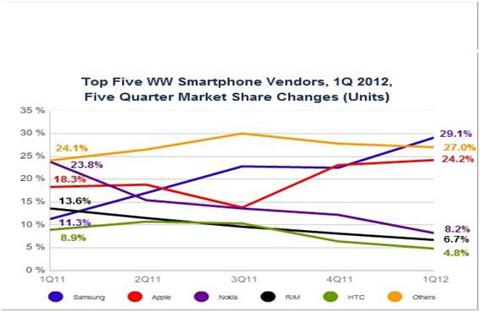 Source: IDC research firm
Looking at the graph, Nokia's dip, albeit not as serious as RIM's, presents the largest loss in market share over the featured one year time frame.
I am inclined to believe that this graph candidly expresses my opinion. As such, I want to focus more on what Nokia is doing about its evident poor performance.
Lumia 920- good product, bad launch date
Nokia wants to reclaim its lost glory through the Lumia 920. It perhaps believes that this high end smartphone has what it takes to compete with Apple's iPhone 5 and Samsung's Galaxy S3. True, the 920 packs a punch; nonetheless, it may not help Nokia's situation.
Why is this so?
Nokia's Lumia 920 was a good product launched on a bad date. This is what I, alongside reputable research firms like Topeka Capital Markets, believe.
According to a report compiled and published by Topeka, analysts at the firm have strong reason to believe that launching a smartphone in September was the worst decision that handset manufacturers like Nokia, HTC and Motorola have made.
September has been Apple's huge month. The long awaited iPhone 5 launch, which happened on 12th September, diverted all the attention from Nokia's Lumia 920 launch. The Lumia's launch, which happened exactly a week before iPhone 5's launch, failed to arouse the expected excitement and instead worked against Nokia. Analysts noted that launching the Lumia 920 a week ahead of the iPhone 5 was a blatant display of desperation - something that never goes well with consumers and investors.
As if the competition from Apple's iPhone is not enough, Nokia will also have to stage a few battles with Samsung. The latter's Galaxy S3 commands a commendable section of the market. Touting its Android operating system from Google , the Galaxy S3 is an unquestionable bottleneck to the Lumia's prosperity.
Rumors of the Galaxy S4 launching in February next year, although disputed by Samsung, also present a major threat to the Lumia 920.
In my opinion, the Lumia 920 will not pull Nokia out of the woods.
Clutching at a straw
Nokia's efforts to filter through the high end smartphone market have been futile. As such, the embattled handset maker has been compelled to do what it does best - fall back on the mass market.
It has unveiled two mid-range cell phones: the Asha 308 and the Asha 309, both of which are expected to retail at around $99.
These touchscreen cell phones are expected to rival the bulging pool of low cost smartphones that use Google's Android operating system.
While Nokia's strategy of always falling back on the mass market worked in the past, it may fail to fully deliver this time round. The move can be compared to the age-old byword that paints a picture of a drowning man clutching at a straw.
Why is this so?
The mass market will soon bow down to the inevitable wave of technological advancement. As such, consumers' desire to move forward technologically may outweigh demand for Nokia's cheaper alternatives. Similarly, the mass market has been snatched away by Google's Android operating system. Devices that tout this operating system attract more attention in the mass market.
You may be wondering why I have not discussed the financial dynamics surrounding Nokia's stock. The handset maker is well below the break-even point, posting losses in the excess of $1 billion. These losses, coupled with the diminishing market share and uncalculated moves suggest that Nokia's bearish story is far from over. Sell the stock.
Disclosure: I have no positions in any stocks mentioned, and no plans to initiate any positions within the next 72 hours. I wrote this article myself, and it expresses my own opinions. I am not receiving compensation for it (other than from Seeking Alpha). I have no business relationship with any company whose stock is mentioned in this article.