As shown on the graph below, Sony (NYSE:SNE) and Barnes & Noble (NYSE:BKS) have experienced double-digit declines compared to a gain of over 60% for the S&P 500 over the past 10 years. Currently, both companies have similar valuations and margins. Only several years ago, Sony was a leader in consumer electronics and Barnes & Noble a leader in selling books. New companies have emerged -- Apple (NASDAQ:AAPL) in the case of Sony and Amazon.com (NASDAQ:AMZN) in the case of Barnes & Noble -- that threaten their existence, or at least put them in a distinct second place. This article will look at the current valuations of Sony and Barnes & Noble and the current competitive landscape, and suggest a way for them to regain some of their luster.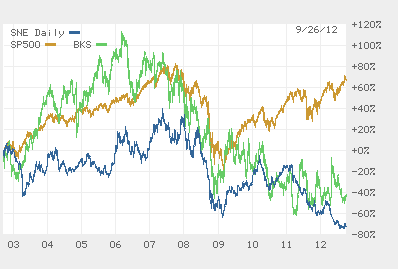 Fundamentals
Sony and Barnes & Noble are different in size, with Sony having about 1 billion shares outstanding and a $12 billion market capitalization and Barnes & Noble having 60 million shares outstanding and a market capitalization of $770 million. Looking beyond their respective sizes, these two companies are similar on a number of measures. Both Sony and Barnes & Noble have long-term debt-to-equity ratios of 0.34 and 0.41, respectively. Also, both companies reported negative operating income in their latest fiscal years of $61 million for Barnes & Noble and $862.5 million for Sony, or operating margins of -1.3% and -1%, respectively. In terms of cash flow, Sony seems to be in a better position as the company generated $6.7 billion in cash from operating activities, compared to a net cash outflow of $24.1 million from operating activities for Barnes & Noble. However, both companies had a total net cash outflow in their most recent fiscal years in the amount of $1.54 billion and $5.3 million for Sony and Barnes & Noble, respectively.
In terms of valuation, both companies appear undervalued based on price-to-book value ratios. Based on this measure, Sony appears a better value with a price-to-book value ratio of about 0.5. Barnes & Noble is not far behind with a price-to-book ratio of 1. Since neither company is profitable, we cannot look at their price-to-earnings ratios. On a price-to-sales ratio basis, Sony and Barnes & Noble are similar with ratios of 0.14 and 0.11, respectively. For comparison purposes, the average company in the S&P 500 has a price-to-book value ratio of 3.7 and a price-to-sales ratio of 1.3. In the case of Apple and Amazon.com, the price-to-book value ratios are 5.7 and 15.5, respectively, and their price-to-sales ratios are 4.3 and 2.1, respectively. It is clear that based on fundamentals, both companies are undervalued and have below average business prospects.
Competitive Positions
Both companies are currently undergoing some kind of strategic alliance to improve their competitive positions. Recently, Barnes & Noble entered into a partnership with Microsoft (NASDAQ:MSFT) that will include its digital reading business (this comes shortly after Microsoft threatened to sue Barnes & Noble over its tablet devices). Similarly (although on a larger scale), Sony entered into a partnership with Olympus, which was preceded by new partnerships with a number of companies including Panasonic (in OLED panels), Sumitomo Electric (in semiconductors), and Adobe Systems (in content).
These partnerships could certainly help Barnes & Noble and Sony as the companies have been losing their leadership positions in books (for Barnes & Noble) and electronics (for Sony). Amazon.com and Apple control most of the e-book and electronics (iPads, iPhones) markets. This is due mostly to their competitive prices (for Amazon.com) and good design and reliability (for Apple). Also, both companies have a large global presence and buyers of their products do not feel stuck with their product in a single or few countries.
In order to avoid decreasing book and other media sales, Barnes & Noble retail has expanded into the coffee and snacks business as well as the toy business. The way the company's retail stores are moving, it could become a small Wal-Mart in a few years. This is not the direction most intellectuals and book lovers want to see the company moving toward.
Similarly, Sony's consumer products and services business (which includes TV, home video and audio, digital imaging, personal and mobile products, and gaming) is losing share to Apple, Samsung, and other smaller manufacturers. Sony's e-reader device has been a complete failure, although the company probably would not agree. Also, its tablets have not been able to match the success of the iPad or even the Kindle Fire tablets. The company's pictures and music business has been an oasis, with both reporting operating income in the last two fiscal years.
Recommendation
One possible way for Sony and Barnes & Noble to reverse their current negative trends is for Sony to acquire Barnes & Noble. The major benefits are that this will provide strong footing for Sony in the U.S. In its latest fiscal year, Sony generated 19% of its revenue from the United States. This compares to 39% of Apple sales from the U.S. Barnes & Noble, on the other hand, generated almost exclusively its sales from within the United States. Barnes & Noble recently announced that it would start selling the Nook in the U.K., but this will not have a significant effect on the company's global presence. In order to compete with the Apples and Amazons of today, a company has to be truly global.
There are certain obstacles to a Sony and Barnes & Noble partnership, including cultural differences, valuation, and competitive landscape. For example, Sony's products are sold on Amazon.com, while Barnes & Noble is in a partnership with one of Sony's largest rivals in gaming, Microsoft. However, the benefits of a partnership could far outweigh the drawbacks. For example, there will be synergies as both companies offer a reader and a tablet based on the Android platform. Also, both companies have retail operations in the U.S. and interest in expanding their digital entertainment. Barnes & Noble's focus on retail and distribution could be complementary to Sony's strengths in technology and content.
Conclusion
Sony and Barnes & Noble seem to be struggling companies. Recently, a prominent hedge fund sold its 12% stake in Barnes & Noble after holding on to it for less than one year. A marriage by necessity could be a good choice for both companies. Sony and Barnes & Noble do not have to look far to find suitable partners.
Disclosure: I am long SNE. I wrote this article myself, and it expresses my own opinions. I am not receiving compensation for it (other than from Seeking Alpha). I have no business relationship with any company whose stock is mentioned in this article.