Commodity Chart Of The Day
Daily Gold
(click image to enlarge)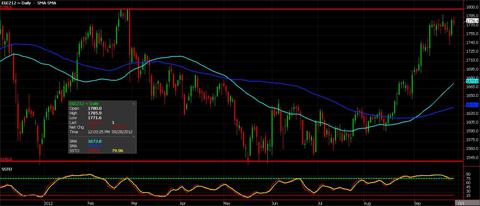 Over the last five months, gold has become more precious but to date, prices have been unable to take out their highs from February. If you look at the trading range of roughly $250 for 2012, gold is trading at the upper end, currently within $25 off its highs. Given that prices are $225 from their 2012 lows, do not rule out a retracement before prices move much higher.
In any bull market, it is healthy to see corrections for the move to be sustainable. Gold has been in a bull market for a over a decade, and while I do expect that to continue, my opinion is that we see a retracement first. I've advised clients to lighten up on longs and position themselves to take advantage of a trade below $1700/ounce in the coming weeks. Understand a 50% Fibonacci retracement puts prices of December futures near $1650, and though I'm not advising bearish trade, this could happen on liquidation in the coming months. Past performance is not indicative of future results, but understand that after reaching record highs early in 2012, prices dropped over $250, or nearly 15% within four months...so corrections do happen.
Risk Disclaimer: The opinions contained herein are for general information only and are not tailored to any specific investor's needs or investment goals. Any opinions expressed in this article are as of the date indicated. Trading futures, options, and Forex involves substantial risk of loss and is not suitable for all investors. Past performance is not necessarily indicative of future results.
Disclosure: I have no positions in any stocks mentioned, and no plans to initiate any positions within the next 72 hours. I wrote this article myself, and it expresses my own opinions. I am not receiving compensation for it. I have no business relationship with any company whose stock is mentioned in this article.