In a statement reported by Reuters Brazil on Thursday, Vale (NYSE:VALE) executives said that they anticipated iron ore prices to remain in the $100 to $120 range. What does that mean for Vale? Is this a buying opportunity?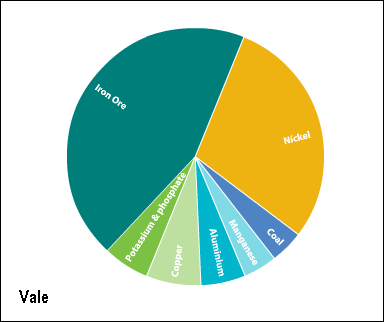 Iron ore prices, which hit an all-time high of nearly $200 a tonne in early 2011, fell recently to a three-year low of $89 a tonne. Brazilian based Vale SA is the world's leading iron ore producer and third largest miner. Over 70% of its revenue and 88% of its EBITDA came from that one product. Not surprisingly, the big customer for this important material is China, the world's largest steel producer. Unfortunately for Vale, the decrease in the China's demand and the plummeting ore prices that resulted have brought hard times upon the South American producer. Not only that, they were already at a competitive disadvantage with the Chinese customers; it costs Vale $20 a tonne more to ship the ore from its Brazilian mines to China than it does BHP Billiton (NYSE:BBL) and Rio Tinto (NYSE:RIO), both with Australia based operations. The market that Vale can better serve, Europe, is still far from economic recovery.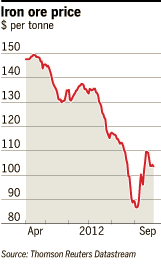 Does this spell doom for Vale? Perhaps not yet, as Chinese demand and prices seem to be picking up. Forecasts predict that China's steel production will be up 3% to 5% in 2013. Reuters reported that a Shanghai trader said this week, "a lot of the mills have been away from the market for a while so most of them are just hungry for material. Some traders are also starting to take positions thinking the market is on a rebound." How much of a rebound is this, and how long will it be sustained? Recent prices have been at $97/ton compared to the usual and profitable $120 to $130 level; they are beginning to increase and were at $104 late this week. However, worldwide demand remains soft as the recessionary slowdown continues, so the market price estimate by Vale of $100 to $120 seems reasonable.
A strong indication that all is not well in China is that 40% of their domestic iron ore producers are idle, which was reported by MINE.com and others. A Financial Times article states, "the cutbacks suggest that the industry has little faith that the $150 billion program in infrastructure projects that Beijing approved earlier this month would provide more than a temporary relief." However, there is more to the story than that.
China's mines need the $120 to $130 price in order to be profitable; the more efficient Australian and South American mines might have an advantage at just below this Chinese breakeven point. Vale would be a large beneficiary. The Chinese are uncompetitive miners because of the low quality of their ore. On average, it only has 20% iron content, a drop from 30% in 2004 due to depletion of the higher quality reserves. Vale, BHP and Rio Tinto have better quality ores. The standard for sea-bound ore is 63%; often, they can ship iron ore directly from the mines without further concentration.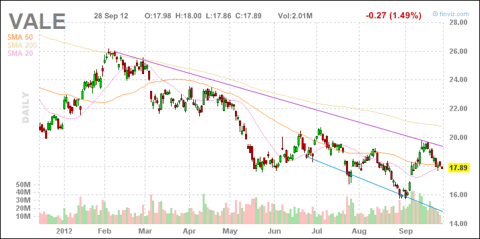 Click to enlarge
All of this gives us a cautious optimism about Vale. Their stock price is half of what it was in April of 2011, but things are looking up. The P/E ratio is at 6.4 compared to its historic average (FAST Graphs) of 12.8. MorningStar gives it 4 stars. Thompson - Reuters First Call consensus analyst rating is 2.4, a weak buy. Long-term, there are issues concerning its Canadian nickel mines, the weakness of the Brazilian currency and the involvement of the Brazilian government with the firm.
Short-term, Vale appears to be a buy.
Disclosure: I am long BBL. I wrote this article myself, and it expresses my own opinions. I am not receiving compensation for it (other than from Seeking Alpha). I have no business relationship with any company whose stock is mentioned in this article.