In my last article about Skullcandy (NASDAQ:SKUL), I outlined how the recent volatility can be viewed as a very good thing for an investor with both a little bit of cash and some time. There is no shortage of articles outlining the extremely heavy short interest in this stock or what that could possible mean in terms of the theoretical potential for a short squeeze.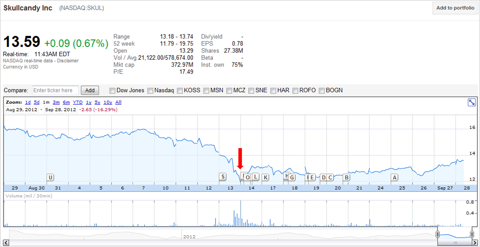 Taking a new look at the stock shows that some of the same potential still exists, despite the slow uptrend seen in the chart.
The March $10 calls selling for $2.65 two weeks ago are now selling for $3.60 (midpoint of bid/ask), for a profit of over 35% in 10 trading days. I must state there is significant risk in options trading as small movements in the stock price will cause large movements in the price of the option. However, what I believe presents a unique opportunity in this case is that several of the Skullcandy combinations can be purchased with little to no time value, despite having a significant number of months before expiration. The March $10 call being sold for $3.60 is compared to a stock selling for $13.59 as seen in today's chart. Essentially, this means that you could pay a penny to hold the option for six months.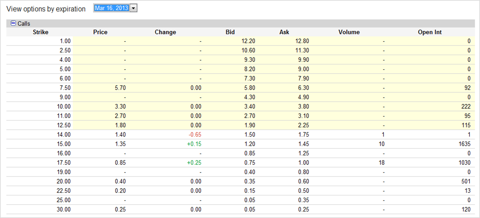 This stock has proven its ability to move both up and down significantly, there is huge downward pressure on it due to the heavy short load, and the options allow you to control the shares well into the future at intrinsic value. Whether you are bullish or bearish on this stock, it may be worth your time to do a little reading and attempt to profit from the volatility.
Disclosure: I am long SKUL. I wrote this article myself, and it expresses my own opinions. I am not receiving compensation for it (other than from Seeking Alpha). I have no business relationship with any company whose stock is mentioned in this article.
Additional disclosure: I am considering reducing my long position within the next three trading days.