"Things do not happen. Things are made to happen." ~ John F. Kennedy
Ultimately, the markets will need to see improvements in economic fundamentals from QE3. Fed president Charles Plosser says the economy is immune to Fed stimulus. At this stage, I predict that the real economy will experience more maladjustments and inflation from QE. Divergences are already showing up between durable goods orders (a measure of economic activity) and the markets (as shown in Chart 1 below). Therefore, one of these will have to revert. Market participants apparently think that because of QE, the economy will revert back up to where the stock market is priced. I suggest the market will revert to and follow the economy down.
Similar divergences are showing up in forward earnings and the SPX index (Chart 3). That was also how the TNT ((tech)) bubble in 1999-2000 played out, as did the housing extraction bubble of 2006-2007. The central bank/government bubble of 2011-2012 should be no different.
Citi's chart 2 shows risk aversion measurements during previous bubbles. The Low Risk Aversion levels now seen are rare, don't last long and aren't likely to be long rolling tops. With the pixie dust sprinkled, and the hook in, the markets almost overnight are poised to pivot from "Don't fight the Fed!" to "the Fed is pushing on a string!" In the past as shown on the chart, when extremely low-risk aversion occurs, a reversal unfolds fairly rapidly.
This time around, both barrels are loaded, because not only is risk aversion at an extreme low, but economic fundamentals are diverging sharply lower from stock prices. This will precipitate both a normalization of risk aversion and a catch up to the deteriorating fundamentals, resulting in a nasty downturn.
(click images to enlarge)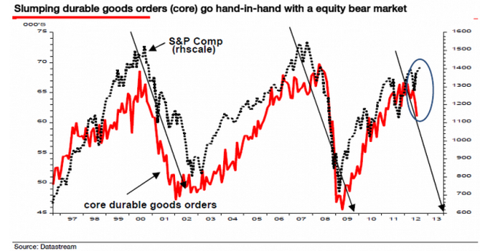 Disclosure: I have no positions in any stocks mentioned, and no plans to initiate any positions within the next 72 hours. I wrote this article myself, and it expresses my own opinions. I am not receiving compensation for it. I have no business relationship with any company whose stock is mentioned in this article.