Introduction
An author, whom I consider a friend, Robert Allan Schwartz, recently penned an article describing his views on when young investors should transition from growth to dividend growth investing. In this article found here, he created a series of three scenarios and created a set of parameters from which to run them on. Although I felt that his parameters were reasonable, and his scenarios plausible, I also felt that they grossly underestimated the true power of what I would call a pure growth strategy. Frankly, I felt he inadvertently shortchanged the powerful performance capabilities that true growth stocks are capable of achieving.
Additionally, I would add that Robert is a major advocate of dividend growth investing, as am I. However, the biggest difference between us, is that I am also an advocate of investing in pure growth as well, especially for younger investors. Furthermore, I do acknowledge that pure growth stocks are riskier, more volatile, and since they offer no income, return is based purely on capital appreciation. Nevertheless, for young investors with a lot of time in front of them, at least some portion of their capital can be appropriately allocated to pure growth, in my opinion. The actual allocation would depend on the goals, objectives and risk tolerances of the individual.
Consequently, I felt was important to offer a scenario number four, in addition to the three scenarios presented in Robert's original article. However, because I intend to utilize the F.A.S.T. Graphs™ research tool to present my case, I can only offer 20 years of historical data. In the original article, Robert used 30 years. Nevertheless, I feel that I can make my point by only utilizing the 20 years of data available to me. Moreover, although Robert used hypothetical parameters for estimating growth rates, etc., I will utilize actual historical data on real companies in this article.
Comparing Growth Stock 20-Year Returns Versus Dividend Growth Stock Returns
The fourth scenario that I'm offering is that pure growth stocks, although more risky than dividend growth stocks, are capable of producing significantly stronger returns than my esteemed colleague offered in his original article. Therefore, the fourth scenario is that pure growth stocks are capable of generating what might even be described as mind-numbing returns over the long run. Therefore, I created two hypothetical portfolios. The first is comprised of pure growth stocks that pay no dividends (note I had to include a few companies with modest dividends of less than 1%). The following table provides a snapshot of these 20 companies, listed in order of the highest historical return to lowest: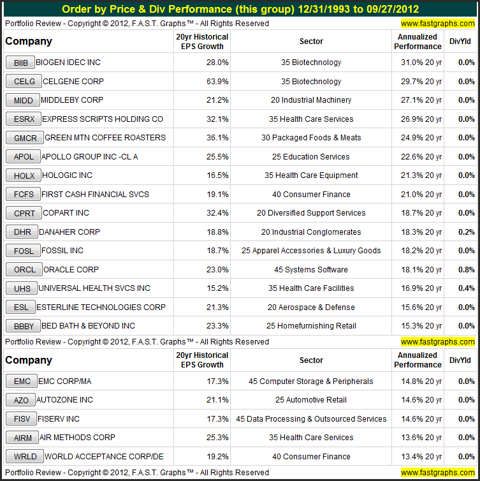 My second portfolio is made up of prominent dividend growth stocks, all of which of course pay an attractive yield. I picked most of my favorite companies in order to put the dividend growth category in the best light possible. As I did in table 1, the dividend growth stocks are listed in highest 20-year historical total return to lowest, and these returns do include dividends paid, but not reinvested.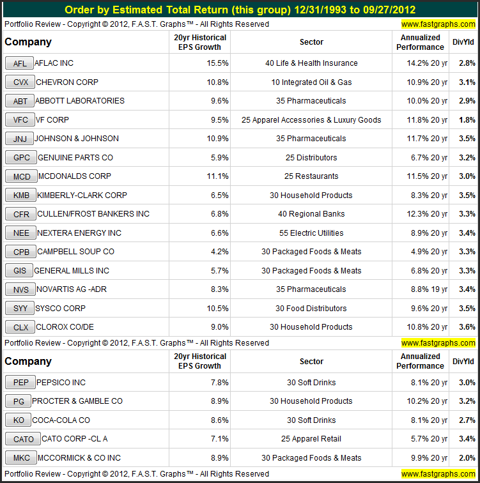 To provide a deeper look at the differences of the return potential between a pure growth stock, and a blue-chip dividend growth stock, I offer the following performance details. The graphic below portrays investing $1000 in each of the 20 stocks in each of my 2 separate portfolios, since the beginning of 1994 to current. The total returns include dividends, if any.
Here is the point of this article. $20,000 invested in pure growth stocks and held for 20 years would have generated a total return of over $840,000, compared with the same money invested in dividend growth stocks and held for the same 20 years that generated just over $116,000. To put this into perspective, pure growth stocks would have generated over 7 times as much money than dividend growth stocks would have generated.
For investors in the accumulation phase, this difference is significant. Even if the pure growth stock portfolio was liquidated and converted into dividend growth stocks to meet retirement needs, the after-tax difference would generate substantially more income. Of course, the big issues would be having the fortitude to buy and hold many of these stocks over this time frame, and the risk tolerance to ride through bull and bear markets.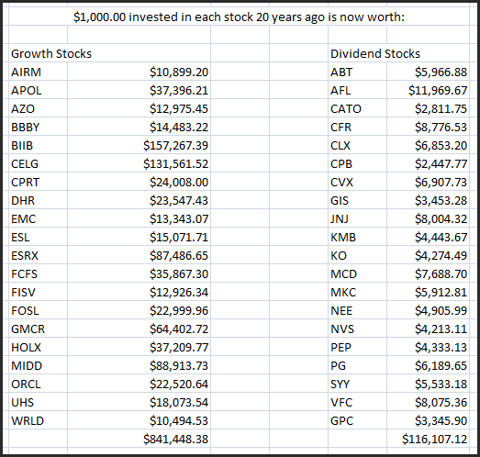 Two Examples Contrasting the Significant Difference Between Growth Stocks vs. Dividend Growth Stocks
What follows are two examples comparing a more detailed look at the historical record of a pure growth stock vs. a blue-chip dividend growth stock.
Biogen Idec Inc. (NASDAQ:BIIB)
My pure growth stock example looks at Biogen, a global biotechnology company with a record of growing earnings at over 28% per annum since 1994. The company has very little debt, and it has never paid a dividend.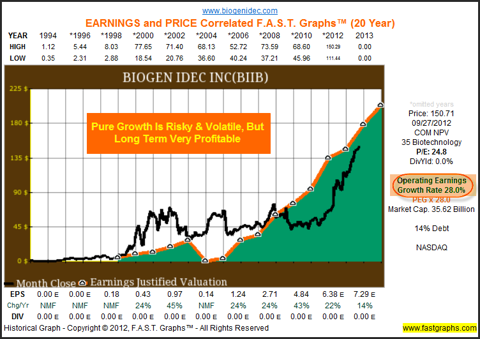 Even without a dividend, this high-quality biotechnology growth stock would have turned a $1000 investment 20 years ago (19 years and 9 months) into over $150,000. In spite of the fact that the company has never paid a nickel in dividends, it would have generated a 31% per annum compounded return for buy-and-hold long-term shareholders.

My high-quality dividend growth example reviews McCormick & Co. (NYSE:MKC), the world leader in spices, seasonings and condiments. Even though I consider McCormick significantly overvalued today, I chose it in order to put the dividend growth category in the best possible light.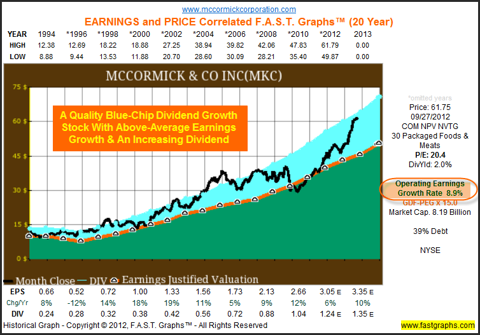 McCormick is a Dividend Champion that has increased its dividend every year for 26 consecutive years. You can examine this company's dividend history in more detail by following this link to David Fish's list of Dividend Champions. By reviewing the performance table below, we see that this high-quality blue-chip Dividend Champion has generated an above-average total return (including dividends paid but not reinvested) of 9.9% per annum. Nevertheless, it does not even compare with the total return generated by the more aggressive pure growth stock Biogen reviewed above.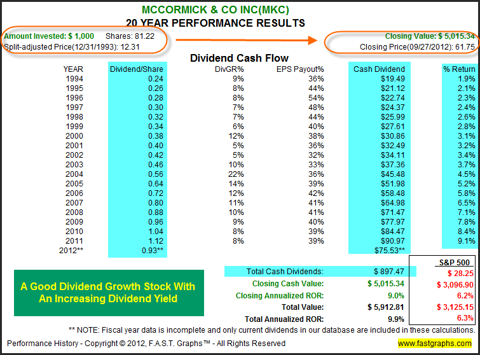 Summary and Conclusions
I do hope that my good friend, Robert Allan Schwartz forgives me for producing this article. However, although I am a major advocate of dividend-growth investing, I also strongly believe in investing in pure growth stocks when in the accumulation phase. I do believe that it should be done conservatively and prudently because of the many risks associated with this equity class. For a more detailed explanation, follow this link to my previous article where I discussed growth stocks more fully.
However, my real objective was to provide the information that pure growth stocks, when invested in appropriately and prudently, can be unbelievably powerful return generators. Whether or not an investor chooses to take the risk associated with investing in this aggressive equity class, is entirely up to them. Nonetheless, my only goal and objective in producing this article was to provide the knowledge of what was possible with this equity class.
Disclosure: I am long MKC. I wrote this article myself, and it expresses my own opinions. I am not receiving compensation for it (other than from Seeking Alpha). I have no business relationship with any company whose stock is mentioned in this article.

Disclaimer: The opinions in this document are for informational and educational purposes only and should not be construed as a recommendation to buy or sell the stocks mentioned or to solicit transactions or clients. Past performance of the companies discussed may not continue and the companies may not achieve the earnings growth as predicted. The information in this document is believed to be accurate, but under no circumstances should a person act upon the information contained within. We do not recommend that anyone act upon any investment information without first consulting an investment advisor as to the suitability of such investments for his specific situation.