In a previous article, I highlighted how companion diagnostics will accelerate in the coming years, and that existing relationships with pharma are extremely important going forward. Qiagen N.V. (NASDAQ:QGEN) is probably the strongest name in companion diagnostics (CDx), particularly through its subsidiary DxS. The company has major relationships with many pharmaceutical companies, including Eli Lilly and Company (NYSE:LLY), Merck & Co Inc. (NYSE:MRK), Pfizer Inc. (NYSE:PFE), Bristol-Myers Squibb Company (NYSE:BMY), AstraZeneca Group plc (NYSE:AZN), Amgen Inc. (NASDAQ:AMGN), and Boehringer Ingelheim.
For Qiagen, I believe this is a huge underrated opportunity that will drive major growth and is one of the "hopes" for the company. Unfortunately, Qiagen is a holding company with many complex parts, many of which are in either slow or high growth, but extremely competitive sub-sectors. Taking a look at the overall company, I believe Qiagen is a great play in undervalued companion diagnostics, and has tolerable and already priced in negatives.
Overview
In its peer group, Qiagen is considered one of the "slower growth companies", despite having a five-year revenue GAGR of 20.22%. This revenue also includes acquired companies, since Qiagen is very active on the M&A front, including Digene, DxS, and Ipsogen. Going forward, I expect to see growth somewhere in the high single digits (between 5-10% through 2017.)
Rather than break revenue down by product segment, the company breaks it down in terms of customer segments with the exception of HPV because it makes up a large percent of revenue.
Click to enlarge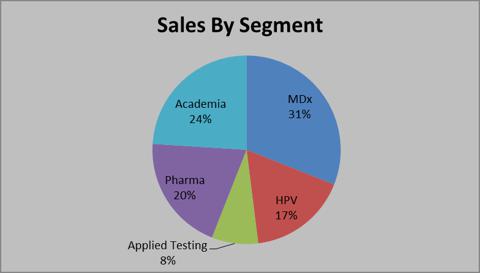 Molecular Diagnostics (MDx): Healthcare providers and labs supporting many aspects of patient care including prevention, profiling of diseases, personalized healthcare and point of need testing.
HPV testing: Part of MDx that gets its own percent of revenue for two reasons: it makes up a large percent of sales plus it is experiencing dramatic declines.
Applied Testing: Customers using molecular technologies in fields such as forensics, veterinary diagnostics and food safety testing.
Pharma-Drug discovery and development efforts of pharmaceutical and biotechnology companies.
Academia-Universities and Research institution with a chance for commercial development.
Concerns
Stumbling HPV Market: A couple years ago, Qiagen was the largest player in HPV testing, with over 90 percent market share. Nowadays, competition from Roche and Gen-Probe (acquired by the Hologic, Inc. (NASDAQ:HOLX), which is also entering the HPV market) are eating into that market share quickly.
CEPHEID (NASDAQ:CPHD) too is entering this already crowded market. Qiagen's only major advantage is first mover and will likely see its share eaten away rapidly. Over the last two years, every analyst and industry report has mentioned this competitive landscape. I believe it is well known and priced into the stock.
Contracting Research Spending: Caution in research spending has affected every firm in the gene tool sub-sector. Research spending will continue to be slow and cautious going forward, but ultimately is not a huge long-term concern. Research will need to continue and we've seen a little rebound in 2011. Ultimately, I believe it's well known, priced in, and overblown. In my opinion, it is more likely to surprise to the upside.
Upside
Building a Unique Position in the Industry: Qiagen has become a major player in companion diagnostics. Having a diagnostic specifically linked to a therapy is the only way molecular diagnostics companies stay relevant. Going forward, I expect these relationships to provide huge upside not currently priced into the stock.
Qiagen services run from discovery and biomarker validation through clinical trials and into the market as an approved diagnostic for therapeutics. Quoting a former VP at the company, "Qiagen has the unique ability to work synergistically with pharma on tests for some important molecular markers and panels including 1-10 SNPs/mutation panels and small mRNA expression panels."
To paraphrase his quote for non-scientists including myself, Qiagen's current technology has potential to be used for many different therapeutic areas making it an optimal partner for pharma at this time and in the intermediate term. His quote also implies that other technologies may be more important in the long term. With Qiagen's current position, financial health, and relationship with pharma, I believe obtain the next generation technology to be the number one player in CDx.
Although 80 percent of medical decisions are made because of a diagnostics, only 2% of the revenues accrue to diagnostics (information from PWC) Becoming an integral part of the therapy will be one of the only ways to address this disparity and garner a larger percent of therapy sales.
Automation: Automation is a key driver going forward for diagnostic laboratories. As molecular tests become more common and routine, the need for automation grows. These laboratories have a lot of room in terms of economies of scale. They have the ability in increase outpoint and turn around time, while reducing costs. Qiagen and its QIAsymphony instruments should drive revenue in its molecular diagnostics segment.
Upside Vs. Downside
Overall, I believe the downside is well known, as every research or industry report over the last two years and more has mentioned struggles relating to research spending and a competitive HPV market. However, I do not believe acceleration in CDx has been mentioned in many reports, as most analysts still believe personalized medicine is a few years away. At this point, the company is more likely to surprise to the upside.
M&A is the other Upside: Owing to a complicated business structure, lack of synergies, and bad cross-divisional communication, I believe the sum of parts is actually less than the individual parts. I believe a strategic divestiture could unlock more value, leading to another jump in the stock. Although I will not speculate on which part I believe should be sold, I will say that it should keep its molecular diagnostics and companion diagnostics franchises, given the high growth and important overlap.
Right now, the market is pricing in M&A to the extreme. One thing that could benefit and be a catalyst for Qiagen is a divestiture and a new focus on specifically the QIAsymphony and CDx.
Valuation
Comparables: For getting an relative value of Qiagen I used comparables Cepheid, Luminex Corporation (NASDAQ:LMNX), Illumina, Inc. (NASDAQ:ILMN), Life Technologies Corporation (NASDAQ:LIFE), Genomic Health, Inc. (NASDAQ:GHDX), Myriad Genetics, Inc. (NASDAQ:MYGN), PerkinElmer, Inc. (NYSE:PKI), and Hologic.
In terms of growth, Qiagen is about the middle of the pack with a 9% YoY quarterly revenue: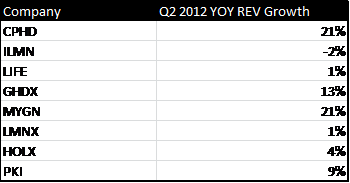 Earnings and growth for Qiagen is very stable, so I feel comfortable using P/E, P/S, and PEG. Here's a look at the comparables:

Since Qiagen is in the middle of the pack in term of growth, I only made minor adjustments. The PEG ratio for example was adjusted down to 2.5 from 3.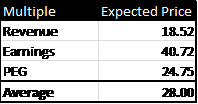 Compared to its peers Qiagen is undervalued. About 50% undervalued.
Discounted Cash Flows: I personally do not like comparables. I also used a DCF to make sure the market isn't getting "crazy". The conservative assumptions are: EBIT stays in the 15-25 percent range, revenue grows in the 5-10 percent range over the next seven years then declines to 4%. Working capital going forward is assumed to be at 2 percent of revenues and Net CapEx is stable at 32 Million. I used a variable discount rate between 7-9 percent. From the previous mentioned assumptions, I get a price range that is roughly between 14-20 dollars a share. This says the stock is fairly valued to slightly overvalued on a standalone company basis.
Overall Valuation: Normally, I add a buyout premium to a DCF value in industries heavy in M&A. In this case, I can use the relative valuation which prices in M&A in its competitors. Relative valuation calls this stock very undervalued and a DCF calls the stock around fair value. Averaging out these two methods we get a value of $22.50 per share that makes the company a buy. Divergence between DCF and relative valuation is probably caused by lots of M&A speculation in and around the industry.
Conclusion
The DCF gives the company a nice floor price of $17. Then, you have lots of upside. On a relative basis, Qiagen is very undervalued. There is also additional value that can be unlocked by a divestiture or being acquired. In addition to the cheap relative price and M&A, you also have a chance for some major upside due to possible companion diagnostics relationship acceleration. Overall, the company is a buy.
Disclosure: I am long ILMN. I wrote this article myself, and it expresses my own opinions. I am not receiving compensation for it (other than from Seeking Alpha). I have no business relationship with any company whose stock is mentioned in this article.