Apple Profile
Apple Inc. (AAPL) is the world's best known designer, manufacturer and marketer of smartphones, media devices, personal computers, as well as its own celebrated iPod, iPad, and iPhone. The company also sells a range of software, services, peripherals, networking solutions, third-party digital content, and applications. Based in Cupertino, California, Apple initially took the technological world by storm with its introduction of Lisa, the first personal computer to incorporate Graphical User Interface in its design.
Since 2001 however, Apple has been on a non-stop roll of success after success. When the company introduced its music player, the iPod, the product instantly became a huge success in terms of sales. In 2007, Apple entered the smartphone market, and has since been producing and unveiling segment-leading products, such as the iPad, Mac, iOS, iCloud, iTunes and the App Store. Apple has built a name for itself as a technological and innovative genius.
In September 2012, the company introduced its latest offering, the iPhone 5, continuing a highly profitable and successful line of smartphones that are designed, manufactured and sold in-house by the company. Apple is also well known for achieving the highest sales-per-dollar in relation to research and development spending. During the original iPhone's development period (2004-2007), Apple spent $2.5 billion on research and development whereas its market-leading competitor, Nokia, spent €17.1 billion in the same period (the equivalent of $22.2 billion). However, the Cupertino newcomer managed to snatch the title of 'market leader in smartphones' from Nokia just one year after the iPhone's introduction.
Tracking Financials
In 2011, it was reported that Apple had more cash reserves than the U.S. government. Today, AAPL is the world's largest company by market capitalization. The company is worth more than two of its closest competitors, Microsoft (NASDAQ:MSFT) and Google (NASDAQ:GOOG), combined. Apple is fairly ranked second in the list of publicly traded companies based on profits.
The company's strong product development is complemented by its consistently increasing numbers in both revenue and profits. For Q3 2012, Apple reported revenue of $35 billion, compared to $29 billion in the same quarter for 2011. Even though the company reported strong revenue for the quarter, it fell short of analyst expectations. Revenue was held to $35 billion due to lower-than-anticipated iPhone sales - only the second time in 39 quarters that the company's results failed to meet analysts' profit and revenue expectations. Apple also announced a dividend of $2.65 per share while announcing the second quarter's results.
At the moment of this writing, data from Morningstar indicate Apple's price-to-earnings ratio of 16.0, compared to the industry average of 17.3. The 52-week range is from $354.24 to $705.07. The ttm Return on Equity is 44.3%, compared to the industry average of 38.7%. The company remains almost entirely free of debt and has one of the most stable outlooks in terms of its cash flow. Even though Apple has a beta of 1.23, the company has not been materially affected by negative market trends due to its massive financial strength. The EPS growth rate for the last three years has been 59.8% on average. Analysts estimate an EPS growth rate of 52.49% for the future, because of increasing demand for the iPhone. The current EPS stands at $9.42.
Until the last quarter, AAPL did not provide dividends to its shareholders. The company was frequently criticized for not doing so, despite being the number one company, based on market value. All that changed when the company announced a quarterly dividend of $2.65 per share in Q2 2012.
Stock Performance
As Apple is an electronics manufacturer as well as a computing company, it is difficult to find an outright and direct competitor for the diversified company. However, Microsoft and Google have increasingly been threatening Apple on multiple fronts to become the market leaders. Google is competing with Apple in the smartphones, tablets and software, while Microsoft competes with Apple's computers, smartphones, software and tablets.
Apple currently has a market capitalization of $631 billion. The figure below illustrates how Apple's stock performance has outpaced the S&P 500 and the Dow Jones Industrial Average by more than 300%. The stock has been consistently trending upward since 2009. Performance is expected to improve further over the next year, as the company introduces its new line of Macs.
Click to enlarge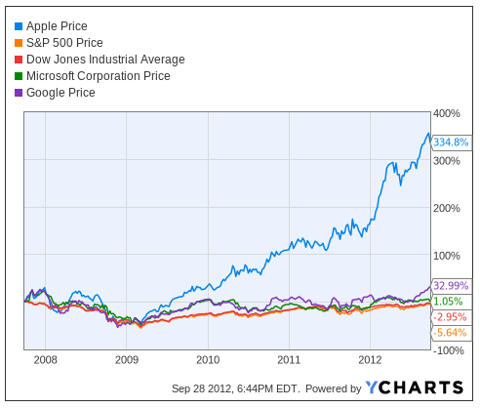 Click to enlarge
The comparison with competitors shows that Google and Microsoft stocks have remained relatively flat, because these competitors have not been as innovative with new products. While AAPL continued to diversify its range of offerings from Macs to iPhones, GOOG and MSFT have only recently ventured into the smartphone industry - with much to be desired in their products' performances.
What Does the Future Hold?
Apple is currently in the process of initiating its dividend and share repurchase program. The board of directors authorized a $10 billion share repurchase program commencing in fiscal year 2013. More importantly, the company released the iPhone 5 just days ago, which caused the stock price to surge past $700 for the first time. Soon afterwards, AAPL stock fell back to around $675. Much has been made of this dip in the stock price. However, the stock is following the trends of previous iPhone announcement and launches. Apple's stock historically surges forward, retreats, and then continues to increase in value for the next year, as was the case with iPhone 4 and 4S.
With the new iPhone having numerous performance advantages over its competitors, the revenue gathered from iPhones is expected to expand even further. The company has sold 5 million units of the iPhone 5 in just three days. Compared to the iPhone 5's sales, Microsoft Windows based Nokia Lumia has sold 4 million units in the entire second quarter of 2012. The edge that Apple has on its rivals is truly astonishing. The company is also rumored to be launching new models of its Macbooks later in 2012.
In August, the long drawn-out court battle between Samsung (OTC:SSNLF) and Apple appeared to have reached a conclusion, as a court in California unanimously agreed that Samsung had infringed on Apple's intellectual property. The jury awarded Apple approximately $1 billion in damages. However, Samsung is counter-suing Apple, to protect its assets. Along with this suit, multiple cases between the two giants are ongoing around the world. On the software front, Apple has shed its reliance on competitor Google as a provider of maps on the company's devices, and has decided to develop its own version.
Make or Break for Investors
It seems reasonable to keep in mind that by 2013 smartphones are expected to represent 54% of the global cell phone market. iPhones constitute around two-thirds of Apple's profit, which indicates that the future growth potential for Apple's flagship product is pretty bright.
I expect that AAPL stock is to rise further on the back of strong sales. Moreover, a share repurchase program scheduled to begin in October 2012 will facilitate increase in EPS, while stronger sales of the iPhone 5 continue to fuel Apple's reign at the top. With the stock expected to surpass $800, the current price dip is a small window of opportunity to purchase Apple shares before the stock continues its upward ascent.
Disclosure: I have no positions in any stocks mentioned, and no plans to initiate any positions within the next 72 hours. I wrote this article myself, and it expresses my own opinions. I am not receiving compensation for it (other than from Seeking Alpha). I have no business relationship with any company whose stock is mentioned in this article.