Windstream Corp. (NASDAQ:WIN) is a leading provider of communications and technology solutions, including cloud computing and managed services to businesses countrywide. In addition to business services, the company provides broadband, video and voice services to customers in mainly rural markets. Windstream operates in 48 states and the District of Columbia, a long-haul and local fiber network across roughly 115,000 miles. Additionally, WIN has a strong business sales segment and 21 data centers providing cloud computing and managed services.
Windstream is transforming from a rural broadband and voice provider to a national provider of technology solutions and advanced communications to businesses. Today, WIN is a different company from the one that was formed in July 2006 via spinoff of Alltel Corporation's landline division and merger with VALOR Communications. At the time, WIN operated in only 16 states with less than 24,000 miles of fiber, only a tiny number of lower-tier data centers and a humble business sales organization.
Windstream has been paying a stable dividend of $1 a share annually. The company has an exceptionally attractive yield of 10%. Such high dividends look great and attract a certain segment of the community. However, will the company be successful in maintaining these dividends in the future? In an earlier article, I analyzed the financial muscle of the company to gauge the stability of dividends. However, I have delved a little deeper and analyzed the profitability, debt and cash flows of the company using certain metrics. For the analysis, I have used the company data from previous three years.
Profitability Measures:
| | | | |
| --- | --- | --- | --- |
|   | 2011 | 2010 | 2009 |
| Operating Profit Margin | 22.59% | 27.85% | 35.40% |
| Net Profit Margin | 4.02% | 8.43% | 13.30% |
| ROA | 1.20% | 2.77% | 4.36% |
| ROE | 11.50% | 37.63% | 152.86% |
Windstream faces serious issues regarding its profitability. The company is facing shrinking margins and during the past three years there has been a significant decline in the profitability. At the end of 2009, operating profit margin for Windstream stood at 35.40%, which came down to 22.59% by the end of 2011. Over the past three years, operating profit margin has fallen by 12.81%. Accordingly, net profit margin for Windstream has also taken a hit during the previous three years. Net profit margin stood at 13.30% at the end of 2009, which came down to 4.02% by the end of 2011. A decrease in ROA from 4.36% to 1.20% during the past three years indicates firm has not been efficient in utilizing its assets. In addition, declining profits coupled with increasing total equity have brought down ROE to 11.50% in 2011.
More recent earnings of the company also do not paint a pretty picture. For the second quarter, the company faced slight increase in revenues, but the overall profits fell by 44%. Overall, profitability of the company looks on a decline.
Leverage Measures:
| | | | |
| --- | --- | --- | --- |
|   | 2011 | 2010 | 2009 |
| Debt Ratio | 62.09% | 63.58% | 68.57% |
| Debt to Equity | 5.97 | 8.65 | 24.06 |
| Capitalization | 85.64% | 89.64% | 41.38% |
| Interest Coverage | 1.73 | 1.98 | 2.59 |
| Cash Flow to Debt | 0.14 | 0.15 | 0.18 |
Windstream has made significant acquisitions recently. As a result, the total assets of the company have increased considerably. Along with the total assets, there also has been an increase in the total debt of the company. Debt ratio and debt to equity ratio for Windstream were extremely high at the end of 2009. However, due to an increase in equity, debt to equity ratio came down considerable and stood at 5.97 at the end of 2011. On the other hand, capitalization ratio for Windstream has more than doubled during the past three years. At the end of 2009, capitalization ratio stood at 41.38%, which went up to 85.64% by the end of 2011. Additionally, interest coverage ratio and cash flows to debt ratio indicate that the firm is losing cushion in terms of interest payments. The firm may face problems making interest payments if the trend continues.
A significant amount of Windstream debt is payable in the next three years, for only 2013, the firm will have to pay more than $1 billion in debt repayments. In addition, most of the notes issued by the company are at high interest rates. Almost all of the senior notes of Windstream yield between 7.5% and 8.65%.
Cash Flow Measures:
| | | | |
| --- | --- | --- | --- |
|   | 2011 | 2010 | 2009 |
| Operating Cash Flow to Sales | 28.67% | 29.41% | 37.03% |
| Free Cash Flow to Operating Cash Flow | 42.87% | 61.97% | 73.14% |
| Capital Expenditure Coverage | 1.75 | 2.63 | 3.72 |
| Dividend Coverage | 2.41 | 2.35 | 2.54 |
| CAPEX + Dividends Coverage | 1.01 | 1.24 | 1.51 |
Cash flow analysis gives almost identical results, and the firm also looks to be taking a hit in cash flow measures. Operating cash flows as a percentage of total sales have fallen from 37.03% to 28.67% during the past three years. It indicates the firm is failing to convert most of its sales into cash flows. In addition, the ratio of free cash flows to cash flows from operations has declined massively. At the end of 2009, the ratio stood at 73.14%, which came down to 42.87% by the end of 2011. Furthermore, declining capital expenditures coverage indicates the firm may face problems funding expansions internally. At the end, dividend coverage and CAPEX to dividend coverage have also declined significantly.
Competition:
Windstream faces severe competition from Sprint (NYSE:S), AT&T (NYSE:T), and Verizon (NYSE:VZ). Whilst recent acquisitions have aided the company diversify into the rapidly growing broadband and cloud computing markets, they have also exposed Windstream to severe competition. Though the firm is presently trying to develop the broadband market, its key focus is still the landline network, which is declining. Windstream consequently faces substantial challenges, specifically a waning core business and stern competition in other areas of operation.
Price Comparison: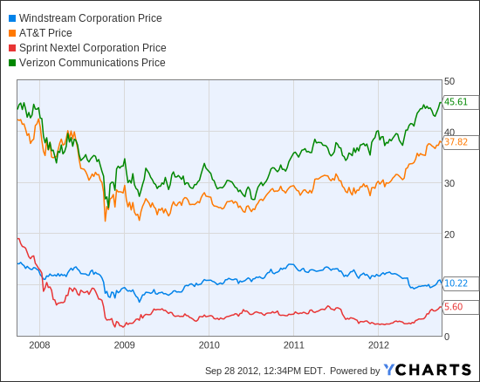 Click to enlarge
Summary:
In my previous article, I suggested the company may cut its dividends in the future. The analysis of profitability and cash flows has augmented my belief that the firm may face the prospect of cutting its dividends. I fear the firm may not be able to meet its interest and debt obligations if the cash flows situation does not improve. The firm has been making acquisitions to diversify the business; as a result, the firm now faces restructuring costs and declining profitability. There has been modest revenue growth, and the costs have been rising. Acquisitions of the company are not giving the results the company desired. As a result, the cash flows of the company are suppressed and may lead to a decrease in dividends.
Disclosure: I have no positions in any stocks mentioned, and no plans to initiate any positions within the next 72 hours. I wrote this article myself, and it expresses my own opinions. I am not receiving compensation for it (other than from Seeking Alpha). I have no business relationship with any company whose stock is mentioned in this article.