BP p.l.c. (NYSE:BP), incorporated in 1909, is an oil and gas company. BP offers its customers with fuel for energy for heat and light, transportation, and the petrochemicals products used to make items such as plastic bottles. The firm also invests in renewable energy sources. BP runs two business divisions: Production and Exploration, and Refining and Marketing. The Production and Exploration division is responsible for oil and natural gas exploration, production and field development and the Refining and Marketing division is responsible for the refining, marketing, and supply of crude oil, petrochemicals products, petroleum and related services to wholesale and retail customers.
Dividend History:
BP has market a capitalization of approximately $132 billion, and the company has a concrete history of dividends. At present, the company has a dividend yield of 4.39%, and an annual dividend of $1.92. BP has a manageable payout ratio of 33%. In order to measure the dividend stability of the company, I take a look at the financial performance and position of the company.
BP Dividends: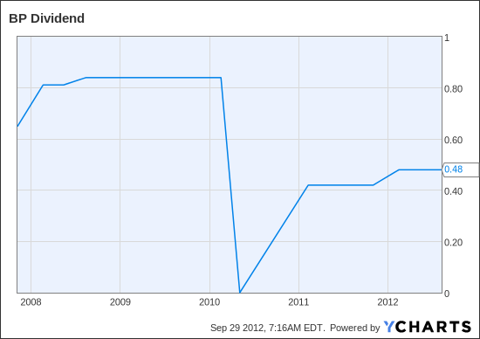 BP Dividend data by YCharts
Earnings:
Over the past three years, BP revenues have increased considerably. However, the costs for the company have also been increasing. Especially, in the most recent earnings announcement, the company reported disappointing profitability figures. The reason for disappointing numbers was the write down of numerous key assets in the U.S. by $5 billion. These recent write downs indicate the firm is still suffering from the long-term effects of the Deepwater Horizon spill. The energy giant's net income made for even more dismal reading as it recorded a loss of $1.39 billion, compared with a profit of $5.72 billion in the previous year. BP recorded a loss of 7.29 cents a share, compared with a profit per share of 29.90 cents the previous year.
The company's clean replacement cost profit, an eagerly monitored figure which does not contain exceptional items, was $3.69 billion. These figures showed a decline of 35% from $5.71 billion the previous year. BP also took $1.50 billion in charges in its upstream division, due to its decision not to proceed with the expensive Liberty oil project offshore Alaska. The company also wrote down its shale gas assets, which, have been marred by low U.S. natural-gas prices. BP made an additional $2.68 billion of write downs at its U.S. refining business.
Cash Flows:
BP cash flows are in extremely healthy position. At the end of 2011, the company reported cash flows from operations of over $22 billion. Cash flows from operations showed a massive improvement on the $13.6 billion reported at the end of 2010. In addition, the company spends massive amounts in capital expenditures. At the end of 2011, BP spent $17.8 billion in capital expenditures. The company paid cash dividends of $4.13 billion in the previous year, while it had free cash flows of $4.3 billion. BP dividends are covered with healthy cash flows from operations. At the end of the previous year, the firm had over $14 billion in cash and cash equivalents.
Debt:
BP gross debt stood at just above $44 billion at the end of the previous fiscal year. The company reports debt net of cash and cash equivalents and fair value of hedges. The net amount of debt for BP stood at $29 billion at the end of 2011. The main elements of current borrowings were the current portion of long-term bonds of $4,875 million (2010 $6,859 million) and issued commercial paper of $3,635 million (2010 $1,025 million). However, the adjusted debt amount at the end of the previous year stood at $40 billion.
Comparison With The Peers:
BP peers include Exxon Mobil Corporation (NYSE:XOM), Royal Dutch Shell PLC (NYSE:RDS.A) and Chevron Corp (NYSE:CVX).
| | | | | |
| --- | --- | --- | --- | --- |
| | BP | Exxon | Royal Dutch | Chevron |
| P/E | 7.90 | 9.60 | 8.30 | 8.7 |
| P/B | 1.20 | 2.60 | 1.30 | 1.80 |
| P/S | 0.40 | 0.90 | 0.40 | 0.9 |
| EPS Growth | 6.40% | -9.00% | 5.30% | 4.8 |
| Operating Margin | 6.90% | 16.00% | 10.20% | 19.3 |
| Net Margin | 4.50% | 9.10% | 5.40% | 10.8 |
| ROE TTM | 15.70% | 28.30% | 15.40% | 21.70% |
| Debt to Equity | 0.40 | 0.20 | 0.20 | 0.10 |
Source: Morningstar.com
The comparison with the peers shows that the stock is currently trading at a discount based on the multiples. In addition, the firm also boasts impressive margins.
Summary:
This energy giant is facing certain problems concerning its revenues; however, the dividends of the company look covered by the cash flows. In addition, the company follows a conservative payout ratio of 33%. The low payout ratio should give the company room to manage its dividends. Furthermore, the improving economic conditions should favor the company. BP is expecting a 50 percent increase in cash flow from operations by 2014. A major chunk of this increase should be derived from reaching an end to the company's financial obligations to the oil spill trust fund at the end of 2012's fourth quarter.
Disclosure: I have no positions in any stocks mentioned, and no plans to initiate any positions within the next 72 hours. I wrote this article myself, and it expresses my own opinions. I am not receiving compensation for it (other than from Seeking Alpha). I have no business relationship with any company whose stock is mentioned in this article.