Two very interesting articles have been published in the last few days. Robert Allan Schwartz, an author I follow, answered a commenter's question regarding when to switch from Capital Gain Investing (NYSE:CGI) to Dividend Growth Investing (NYSE:DGI).
Analytical Chemist, an author previously unknown to me, responded to Mr. Schwartz's article with one of his own, and offered the readers a much more sophisticated and improved model. He made some comments in the article such as "other investors who appreciate and follow the dividend growth investing strategy ... also care deeply about total returns." I agree. He also pointed out that "investors are much better off if increases in share price occur later." With that I also agree. He doesn't explicitly state in the article that he prefers DGI to CGI, but then that is what analytical chemists tend to do. They report results in a dispassionate way and let others draw conclusions.
But part of his article title is revealing. "It Doesn't Matter Where Returns Come From: ... " With that I disagree, for reasons I will discuss later.
Readers tend to be more interested in real stocks, and real dollars, than models. Therefore, I offer the following example, for what it's worth.
Perhaps ironically, Mr. Schwartz is the "archivist" of David Fish's Champion, Contender, and Challenger (NYSE:CCC) spreadsheet. The inception date of this valuable tool was December, 2007. However, the first edition did not contain the prices of the stocks at that time. The next month, January 2008 did, so I downloaded a copy of that edition. The prices given are for January 15, 2008 on the CCC.
Assume the following:
An investor on January 15, 2008 wants to follow the DGI strategy, so he downloads the spreadsheet. There are 138 stocks on the list. (Contenders and Challengers were not added until later editions.) He doesn't want to buy just any stock on the list, or every stock on the list. He thinks the "sweet spot" is companies that pay at least a 3% dividend, but less than a 4% dividend. So he sorts the spreadsheet by dividend yield, eliminates those stocks that do not meet his criteria, leaving him with 31 stocks. (This also saves me a lot of research.)
At this time, I will invoke my crystal ball and eliminate two of the stocks from further analysis, namely Florida Public Utilities and Altria (NYSE:MO). The reason is that Florida Public Utilities no longer exists as a separate stock (acquired by Chesapeake Utilities (NYSE:CPK) in 2009), and MO data is distorted by the spinoff of Phillip Morris (NYSE:PM) and possibly Kraft Foods (KFT). I am not familiar with the histories of MO, PM, and KFT, and don't care to take the time and effort to find out, at least for this article.
Returning to our hypothetical investor, he wants to invest a total of $29,000 in the remaining 29 companies, with equal dollars going to purchase each. Allowing for a $5 commission, he buys $995 of each, and the shares and fractional shares are shown below. (I know you can't buy fractional shares on the stock exchange, but suspend reality for the time.) He then puts the entire portfolio on a Dividend Reinvestment Plan (NYSEARCA:DRIP), and does nothing until September 28, 2012.
He then calculates his total return, and looks up the current price for the SPDR S&P 500 (NYSEARCA:SPY), and the January 15, 2008 split and dividend adjusted price for SPY for comparison.
The 29 stocks are: Lincoln National Corp. (NYSE:LNC), Northwest Natural Gas (NYSE:NWN), Lancaster Colony Corp. (NASDAQ:LANC), Kimberly-Clark Corp. (NYSE:KMB), Sysco (NYSE:SYY), California Water Service (NYSE:CWT), Hershey Co. (NYSE:HSY), Eli Lilly (NYSE:LLY), Black Hills Corp. (NYSE:BKH), PPG Ind. (NYSE:PPG), Avery Dennison (NYSE:AVY), Sunoco Products (NYSE:SON), VF Corp. (NYSE:VFC), Bemis Co. (NYSE:BMS), Conn. Water Service (NASDAQ:CTWS), Otter Tail Corp. (NASDAQ:OTTR), Genuine Parts Co. (NYSE:GPC), General Electric Co. (NYSE:GE), RPM International (NYSE:RPM), Middlesex Water Co. (NASDAQ:MSEX), Federal Realty Inv. Trust (NYSE:FRT), Universal Corp. (NYSE:UVV), Piedmont Natural Gas (NYSE:PNY), Diebold Inc. (NYSE:DBD), Cincinnati Financial (NASDAQ:CINF), M&T Bank (NYSE:MTD), People's Bancorp (NASDAQ:PEBO), Bank of Hawaii (NYSE:BOH), and Pitney Bowes (NYSE:PBI).
The results are shown below.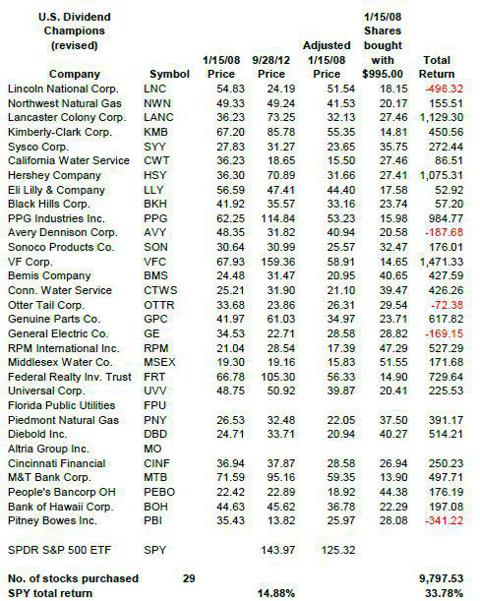 Click to enlarge
CWT split 2:1 on June 13, 2011.
I am aware that there is a chronological discrepancy in the example. The January, 2008 CCC list was not published until the 31st. The hypothetical investor obtained a copy of it 16 days before that. I doubt the 16 day advantage skews the results significantly.
Our hypothetical investor has enjoyed a total return of over twice the benchmark S&P 500 Index with dividends reinvested.
What does this prove? The short answer is nothing. Anyone with a point of view can prove anything he wants if he chooses a favorable example over a select timeframe. It suggests that DGI might be a good idea, but it doesn't prove it.
I have not compared the DGI example to a Capital Gains Investing benchmark, because I do not know what that benchmark might be.
I believe it does matter where returns come from, because they come from very different sources.
Leaving IPOs and issuance of additional stock aside, capital gains come from selling a stock you own to another investor who values it more than you do. The company has nothing directly to do with the transaction. The company does not pay you the sale price, or receive the purchase price.
In contrast, dividends are paid by the company. This requires the company to make efficient use of the remainder of its cash flow to an extent that a non-dividend paying company does not. This is especially true of a company with the culture of raising the dividend each year.
Thank you for reading, and I look forward to your comments.
Disclosure: I am long KMB, SYY. I wrote this article myself, and it expresses my own opinions. I am not receiving compensation for it (other than from Seeking Alpha). I have no business relationship with any company whose stock is mentioned in this article.