Taiwan Semiconductor Manufacturing (NYSE:TSM) is the world's largest dedicated chip foundry and has almost 50% market share, according to Gartner's March 2012 data. TSM is primarily engaged in the research, development, manufacture and distribution of integrated (IC) related products. TSM's scale and high-quality technology allow the company to generate solid operating margins (33.0% ttm, as compared to the industry average of 21.3% ttm) and maintain its edge in the highly competitive foundry industry.
As of September 28, 2012 closing, TSM has a market cap of 82.01B, P/E of 17.51, and had been consistently distributing dividend since 2004 with past 4 years of dividend as followed: $0.364 for 2009, $0.3727 for 2010, $0.4146 for 2011, and $0.3979 for July 5, 2012. The projected yield for dividend is 2.52% based on today's closing of $15.82 and projected dividend of $0.3979. Since July 20, 2012, TSM had been advancing from $12.65 to $15.82 as of September 28, 2012 with 25% gain. In the last two trading days, TSM gained 0.83 point, 5.54%, and had been seeing unusual volume of 22M on September 27 and 18.3M on September 28, with the 30 day average volume of 10.24M. Technically, MACD (12, 26) indicator is showing the bullish sign, as seen from the chart below.
click to enlarge image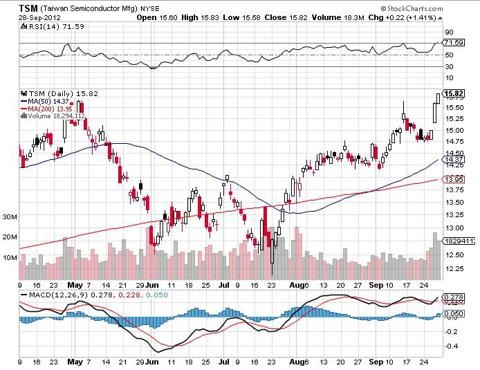 Source: StockCharts.com
The increasing of TSM's stock price might be caused by the stronger than anticipated demand where TSM is receiving follow-up orders from Apple's (NASDAQ:AAPL) iPhone 5 suppliers, including Broadcom Corporation (BRCM), Qualcomm Inc. (NASDAQ:QCOM), and Cirrus Logic, Inc. (NASDAQ:CRUS). The monthly chip shipments are currently expected to amount between 10 and 15 million from September through November, as reported by Mark Lawson from Wall St. Cheat Sheet. Despite the short-term positive development from AAPL, it also comes with some long-term concerns, according to the issue reported by Barclays, including: 1) the increased capital investment requirement (US$3.5-5B) per year to meet the orders for Apple; 2) possible gross margin contraction to 40% (+/-2%) for 2014/15E as compared to 45-50% for past five years due to 35-40% gross margin for the Apple orders; and 3) in-sourcing might drive more orders cuts by Samsung toward TSM's higher-margin ARM Aps, baseband ICs and Bluetooth/WiFi IC customers, as reported by Jacob Wolinsky from ValueWalk.
In short, we believe TSM will maintain its strong position in the dedicated chip foundry industry in the years to come; however, we remain cautious about its declining gross margin and increased dependency on AAPL. As a conservative option trader, I am suggesting the Jan, 2013 short put position at the strike price of $12.50 for $0.20 premium. For those investors who would like to add TSM stock holding, $12.30 ($12.50 - $0.20 premium received) is a very good attractive entry price. For those who trade entirely with options, it would be safer to add Jan, 2013 Put with the strike price of $10 (at the cost of $0.10), which still yields 4.17% ($0.1 credit for $2.4 margin requirement) for the trade, translating into 12.50% annual yield.
Disclosure: I have no positions in any stocks mentioned, but may initiate a long position in TSM over the next 72 hours. I wrote this article myself, and it expresses my own opinions. I am not receiving compensation for it (other than from Seeking Alpha). I have no business relationship with any company whose stock is mentioned in this article.