Company Profile
CSX Corporation (NYSE:CSX) is one of the leading shipping providers in the United States. The company has a strong transport capacity comprised of more than 4,000 locomotives and 80,000 freight cars. CSX has approximately 21,000 route miles of track and access to 70 ocean, river and lake ports. With a service territory that covers two-thirds of American population, the company moves a wide range of products across the country. CSX's diversified product portfolio includes crushed stone and gravel, as well as agricultural, automotive, paper, food, chemical and consumer products. CSX also transports coal to industrial and electricity-generating power plants as well as to steel manufacturers and deep-water port facilities.
CSX was recognized as a top 10 company in the S&P 500 on the Carbon Disclosure Leadership Index as well as the Carbon Performance Leadership Index. The company's ranking is based on their efforts to reduce greenhouse gas emissions, which are linked to climate changes.
Tracking Progress
CSX depends heavily on the transportation of coal to power plants; the company derives more than 30% of its revenues by shipping Appalachian coal. In the latest quarter, falling energy prices continued to affect the transportation industry in a variety of ways. A boom in natural gas recovery and the weak economic recovery have resulted in lower coal freight volume, and fuel surcharges continue to decrease profits. Additionally, stricter laws from the EPA have forced power producers to shift their plants from coal to natural gas or other fuel sources. As coal prices are expected to increase over time, the demand will slowly decline as power producers shift their plants to other energy sources.
A relatively cold winter is expected, and power generation resources will be stretched to keep up with the demand for heating. For now at least, CSX can benefit from the increased demand by transporting coal to power companies. According to the Energy Information Administration, the recent trend of replacing coal‐fired electricity generation with natural gas generation is likely to slow down, if not reverse completely over the next year. From April to August 2012, average monthly natural gas prices charged to electricity generators increased by 34%, while coal prices fell. The EIA expects that coal‐fired electricity generation will increase by 9% in 2013, while natural gas generation is expected to drop by approximately 10%. These estimates provide an optimistic picture for CSX Corporation, as this will ensure that the revenues from coal freight remain a major component of the company's business.
The historical overview of CSX Corporation's stock prices indicates that the company has been following a predominantly positive trend over the last 10 years. The chart below indicates that between 2002 and mid-2008, as well as between mid-2009 and mid-2011, the company's stock had been showing strong stability and gradual growth. CSX has also been maintaining a positive trend in 2012.
click to enlarge image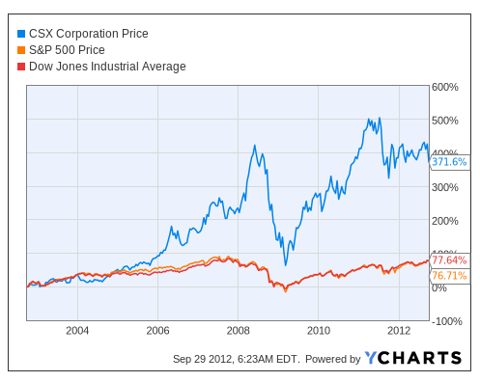 A bullish outlook is appropriate for CSX, given the 2.3 billion dollars invested last year in the company's network to further enhance capacity, quality, safety and flexibility. Transport of agricultural products is expected to increase due to the growing demand for phosphates and fertilizers. In addition, CSX Corporation has the potential for increased business in shipping products such as frac sand, piping, crude oil and petrochemicals.
Future Prospects
If the natural gas price remains low in the future, a decline in demand for coal in the USA market is almost a certainty. This can adversely affect CSX Corp due to a reduction in number of coal shipments, negatively impacting the company's sales and revenue figures. However, natural gas prices have recently been rising. In some cases, this is causing power plants and other utility companies to switch back to coal, thus increasing the demand for coal. That is why CSX remains volatile due to its dependency on coal freight.
I expect CSX stock to rise in the near future, predominantly due to the increasing demand for coal, the company's most significant revenue stream. Furthermore, the $2.3 billion invested in new operating equipment is expected to enhance productivity. By investing in the railroad industry, one does run the risk of being exposed to fluctuations in coal demand and prices. However, for the foreseeable future it seems reasonable to expect the U.S. to remain heavily dependent on coal.
The strength of CSX Corporation lies in its expanding profit margins and attractive valuation levels. CSX is currently a leading transport company, and while it maintains a high debt ratio, its strong revenues and notable return on equity make it an attractive stock to buy in the transportation industry.
Disclosure: I have no positions in any stocks mentioned, and no plans to initiate any positions within the next 72 hours. I wrote this article myself, and it expresses my own opinions. I am not receiving compensation for it (other than from Seeking Alpha). I have no business relationship with any company whose stock is mentioned in this article.