This is the sixth article in a series profiling publicly listed companies recently bought by Berkshire Hathaway (NYSE:BRK.A). I've previously profiled BNY Mellon (NYSE:BK), DaVita (NYSE:DVA) and DirecTV (DTV). This time I'll have a look at a content company called Viacom (NASDAQ:VIAB). Berkshire Hathaway added to their stake of Viacom in their most recent quarter and the stake is now worth about $370 million. In dollar terms the addition is quite small relative to Berkshire's total stock portfolio, but the stake has quadrupled during the last quarter, indicating some real interest in the stock. The buying is most likely done by one of Buffett's lieutenants, Ted Weschler or Todd Combs.
According to their latest annual report, Viacom is a global content company that connects with its audiences through television, motion picture, online and mobile platforms. The company reports their earnings in two categories: Media Networks and Filmed Entertainment (MN and FE for short). Media Networks consists of some of the best known TV channels in the world, aimed at young demographics, including MTV, Nickelodeon and Comedy Central. Media Networks forms the largest part of Viacom's revenue (61% as of FY 2011). The Filmed Entertainment segment produces motion pictures under multiple brands such as Paramount Pictures and Nickelodeon Movies. Below is a pie chart showing Viacom's revenue formation.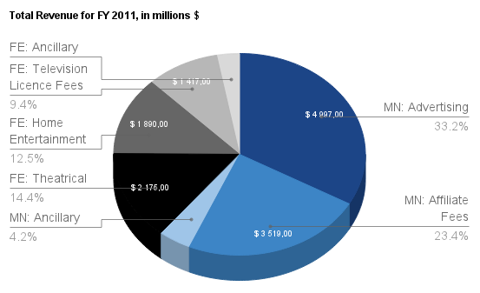 As illustrated, Media Network segment's advertising revenues are the biggest piece, followed by Media Network affiliate fees. They are fees Viacom collects from cable, satellite and internet TV distributors in exchange for permits to air bundles of Viacom's channels. Geographically Viacom derives more than two thirds of their revenue from the U.S., and the rest mostly from the U.K. and Germany. Let's take a look at Viacom's profitability over the last few years: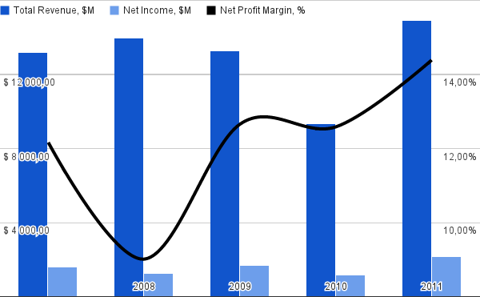 The slump in 2010 is explained by a technical change in accounting. Viacom got over the financial crisis smoothly, indicating that TV and film consumption seem quite recession proof. Net profit margin is looking good and getting better at almost 15%. Let's look at Viacom's debt profile over the same years (Total Debt + Other = Total Assets):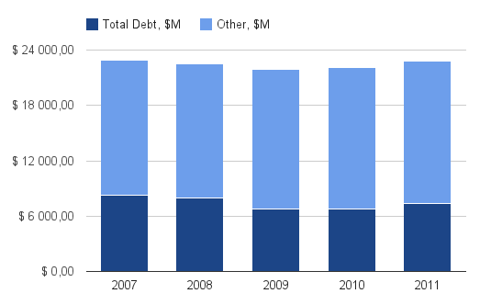 Viacom has been prudent with debt. The company could take advantage of today's low interest rates and leverage their balance sheet more, but for now they seem to be doing well. The company is returning their earnings to shareholders in two ways: buying back shares, indicating a bullish sentiment toward their own stock, and by issuing quarterly dividends.
Viacom's shows have faced some weakness in ratings during the last years, but the company is still a strong player among the few big content producers. MTV still has sticky audiences and large mindshare with hit shows like Jersey Shore and Teen Mom, and Paramount Pictures still retains some of the industry's best talent periodically coming up with new blockbuster movies. They also have a great film library with rights to such iconic films as the Titanic and Forrest Gump.
The recent additions of Viacom together with DirecTV in Berkshire Hathaway's portfolio might suggest Buffett's team thinks the whole TV industry is undervalued, and that these two companies are the pearls that stand out the most. Perceptions of shifting viewing habits through online platforms and piracy concerns seem to be dragging the sector down, but the people at Berkshire seem to think the pay-TV ecosystem will persist and flourish in the future. What do you think?
Viacom is currently trading with a market cap of $28 billion, trailing 12-month P/E of 13 and a dividend yield of 2%.
Disclosure: I am long DTV. I wrote this article myself, and it expresses my own opinions. I am not receiving compensation for it (other than from Seeking Alpha). I have no business relationship with any company whose stock is mentioned in this article.