In Q3, Technology stocks in the S&P 500 scored one of the better performances, with the sector (NYSEARCA:XLK) rising 7% in price and besting the 5.8% price-return for the S&P 500. Only Energy, which rose 9.5%, did substantively better, with Consumer Discretionary's 7.1% taking second place. If you are interested in the whole scorecard, you can visit the S&P website.
If you are a Technology investor, you likely didn't do as well as the overall sector. The 71 stocks rose an average of 4.2%, which not only trailed the return of the sector but also lagged the overall market. The median was even worse at 3.3%. What's going on? Google (NASDAQ:GOOG). And Apple (NASDAQ:AAPL).
To be fair, these two stocks aren't the entire story, as there were a few other drivers, but the return of the sector was certainly boosted by GOOG's 30% gain and AAPL's 14% jump. The best stock was First Solar (NASDAQ:FSLR), which rose 47%. It's so small, though, that it had almost no impact on the overall sector's return. The entire sector is currently worth about $2.6 trillion, so that rise in FSLR boosted returns by only 0.02%!
Two other mega caps (>$100 billion) that helped boost the sector include Qualcomm (NASDAQ:QCOM) at+12% and Cisco (NASDAQ:CSCO) at +11%. There were two Mega-Caps that really hurt returns, including Microsoft (NASDAQ:MSFT), which fell 3%, and Intel (NASDAQ:INTC), which was hammered by 15%.
Investing in low P/E stocks is a strategy that many tout, but it's one that I have observed doesn't work well in the Technology sector (or Healthcare). When I look at what worked and what didn't for the sector during Q3, the "what didn't" has a bunch of very "cheap" stocks. Of the 10 stocks that fell 6.7% or more (10% worse than the median), half have current P/E ratios below 7.5:
To be fair, some of the best performers were low PE stocks, as FSLR trades at <5X, and two big winners were Western Digital (NYSE:WDC) and Seagate Technology (NASDAQ:STX). Still, it appears that low P.E was generally not the way to go: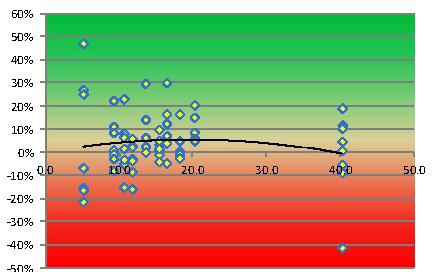 What I have done here is to split the 71 stocks into ten approximately equal groups and plotted the average terminal PE on the x-axis and the Q3 return on the y-axis. The regression line shows that the best returns correlate with the PE ratios that are slightly above average. Interestingly, the very highest PEs didn't fare too well. Perhaps this is a better way to visualize:
Click to enlarge
Here, I have taken the same deciles but plotted the P/E on the x-axis and the average return for the group on the y-axis. The only "above-average" returns came from the groups with PE ratios of 13.6, 16.4 and 20.2 on average. Clearly, though, valuation isn't the key driver, as there is a lack of consistency with respect to that single factor.
So, while technology performed pretty well as a sector, the dispersion was quite extreme. As I have shown, a strategy tilted towards lower P/Es didn't work - the sweet spot was above-average P/Es, but not extremely high ones. Cheaper isn't always better!
Another lesson is that sometimes the ETF is a better way to play a sector than picking stocks. If you went with just the 5 largest stocks, which obviously dominate the sector, you could have done even better than XLK (11% return), but if you decided to go with 6 you got stuck with INTC and ended up with a below-average 6%.
The real key was to own GOOG. By my calculation, it represented about 7% of the index at the beginning of the quarter, suggesting that it accounted for about 2% of the index return of 7%. Not bad for just one stock! I owned it in my Top 20 Model Portfolio, but I sold it during the quarter. I continue to believe that the pending split (i.e. new class of stock) could hurt GOOG as I discussed earlier this year, perhaps knocking 5% off of the total value. We also sold CSCO, but the timing there was better. Unfortunately, our other technology stocks didn't fare as well.
Disclosure: I have no positions in any stocks mentioned, and no plans to initiate any positions within the next 72 hours. I wrote this article myself, and it expresses my own opinions. I am not receiving compensation for it (other than from Seeking Alpha). I have no business relationship with any company whose stock is mentioned in this article.
Additional disclosure: Long CSCO and INTC in one or more models managed by the author.