Markets are becoming increasingly radioactive as we enter the final quarter of 2012. A glance around the world implies a stock market that should be utterly transfixed by fear. The U.S. and Asian economies are slowing, Europe remains on the brink of a full-blown financial catastrophe, and social unrest continues to build across Europe and the Middle East. All of this as we inch closer to a major U.S. election and the edge of the U.S. fiscal cliff at the end of the year. Yet investment markets remain fully aglow despite these profound risks, with the U.S. stock market up double-digits for the year and hovering near fresh post-crisis highs. Of course, such luminous market performance has been largely the result of the monetary Revigator known as Quantitative Easing from the U.S. Federal Reserve. This QE elixir has led to a great decay in financial markets, however, as any sense of true price equilibrium both within and across asset classes was completely lost some time ago. And with the markets set to consume another $120 billion in freshly printed money from the latest round of QE over the next three months, opportunities are certain to abound. But it is strongly advised that any such trading activity be undertaken with great caution and a HAZMAT suit.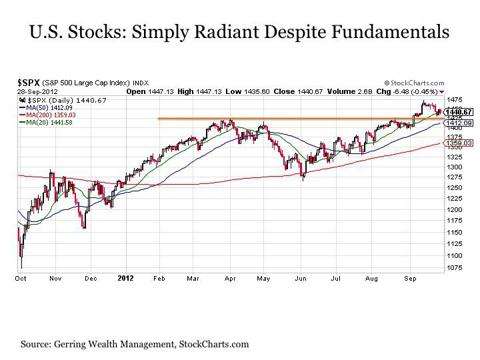 The stock market remains radiant in the glow of QE. Despite some recent struggles since the launch of QE3 a few weeks ago, the U.S. stock market as measured by the S&P 500 Index remains virtually indefatigable in a market where underlying fundamental conditions continue to deteriorate. As the third quarter drew to a close, the S&P 500 enjoyed well-tested support at its upward sloping 20-day, 50-day and 200-day moving averages as well as its previous highs at the 1425 level. And looking ahead into the fourth quarter, stocks have appeal given the historical propensity to rally during the early stages of any new monetary stimulus program.
But this raises an important question. Does owning the broad large cap segment of the U.S. stock market as represented by the S&P 500 make the most sense at this juncture, particularly given the fact that it has now rallied +30% since the Operation Twist launch bottom one year ago and +13% since the early June bottom when speculation about another round of QE from the Fed started to heat up? Or does targeting selected stock opportunities in segments and/or names that have participated little in the rally over the past year but stand to benefit most from the latest round of balance sheet expanding monetary stimulus make more sense? I would content the latter offers far greater appeal both from a risk protection and potential returns perspective.
For example, China is a stock market that has demonstrated itself to be just as responsive, if not more so, to the forces of global money printing, yet it has underperformed considerably since early June when investors first began getting into a lather about the potential for more QE from the Fed. And while concerns over slowing in China are certainly justified, they have a budgetary surplus and far greater scope to apply additional stimulus to support their economy than the U.S. does at this stage. And since the forces of stimulus appear to be the only thing that really matters to markets anymore, these characteristics are worth noting. Thus, Chinese stocks offer an attractive risk/reward profile relative to U.S. stocks at this juncture.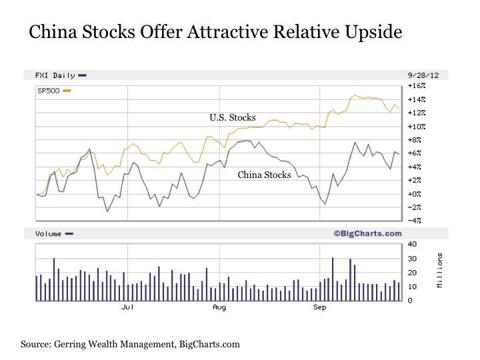 Particularly attractive stock opportunities are also available in the commodities space, whose hard asset characteristics have historically benefited most during past rounds of QE. For example, BHP Billiton (NYSE:BHP) is one of the largest natural resources companies in the world engaged in oil and gas, copper along with other industrial and precious metals. Historically a major beneficiary from past balance sheet expanding monetary stimulus programs, BHP Billiton has underperformed the broader U.S. market by a considerable margin since the end of the European Central Bank's Long-Term Refinancing Operation (LTRO) in February 2012. As a result, BHP offers considerable upside potential relative to the broader market amid the latest round of QE. Other commodities names including Occidental Petroleum (NYSE:OXY) and Potash Corporation (NYSE:POT) can be viewed in a similar light.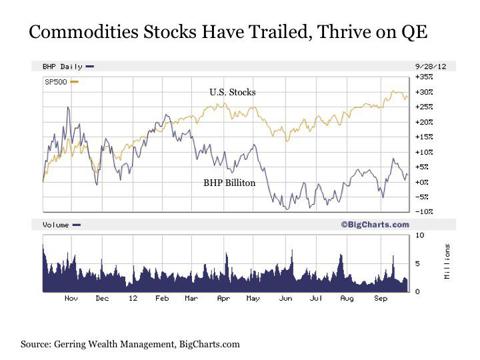 Defensive names also offer appeal in the currently radioactive stock market environment for those investors that would like equity exposure but at a lower level of risk. McDonald's (NYSE:MCD) has been one of the most consistent performers in the stock market even during the fallout stages of the financial crisis over the last four years. Yet the golden arches have gone virtually dark in recent months, as the higher beta segments of the market have led the recent rally to this point. Although McDonald's has picked up recently, it still has the potential to play further catch up to the broader market in coming months. The same could be said for other defensive consumer names such as Nike (NYSE:NKE) and Hormel Foods (NYSE:HRL).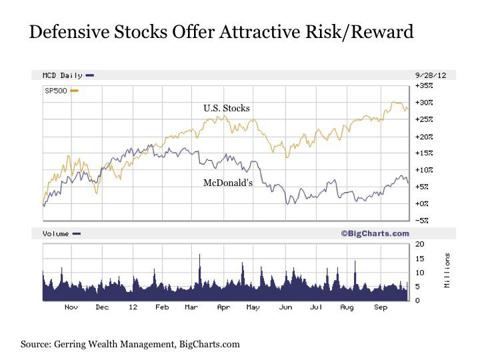 Of course, handling radioactive materials can be dangerous even when donning protective gear. And at some point, a day of reckoning will arrive for stocks where a major market meltdown has finally occurred. Keeping these very important risks in mind, maintaining proper portfolio diversification across a variety of asset classes is as important as ever as we move toward the end of the year.
And one of the best ways to protect oneself both against the decaying effects of further money printing as well as the potential for another full-blown financial crisis is gold (NYSEARCA:GLD) and silver (NYSEARCA:SLV). And in securing a more clearly defined allocation to these metals within a securities portfolio, the Central Gold Trust (NYSEMKT:GTU) and Central Fund of Canada (NYSEMKT:CEF) provide ideal ways to establish and maintain exposures to these precious metals. Both have been among the biggest beneficiaries from past rounds of balance sheet expanding monetary stimulus. But since the announcement of Operation Twist back in late September 2011, both metals have underperformed the stock market by a wide margin. And given that stocks have already meaningfully front-run the latest QE announcement from the Fed whereas gold and silver have not implies much greater upside for the precious metals as we move through the remainder of the year and beyond. In fact, this catch up process relative to stocks seems to be already well underway since the middle of August.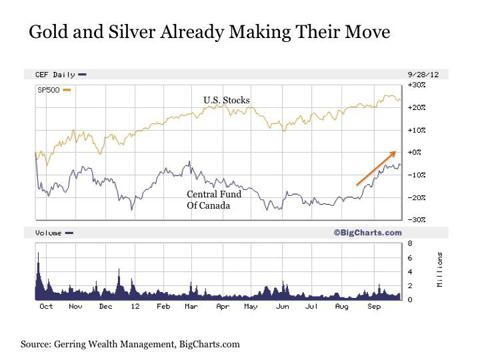 Often the best protection against contamination from radioactive materials is to work with the more stable isotopes. And such is the appeal of Agency MBS (NYSEARCA:MBB) and U.S. Treasury Inflation Protected Securities (NYSEARCA:TIP). Regardless of whether the stock market has gone dark on the latest crisis episode or is fully illuminated with the glow of QE, both Agency MBS and U.S. TIPS have proven themselves to be reliably consistent performers. And both remain worth owning under QE3, as Agency MBS will be the focus of the Fed's buying program and U.S. TIPS provide lower risk inflation protection for investors.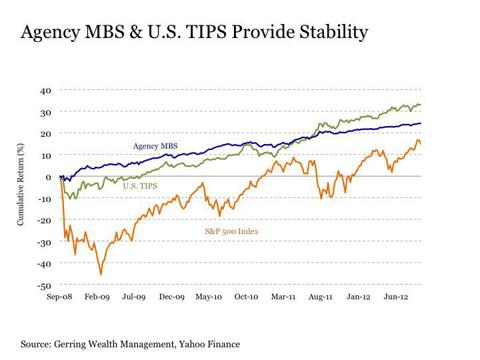 So as we venture out into the final months of 2012, the one thing that we can be sure of in these radioactive markets is that price movements are likely to remain unpredictable. But with global policy makers including the Fed hell bent on generating inflation and increasing asset prices regardless of the potential costs, it is reasonable to expect that we could see further gains in stock prices regardless of underlying economic conditions at least during the early stages of this latest QE program. And in protecting against the very real risk to the downside, it is prudent to focus specifically on those investment opportunities that stand to benefit most from these policies and have participated least thus far. Such an approach provides an ideal way to try and enjoy any further stock market radiance without exposing oneself too much to the unstable elements.
Disclosure: I am long BHP, OXY, POT, FXI, MCD, NKE, HRL, TIP, MBB, GTU, CEF. I wrote this article myself, and it expresses my own opinions. I am not receiving compensation for it (other than from Seeking Alpha). I have no business relationship with any company whose stock is mentioned in this article.
This post is for information purposes only. There are risks involved with investing including loss of principal. Gerring Wealth Management (GWM) makes no explicit or implicit guarantee with respect to performance or the outcome of any investment or projections made by GWM. There is no guarantee that the goals of the strategies discussed by GWM will be met.