Despite slowing economies around the globe, with central banks actively intervening to support equity prices at a level higher than they would otherwise be, more often than not the wisest course of action for the long-term investor is to maintain equity exposure until the market's uptrend is proven to have come to its demise. Still, there is growing evidence that the bull trend has entered a phase where managing risk is more critical to success than managing for higher return. To paraphrase an old Wall Street saw; the music is still playing and investors may still want to dance, but it's time to dance closer to the exit so that when the party is over, you can be one of the first out the door, not the last.
Even though the S&P 500 broke through to a new rally high three weeks ago, evidence indicates that investors continue to favor the defensive sectors, suggesting the market remains in a distribution process that is typical of the final phase in a bull cycle uptrend. When attempting to use sector strength to identify the economic phase of a market cycle, it's best to measure relative strength from one market top to another, rather than from a low point to high point (which always favors higher beta sectors). The relative strength of major economic sectors since the peak during the first week of April, as illustrated in the first chart below, show the defensive Consumer Staples, Healthcare, and Utilities as sector leaders. The second chart below shows sector leadership during a typical economic cycle of growth and contraction. It can be clearly seen that the current market behavior is of that typically found near the top of an economic cycle, just prior to or in the early stage of an economic contraction. Sector relative strength tells us that investors believe the economy is either in or on the verge of entering a recession.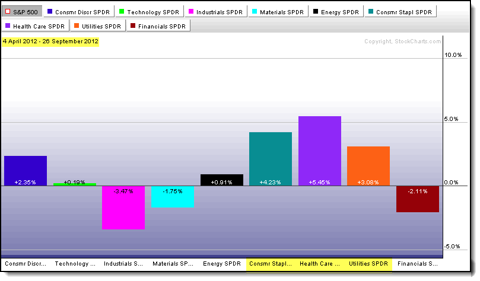 Major Sector Relative Performance from April, 2012-Present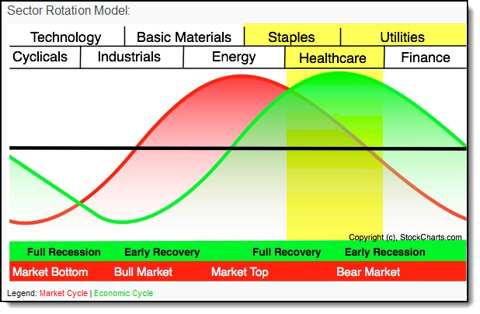 Classic Cyclical Sector Leadership Rotation
There is other evidence that the 42-month bull cycle is in its final stage, including negative divergences in the broad market advance decline lines, minimal market leadership, and more. However, it must be stressed that investors should not anticipate a market top. None of these signs of technical weakness can be used as precise timing tools because they can persist for a long period of time prior to a market changing trend. In addition, we must go back to our comments made in January of this year and quoted above, where an active central bank can become the dominant force in a trend despite economic weakness. With the newly announced open ended QE3, investors will need to become disillusioned with the Federal Reserve's ability to rescue the U.S. economy from the global economic slowdown before a meaningful equity market correction can unfold. That will happen, investors will become disillusioned, and seemingly overnight their perspective of market value will change
In the chart below, we illustrate the S&P 500 with its Advance Decline Line and Cumulative Net Volume (the Advance Decline Line of volume). The fact that the Advance Decline Line has not confirmed the index price by advancing to a new rally high indicates that fewer issues are supporting the index uptrend. In fact, as of the Wednesday, September 19th close, approximately 20% of the S&P 500 components are already down 20% or more from their 52-week high. In addition, 41% of the S&P 500 are already down 10% or more from their 52-week high, and 190 of the 500 issues posted their 52-week high more than six months ago. This is despite the fact that the S&P 500 index itself was off less than 3% from its 52-week high, which was posted just eight trading days prior. This level of internal deterioration is not typical of a healthy uptrend, but it is typical of the market nearing a bull cycle peak. However, until the investor psychology of believing that central banks can support equities indefinitely is broken, the indices will likely work higher on a narrowing base.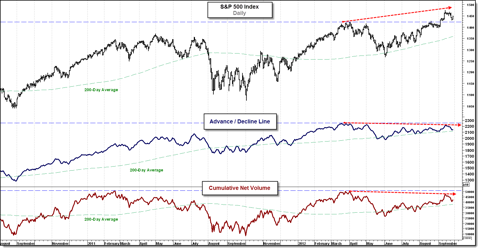 S&P 500 Index with Breadth Indicators
Disclosure: I have no positions in any stocks mentioned, and no plans to initiate any positions within the next 72 hours. I wrote this article myself, and it expresses my own opinions. I am not receiving compensation for it (other than from Seeking Alpha). I have no business relationship with any company whose stock is mentioned in this article.