Introduction
As a potential investor, I always think of ways that a company can increase its revenue. Why? Because that allows me to be one step ahead of other investors. If I can think on a way that the company can increase its future income, chances are that management is aware of it as well, and that it is already in the process of finding a way to monetize it.
In this article of Activision Blizzard (NASDAQ:ATVI), I have analyzed every business model of each game series, and I have come to the conclusion that Starcraft has the worst business model, but it also has the most potential to improve, and with a few changes to the business model, I believe we could see increased revenues in the future.
The Call of Duty series
Every spring, ATVI releases a new Call of Duty game. Typically, Activision makes some rather small changes to each new game by updating graphics slightly and adding a bit more content. But every other teenager still buys the new game (or receive it is a Christmas gift) as it is important for them to play the most recent game with their friends.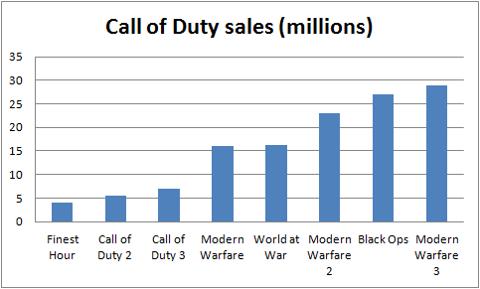 Source: Vgchartz.com
Besides selling a high number of games each year, Call of Duty also increases revenue by selling a premium membership (Call of Duty Elite), which costs $50 a year. Subscribers get access to new maps and modes before anyone else and on a monthly basis. As of today, there are roughly two million subscribers.
I rate the business model of Call of Duty as 5/5, as it provides a reliable revenue stream each year, and ATVI has potential to generate an increasing amount of revenue on the subscription model.
Skylanders
To replace the revenue obtained by the Guitar Heroes series (an old cash cow, which consumers got tired of buying, because new games barely had any new content), Activision began a new franchise last year with a game called: Skylander: Spyro's Adventure. This game targets the younger audience, and was the largest contributor to ATVI's revenue in the second half of 2012 according to the most recent 10-Q. If a player wants to switch character in Skylanders, he has to buy a physical model of the character, which is to be placed on the "The Portal of Power," whereupon they appear in the actual game. The successor to Spyro's Adventure, Skylanders Giants, is expected to be released October 21, 2012.
I rate the business model of Skylanders as 4.5/5. The only disadvantage I find with this business model is that there are costs related to producing the models, which leads to lower margins than Call of Duty. Skylanders also needs to prove itself over the longer term, and ATVI needs to be cautious on not milking this potential cash cow too heavily as they did with Guitar Heroes.
World of Warcraft (and Titan)
As I focused my previous article entirely on this subject, I go straight to the verdict here.
I rate this business model 5/5. As you can see in the below graph, margins on subscriptions are very high, and ATVI has previously milked the game somewhat by releasing expansion packs every other year. While I believe the amount of subscribers will decline until Titan is released (estimated: 2014-2015), the business model remains very profitable, and with the release of Titan, subscribers numbers are set to increase again.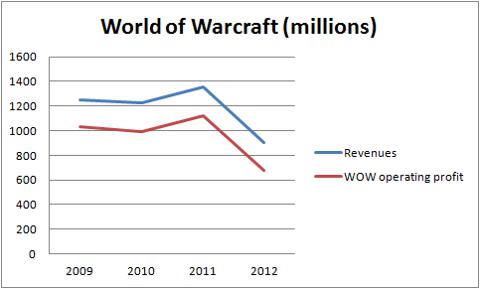 Source: My own estimates
The Diablo series
Diablo 3 probably took 6-7 years to develop, and while sales figures were great (roughly 10 million), the response from players have been somewhat negative. The longevity of the game wasn't as great as expected, and the social experience lacked a lot as well. In my opinion, the game wasn't as bad as many made it out to be, but the problem is the high expectations. Diablo 1 and 2 were both revolutionizing games when they were released in the 90's, and players had expected somewhat similar with Diablo 3. But many of the old Diablo 2 players aren't teenagers anymore, and it is more difficult to satisfy their needs today than 10-15 years ago.
Given the disappointment of Diablo 3, I don't think potential expansion packs will sell very well, and there might not be any Diablo 4.
I rate the business model as a 2/5. I debated whether it should be graded 1.5 or 2, but Diablo 3 does have a "virtual auction house," where players can trade items, and ATVI gets a fixed fee for each time an item is being sold. However, according to my calculations, the expected revenue stream from the auction house is very limited.
The Starcraft series
The Starcraft franchise is the smallest generator of revenue, but also the one with the most potential to improve. ATVI sold roughly five million copies of the game, which was somewhat disappointing, as the game (in a similar fashion as Diablo 3) took many years to develop.
While Starcraft 2 disappointed in terms of sales, it has succeeded as an "e-sports," as Starcraft 2, according to my estimates, is intensely followed by roughly 100-200k "nerds." Many of the "nerds" use the majority of their time watching professional players play rather than playing the game themselves. But this is also the main problem with the current business model of Starcraft 2, as it is a somewhat stressful game to play for casuals, and therefore Starcraft has sold fewer copies than the other franchises. This problem is further multiplied by the fact that there are no subscription fees, "auction house," or any other way for ATVI to generate further revenues.
I believe this causes Activision Blizzard to down-prioritize the development of the future expansion pack "Heart of the Swarm," which is expected to be released in late 2012. This could lead to even worse sales figures, which causes a downward spiral, and therefore it's possible that there will be no "Starcraft 3," unless ATVI finds a way to monetize Starcraft 2. My fellow author Dan Naumov recently mentioned a few ways thought the game could be monetized:
access to in-depth statistics (win rates on a per race and/or per map rate, detailed weekly/monthly charts that show how you improve over time, etc)
ability to purchase (for additional cost) and use custom models/skins for various in-game units
ability to change (for additional cost) your in-game name up to two times a year
built-in video streamer for broadcasting your gaming sessions to a wide audience on the Blizzard/Starcraft 2 website
built-in video player to quickly access gaming streams of the most popular players in the Starcraft 2 scene
access to Premium character portraits
ability to host and join games on a LAN
ladder matchmaking queue priority
I like some of his ideas, and it seems to me that his ideas are somewhat inspired by the way Call of Duty and Leagues of Legends work.
But there are a few problems with his ideas. First of all, Blizzard has clearly stated that there will be no LAN, so I don't think that suggestion is realistic. Blizzard also already charges for the ability to change your name.
Regarding character portraits, I think that would work well if the target group was young teenagers/pre-teens, but the main target group of Starcraft is males in the age of 16-25. I am also not sure what exactly Dan is thinking of by "ladder matchmaking queue priority."
But the access to in-depth statistics is definitely a nice feature which a regular player could be willing to spend a couple of bucks on each month. Regarding the built-in video idea, there is almost no way that Blizzard could charge for that on a subscription basis, as players today can watch streams by professional players for free.
However, Blizzard should (in my opinion) build streams into its online platform (Battlenet 2.0) and earn additional revenue through advertising on the streams. Leagues of Legends, which today has surpassed World of Warcraft as the most played game, has a built-in-video stream on its platform and this caused a lot of players to watch professional players play, and over the last year, Leagues of Legends has also surpassed Starcraft as the largest "e-sports" game.
Verdict: Current Business model: 1.5/5, but ATVI has the potential to improve the business model to 2.5/5, if they can charge a small subscription and come up with a model where they earn money every time players watch professional Starcraft 2 games. Dan Naumov estimates that this could increase revenues of $23-45 million a year, but I think these numbers are exaggerated, as he misstates the current amount of active Starcraft 2 players by 7-10 times. A more realistic estimate is probably in the range of $5-20 million, which isn't that much compared to the $4.4 billion in revenues ATVI has produced over the last twelve months. But if the alternative is that Blizzard will not develop an eventual Starcraft 3, the significance of change to the business model is actually quite large.
Disclosure: I have no positions in any stocks mentioned, and no plans to initiate any positions within the next 72 hours. I wrote this article myself, and it expresses my own opinions. I am not receiving compensation for it (other than from Seeking Alpha). I have no business relationship with any company whose stock is mentioned in this article.