Insider transactions can often serve as a predictive indicator for investors as a window to the perspective of those operating behind the wheel. In particular, insider purchases often carry more weight than corresponding sales. While there are many reasons for insiders to sell shares of a company, there are very few reasons to acquire more shares apart from a bullish perspective on the future outlook of the underlying equity.
Bearing this in mind, watching the flow of money from those "in the know" often gains even greater significance when it is the CEO who is doing the purchasing and when the sum is a sizeable amount. With such confidence coming from the head of the company, it is reasonable that investors too should turn their attention to what it is the company has to offer. The following company has recently seen large insider purchases exceeding $500,000 from its CEO over the last week (Sept. 24 to Sept. 28).
Opko Health, Inc. (NYSEMKT:OPK): Opko Health is a multinational pharmaceutical and diagnostics company operating primarily in the United States, Chile, and Mexico. The company leverages its global commercialization expertise to pursue acquisitions of commercial businesses that will drive growth and provide geographically diverse sales opportunities.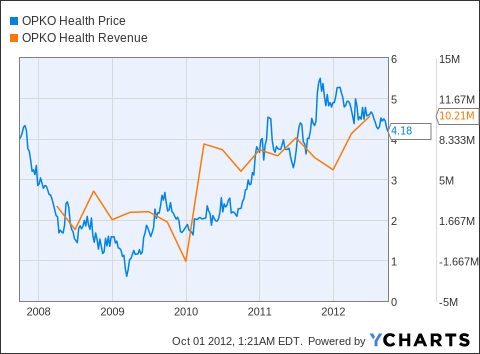 CEO Dr. Phillip Frost has been a staunch investor in Opko Health on the open markets. He also indirectly maintains a strong portfolio in the biotech sector. Some of his additional investments include sizeable positions in PROLOR Biotech (NYSEMKT:PBTH), Non Invasive Monitoring Systems Inc. (OTCPK:NIMU), and Safestitch Medical (SFES.PK). Yet what's unique about Opko Health is that he has consistently purchased shares in the company on a very regular basis dating all the way back to 2007.
Company
CEO Name

Shares Purchased
(9/24-9/28)

Opko Health, Inc.
Dr. Phillip Frost
737,000
Opko has a pricey market capitalization of $1.25 billion for a company that has yet to be net income positive. However, while the company has yet to produce a profit, it becomes a bit difficult to argue against a CEO who's indirectly acquired about 44% of the total outstanding shares. According to the most recent Form 4 found here, Dr. Frost indirectly owned 132,322,900 shares out of the 297,991,402 issued as of June 30, 2012 listed on the last Form 10-Q found here. In an excerpt from an article by Barron's found here, he's quoted as saying the following:
"Other people are investing in the company and I want to align myself with them," said Frost in a phone interview last Thursday with Barron's. "Besides which, I think it's a good investment." Frost said that he's often encountered short sellers when building his businesses. Opko's mix of assets may look complicated, he acknowledged. "But I've never been connected with a company that has so many valuable assets as Opko," Frost said.
Ultimately, these remain strong words coming from a person with a net worth of $2.4 billion. As a pharmaceutical titan who earned his fortune selling drug manufacturer Ivax to Teva Pharmaceuticals (NYSE:TEVA) for $7.6 billion back in 2005, Dr. Frost and his conviction remains an intriguing factor in a company whose short interest has actually risen to 23% of the float earlier in the month. Clearly, this CEO has demonstrated his ability to assess value in a company's technology. His strong insider ownership position should have many investors more intrigued over the future growth prospects found in the diagnostic and therapeutic technologies at Opko Health.
Disclosure: I have no positions in any stocks mentioned, and no plans to initiate any positions within the next 72 hours. I wrote this article myself, and it expresses my own opinions. I am not receiving compensation for it (other than from Seeking Alpha). I have no business relationship with any company whose stock is mentioned in this article.