In its telephone conference call Tuesday, Marlin (NASDAQ:MRLN) CEO Dan Dyer, Exec. VP George Perose and CFO Lynne Wilson all attributed the two-third down second quarter 2007 compared to 2008 as a result of "the economy." It was $1.7 million compared to $5.178 million.
In fact, their net income has been on a down curve as their stock has been, too (net income in millions):
$5,027
$5,178
$5,028
$3,053
$1,359
$1,700
In the telephone conference call, they told stock broker analysts that leasing companies were experience difficult times, banks were getting out of leasing, mentioning Irwin Business Finance.
They did not mention the cause primarily being banks with subprime difficulties or that State Bancorp sale of Studebaker-Worthington was to Main Street Bank in Texas or Mechanics Bank in California getting into leasing or Bob Robichaud, CLP, or Steve Tidland, CLP, setting up a leasing program for Commerce National Bank in Southern California or Dean R. Ceglia, new VP at Comerica Bank Business Leasing Division in San Jose, Northern California.
They also didn't report about such companies as SC Equipment reporting how good business is, or the Equipment Leasing and Finance Association MLFI-25 survey (Marlin is also one of the 26):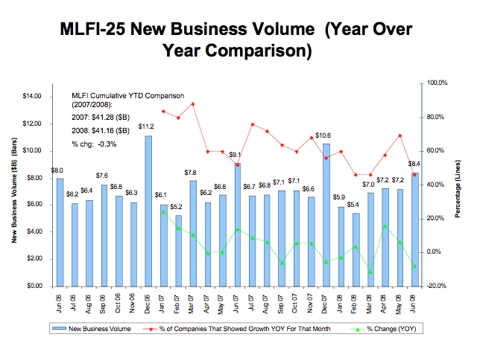 In their six month SEC filing, Marlin states:
Our principal competitors in the highly fragmented and competitive small-ticket equipment leasing market are smaller finance companies and local and regional banks. Other providers of equipment lease financing include Key Corp, De Lage, Landen Financial, GE Commercial Equipment Finance and Wells Fargo Bank, National Association.
Their leasing divisions were doing quite well, it was reported.
The telephone conference call also did not mention the various law suits they have which include Direct Capital and previous employees.
Leasing News attempted to ask these questions, but was not called upon. Many were asked more than two questions, the limit for the first time, and second round questions were also taken.
This is what was revealed in the conference not in the SEC filing:
CFO Lynne Wilson reported "B Corp" (sic) loans were down and it appeared Marlin was backing away from this product, although not explained.
There were questions regarding the $47 million was drawn from their industrial bank in Utah with $20.25 more million perhaps available by the end of the year, giving them a lower cost of funds.
Several of the delinquency rates were up, stock broker analysts noted, particularly the 60 day plus to 3.2% and the credit loss available was increased in anticipation.
They evidently did read the financial statements, but it is my personal experience that few bankers actually understand leasing financial statements with their phantom income, walking up residuals, and the various yearly changes that affect the numbers. Some wags call it a "house of mirrors." I say that's why the accountants who specialize in this field get the big bucks. I won't say any more as my mentor told me never "bad mouth" an accountant or a credit officer.
It is interesting to compare the six quarter 2008 to 2007 interest expense and fee income:
2008
Interest $44,823
Fee income: $11,159
Income: $55,982
Int. Exp. $19,606
2007
Interest $49,588
Fee Income:$10,801
Income: $54,389
Int. Exp. $10,801
As interesting, what is the fee income?
From the December 31, 2007 SEC filing:
The increase in fee income was primarily due to higher administrative and late fees that grew by $2.6 million to $14.0 million for the year ended December 31, 2007 compared to $11.4 million for the year ended December 31.
There were 8,423 leases signed the first six months. Even at $150 each for "doc fees," this is $1.26 million with the remainder "late charge" fees? That's almost $10 million in profit from late fees, if that is the answer. And yes, fee income is up for the first six
months, too.
As a matter of fact, every other number but income is up in the first six months:
Equipment Volume (in thousands of dollars)
$102,652
$97,260
$86,167
$87,670
$70,550
$97,260 compared to $86,167 equipment volume
Average Monthly Sources
1,337
1,279
1,180
1,186
1,091
1,279 up
Number of Leases
8,639
8,423
7,609
7,615
8,423 six month up
Approval Percentages
62%
58%
60%
56%
50%
58% up (60 a year ago)
Net income (in thousands)
$5,027
$5,178
$5,028
$3,053
$1,359
$1,700 compared to 5,178 (Down 2/3rds)
--going up--
Salaries and Benefits Expense (thousands of dollars)
$5,716
$5,113
$5,257
$5,243
$5,870
$6,344 salaries and benefits
Total personnel end of quarter
Sales Personnel
The six month SEC filing was on line after the telephone conference.
Average transaction was $10,000, down from $10,300.
Equipment Category Percentage
Copiers 20.20 %
Commercial & Industrial 9.43 %
Computers 7.34 %
Telecommunications equipment 6.99 %
Security systems 6.43 %
Restaurant equipment 5.09 %
Closed Circuit TV security systems 4.72 %
Medical 4.64 %
Computer software 4.40 %
Automotive (no titled vehicles) 3.95 %
Water filtration systems 2.77 %
Cash registers 2.51 %
Office Furniture 2.30 %
All others (none more than 2.0%) 19.23 %
We had leases outstanding with end user customers located in all 50 states and the District of Columbia,
State Percentage
California 14.36 %
Florida 9.26 %
New York 7.60 %
Texas 7.14 %
New Jersey 5.64 %
Georgia 4.19 %
Pennsylvania 3.95 %
North Carolina 3.29 %
Massachusetts 3.19 %
Illinois 3.00 %
Ohio 2.97 %
All others (none more than 2.5%) 35.41 %
Leasing News has made many attempts to ask questions by telephone, email and conference call. Leasing News welcomes any response from Marlin Business Services and its officers.
References: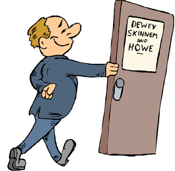 Not mentioned in the Marlin Business Service telephone conference, nor in the SEC filings, are the various law suits.
There is a general statement in the SEC filings, however:
We are party to various legal proceedings, which include claims and litigation arising in the ordinary course of business. In the opinion of management, these actions will not have a material adverse effect on our business, financial condition or results of operations.
Being a "party," is attorney speak for those that you also initiate.
In this first instance, Marlin Business Service is suing Direct Capital Corporation, Portsmouth, New Hampshire along with Harry D. McEnroe, Christian Caruso, George Wade, Darren Anthony, all ex-employees of Marlin. You guessed it, they allegedly stole secrets and brought them to Direct Capital, a well-funded, successful, aggressive, innovative company, who needs the Marlin so-called secrets like they need another hole in their head. Chris Boom is laughing as he gets another chance to champion his company.
Marlin picked on the wrong guy.
In the original filing:
Marlin seeks injunctive relief and an award of monetary damages against Defendants who, through their concerted efforts, misappropriated the proprietary business model, documents, and business knowledge Marlin spent years developing and perfecting. by unlawfully accessing and using systems, processes and information developed by Marlin to further the business of direct Capital, Defendants engaged in unfair competition which allowed Direct Capital to avoid the expense and time required to invest in and develop its own business independently.
The court records are long, but the gist of the matter is stated above. Direct Capital denies the charges. A hearing is set for September 2, 2008 at the US District Court, the United States Courthouse in Camden, New Jersey.
Copies of the complaint, the proceedings and other documents follow this story to give further details to readers.
Leasing News is attempting to confirm a Marlin Business Service suit, or pending suit, against the officers and Latitude Equipment Leasing, Marlton, New Jersey. None of the parties will confirm or deny.
On August 17, 2007 Marlin filed with the SEC:
The Company today announced the dismissal of two of its sales managers. They were terminated for actions inconsistent with their duties to the Company. An investigation of this matter is ongoing.
This was the result of the termination of Mike Bennie, who along with ex-Marlin Gary Kester, started Latitude Equipment Leasing, and later attracted Marlin co-founder Bill Waddell. During this time, Dominic Janney allegedly felt he was next after Mike Bennie, the former vice-president of the leasing broker division, who was fired April 2007. Both Janney and Mancini reportedly thought they would be next and allegedly started working on a business plan to start a small ticket leasing company on their own. Bennie started working on an investor plan right away instead of looking for employment elsewhere. He told Leasing News then he did not want to work for a large leasing company again such as Marlin or Advanta.
The rumor that Janney, Mancini, and Gallo would join Bennie in a separate company was not true. Reportedly three employees were caught with a prospectus to start another company. In letting them go, in reportedly two separate meetings, all the employees were called in and told that Vice-President Dominic Janney, Tom Mancini, and Joe Gallo were let go because they were recruiting Marlin employees for a new leasing company, according to five highly reliable sources.
It appears the same approach with Direct Capital is happening with Latitude, although some call it a grudge. Any information to confirm or deny this please send to kitmenkin@leasingnews.org, "on" or "off the record." (More on Bennie and Latitude.)
Disclosure: none