Shares of China Digital TV (NYSE:STV) continued their uninterrupted nose dive to the single digits last night after management issued weak Q308 revenue growth guidance of just 8-15%. This compares to the 74.2% revenue growth the company posted for Q208.
Management sited the May earthquake and Beijing Olympic Games as the primary reasons why cable operators were delaying purchasing the company's smart cards.
In spite of the anticipated Q3 revenue shortfall, the company reiterated its full year smart card sales forecast of 11M units but did lower the high end of their full year 2008 revenue guidance from $84M to $83M indicating a deeper than expected reduction in the average selling price [ASP] for their smart cards.
The Q3 revenue warning, ASP pressures, rising R&D and SG&A expenses, coupled with the issues I raised in a previous Seeking Alpha article titled China Digital TV: Red Flag Warning? make investing in the company's shares a major risk at this point.
For these reasons, I anticipate the shares will selloff to the $8.00 to $9.00 range over the next 60 days before rebounding slightly in anticipation of the Q3 earnings report. Even at $8.00, the company would have a price to revenue ratio of approximately 7, which is above that of a company like Apple (NASDAQ:AAPL) which has a solid track record of performance and a more stable revenue and earnings outlook.
The only solid item die hard long investors can bank on is the company's current $269.7M net cash position, which equates to nearly $4.50 per share. Management could choose to use some of this cash to buyback shares which would prevent any further share price erosion over the near term and may actually result in a significant short term bounce, since major holders control over 70% of the company's outstanding shares leaving only around 18M shares freely available for trading.
Another possibility is that Capital International Inc., who currently owns nearly 20% of STV's outstanding shares, may choose to average down on their original investment by purchasing additional shares. Earlier this year, the company purchased nearly 12M shares at a price of $20.00 per share. Since Capital International Inc. has already lost over 40% on their original investment, I believe such a transaction is highly unlikely.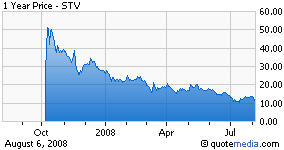 Unbelievably, in spite of the stock's steady decline from $55.31 to just above $10.00, Credit Suisse and Morgan Stanley still maintain price targets above $30.00. At $30.00, STV would have a price to revenue ratio of over 25. Only a handful of hyper growth companies like Baidu (NASDAQ:BIDU) and VisionChina (NASDAQ:VISN) currently support such valuations. Unfortunately China Digital TV is not in the same league as these companies as the market for smartcards is finite and the company currently has minimal sources of recurring revenue.
Keep in mind that both Credit Suisse and Morgan Stanley were underwriters of the STV IPO and have been consistently touting the stock as it has continue to fall unabated. I believe the latest report will force both firms to severely reduce their price targets, which will no doubt anger those unfortunate investors who purchased shares on their recommendations.
At this point STV is a " Missouri " or "show me" stock. The company must meet and or preferably exceed their revenue and profitability targets for both Q3 and Q408, issue strong revenue growth guidance for 2009 and clear up several of the key outstanding risks prior to regaining the confidence of investors.
Disclosure: The author currently maintains an actively traded long position in shares of China Digital TV.