One observation is quite striking with regard to last week's Exxon Mobil's (NYSE:XOM) acquisition of Denbury Resources' (NYSE:DNR) Bakken assets: the acquired properties are a look-alike of Kodiak Oil & Gas's (NYSE:KOG) portfolio. During Denbury's conference call, the company's management estimated the value of total consideration received in the divestiture at "just under $2 billion" (which includes the $1.6 billion cash quoted in the news headlines). Kodiak's current firm value is close to $3.3 billion.
There has been an enormous amount of speculation featuring Kodiak as a potential takeout candidate (which typically implies the hope for a hefty premium to current price). Factoring in a 30% hypothetical acquisition premium to the stock's $9.36 close on Friday, the ostensible gap - more than two times - between the valuation of Denbury's Bakken assets and the projected valuation for Kodiak seems just too wide to ignore. Is Denbury's acreage of much lower quality than Kodiak's? Or is Kodiak's stock dramatically over-valued? Or are there other factors to the equation that perhaps could help explain the conundrum?
In this section of the note, I focus on the operating comparison of the two portfolios and provide well performance data by area. In Part II, I try to quantify the findings and discuss the "read-through" from Denbury's divestiture to Kodiak.
Kodiak vs. Denbury Operating Comparison
Location. A side-by-side comparison of the two acreage maps shows how remarkably similar the two portfolios are. Kodiak's Koala operating area, where KOG has drilled some of its most consistently prolific wells, and Polar operating area are immediately to the north of Denbury's Cherry acreage, while Kodiak's Smokey area is immediately to the south. In the Dunn County, Denbury's Bear Creek acreage is less than ten miles away from Kodiak's leasehold.
Perhaps the sole significant difference is that Denbury's portfolio offers greater exposure to the Nesson Anticline geology in the Charlson area.
Kodiak Acreage Map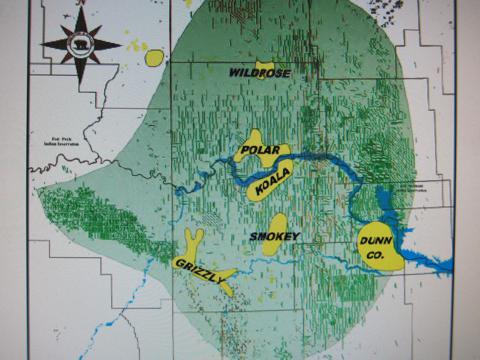 (Source: Kodiak September 2012 Presentation)
Denbury Bakken Acreage Map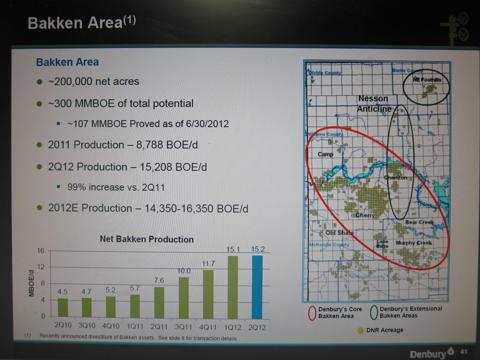 (Source: Denbury Resources September 20, 2012 Presentation)
Acreage. In terms of size, the two portfolios are again very similar. Value in both portfolios is defined by "core" acreage (in the summary spreadsheet below, these are areas in the Tier I and Tier II categories). The less productive fringe acreage (shown in the spreadsheet as Tier III), although significant in size, represents a very minor component of the overall value (note that last year Denbury wrote off approximately 75,000 net Bakken acres in its Almond area as uneconomic).
HBP Requirements. Denbury's acreage was essentially all held by production by the time of the transaction. Kodiak is slightly behind, but will have no problem holding its leases and has guided that the Dunn County, Koala and Smokey areas will be all HBP by year end, while Polar area will be HBP by the end of 2013.
Operatorship. Both portfolios have non-operated components. While I do not have precise figures at the moment, judging by the budgets, Denbury had a slightly greater percentage of non-op leases.
Developed Reserves. Both portfolios have approximately equal existing production. Kodiak produced an average of 13 kBoe/d during the last quarter, with 28 MMBoe of proved developed producing reserves as of June 30, 2012. Denbury's production for the same period averaged 15.2 kBoe/d, with proved developed producing reserves estimated at 28 MMBoe as of June 30 (I assume 26% of the total 107 MMBoe proved reserves were developed).
Both portfolios are largely undeveloped (I estimate that less than 20% of all potential locations have been drilled in each case). Importantly, the value of producing reserves and operating infrastructure in both cases represents a relatively small percentage of the total value (less than one third).
Well results
It is important to note that in the Bakken, like in other shales, acreage productivity may vary significantly within a distance of several miles. Therefore, well results are ultimately the sole reliable measure of acreage quality. In the summary table below, I have compiled average well production results by area based on the public disclosure by Denbury and Kodiak. The underlying data is shown in greater detail in the spreadsheet at the end of this section.
The data set is extensive but clearly not perfect. The list of wells includes only recently operated completions for which data was readily available (does not include non-op data). The data do not provide an equal representation of all parts of the acreage, as some leases were converted to the HBP status several years ago, and some areas and intervals are yet to be tested. Since the majority of the wells on the list are recent, many wells have only a few months of production performance information (to draw more reliable conclusions, at least a year of production history would be necessary, over a large enough statistical sample).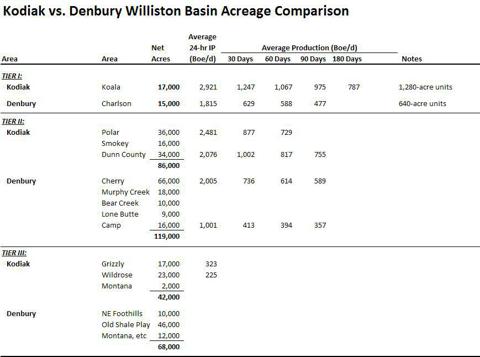 For simplicity, I have grouped the two companies' operating areas in "tiers" based on the average well productivity. My tiering is somewhat arbitrary as each operating area, particularly the larger ones, will likely have pockets or high quality acreage as well as low quality acreage.
The overall comparison indicates, based on this admittedly limited set of data, that Kodiak's wells have performed on average approximately 15%-20% better than Denbury's wells. I use the 90-day average production as the primary basis for comparison (the 24-hour IP test data is less reliable: higher IP wells can on occasion underperform lower IP wells).
As a note, in Denbury's Charlson area, which I put in Tier I, the two wells presented in the table were drilled on singe-section units (although with 20-stage completions). Therefore the results should be interpreted as very strong. By doubling the production figures for these two wells, I match up Charlson area with Kodiak's Koala.
Conclusion
Based on the property review and production data, it appears that the two acreage portfolios are indeed very similar, however, Kodiak has been able to show somewhat stronger well results. For valuation purposes, I choose to focus solely on the more productive "core" parts of the two portfolios (which are comprised of 103,000 net acres in Kodiak's case and 118,000 net acres in Denbury's case) and assume EURs approximately 15%-20% higher on average for Kodiak.
It is difficult to determine if the difference in well results is attributable to Kodiak having higher quality acreage, or to more effective completion techniques. If the latter were true and could be demonstrated, Denbury's acreage may be just as attractive from an M&A acquirer's point of view as Kodiak's.
In Part II, I will discuss financial implications of this comparative review.
Denbury and Kodiak Detailed Well Performance Results

While the primary focus of the note is on Kodiak, the discussion is also highly relevant to other small- and mid-cap Bakken-focused stocks, including Continental Resources (NYSE:CLR), Whiting Petroleum (NYSE:WLL), WPX Energy (NYSE:WPX), QEP Resources (NYSE:QEP), Enerplus (NYSE:ERF), Newfield Exploration (NYSE:NFX), Triangle Petroleum (NYSEMKT:TPLM), and others.
Disclosure: I have no positions in any stocks mentioned, and no plans to initiate any positions within the next 72 hours. I wrote this article myself, and it expresses my own opinions. I am not receiving compensation for it (other than from Seeking Alpha). I have no business relationship with any company whose stock is mentioned in this article.