Today I will cover JMG Exploration (OTC:JMGE), a company currently in the midst of closing an RTO transaction, and a stock that appears to be the subject of a pump and dump scheme. I will outline numerous red flags that indicate the company is little more than a shell company being used as a tool to execute a pump and dump scheme, and why I believe the stock is destined to lose significant value in the months to come.
Pump and dump schemes are perhaps the most common type of stock scam taking place in US capital markets today. One of the key reasons for this is the sheer number of shell companies which are traded in the public markets. Although the SEC has recently stepped up efforts to reduce the availability of dormant publicly traded shell companies, determining that a company is a true dormant shell is often a grey area, specifically if the company is not delinquent in its SEC filings. Hundreds, perhaps thousands, of non-delinquent shell companies remain actively listed on US stock markets. However, shells that stay up-to-date in their filings can be just as dangerous to investors and more attractive to scamsters looking to execute pump and dump schemes. Robert Khuzami, Director of the SEC's Division of Enforcement has been quoted saying:
"Shell companies are to stock manipulators and pump-and-dump schemers what guns are to bank robbers."
Although shell companies may be directly promoted by scam artists, pump and dump schemes are often executed subsequent to or concurrent with a reverse takeovers transaction ("RTO"). Also called a reverse merger, this is a type of going-public transaction in which a publicly traded shell company issues shares in order to acquire the operating business or assets of a private company. Such a transaction is often hyped by promoters as a reason to invest in an exciting new business. In reality, RTOs are subject to very little scrutiny from legitimate bankers, accountants and regulators, far less than an IPO. The implication of this is that although IPOs are often overvalued and can make for poor investments, they are far less likely to be complete scams, as RTOs often prove to be.
There is little oversight into the quality and accounting treatment of assets or businesses acquired by shell companies in an RTO. The SEC has even gone as far as issuing a bulletin, available here, outlining the risks to investors of investing in RTOs. Over the last 2 years, I have exposed 7 RTO scams, all of which have been disastrous for ordinary investors. On average these stocks have declined by over 80% since my original articles. My track record of exposing companies on Seeking Alpha is listed below (Note: ANGI is not an RTO but the others are):

Click to enlarge
Company Background
According to its most recent 10-Q, JMG Exploration, Inc. was incorporated under the laws of the State of Nevada on July 16, 2004 for the purpose of exploring for oil and natural gas in the United States and Canada. JMG's wholly owned Canadian subsidiary is inactive and has no assets or operations. The 10-Q also outlines in Note 9 that JMGE is in the process of an RTO:
"The Company has entered into a definitive agreement to acquire Ad-Vantage Networks, Inc., a development stage corporation that is engaged in digital advertising service technology ("Ad-Vantage")."
Based on the information in the 10-Q, JMGE has no substantial assets apart from $1.55 million in cash, $1.4 million of which has been lent to Ad-Vantage (more on this later…) and $471K in liabilities.
A September 6, 2012 8-K elaborates on the RTO, revealing among other things that:
The Merger was consummated, effective August 31, 2012, by the filing of a Certificate of Merger with the Delaware Secretary of State on August 31, 2012.

Pursuant to and in connection with the Amended and Restated Merger Agreement and the Merger:

The Company issued 169,973.98 shares of Class M Preferred Stock, a newly authorized class of Company preferred stock, as consideration for the Merger. Each issued and outstanding share of Ad-Vantage common stock and Ad-Vantage preferred stock was exchanged for 0.01 fully paid and nonassessable share of Class M Preferred

Upon the consummation of the Authorized Share Increase and the Reverse Stock Split, the shares of Class M Preferred issued in exchange for the shares of Ad-Vantage Capital Stock shall automatically convert (the "Automatic Conversion") into shares of the Company's common stock, at the ratio of 100 shares of common stock for each share of Class M Preferred (the "Conversion Ratio").

After giving effect to the Reverse Stock Split and the Automatic Conversion, the Company will have approximately 19,726,603 shares of common stock outstanding, of which 16,997,398 shares will have been issued (giving effect to the Automatic Conversion) to complete the Merger.

Each of David S. Grant and Sanjeev Kuwadekar became directors of the Company, effective upon the consummation of the Merger, and each of Donald Wells, Ed Cerkovnik and Robert Burg will become directors of the Company, with such appointments effective automatically upon expiration of any applicable waiting period in compliance with the provisions of Rule 14f-1

Those persons serving as officers of JMG prior to the Merger resigned upon the consummation of the Merger and those persons serving as officers of Ad-Vantage become officers of JMG.
Based on a September 28th closing price of $3.61/share and the 19.73 million shares outstanding following the closing of the RTO, JMGE's diluted market capitalization is currently valued at approximately $71.2 million, a figure which I will illustrate is highly suspect based on a number of data points.
JMGE is Subject to a Cease Trade Order in Canada
Canadian securities regulators have often acted ahead of their American counterparts regarding halting securities in questionable OTC issuers with ties to Canada. Unfortunately, their limited jurisdiction - provinces within Canada - has ultimately limited the impact of their actions. Still, a Canadian trading halt is often indicative of a scheme. Recent examples of such companies include:
Jammin Java (JAMN.pk)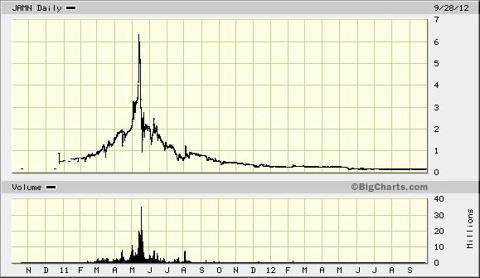 Click to enlarge
Forum National Investments (OTCPK:FMNL)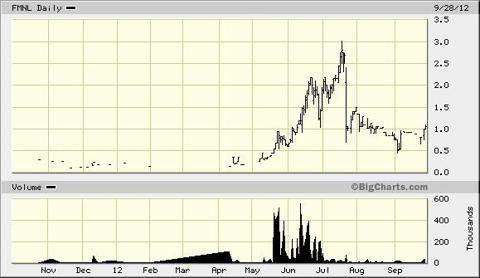 Click to enlarge
According to this document filed by the Alberta Securities commission, although JMGE's stock was subject to a cease trade order in the Canadian province, an undisclosed party was seeking to accumulate JMGE shares from an Alberta counterparty at $1.00 as of May 2012.
JMGE Has Been Promoted by Penny Stock Newsletters
JMGE's stock has been touted by penny stock newsletter The Penny Stock Shark as evidenced here and here. The Penny Stock Shark is owned by Raven Consulting Corp. Though the disclaimer here indicates that:
"Raven Consulting Corp has not been compensated for this advertising and promotion a third party."
Two sentences later it goes on to say that:
"This website is a service of Raven Consulting, Corp. a financial public relations firm that has been compensated by the companies profiled."
This makes it hard to know if they have been compensated for certain, but regardless, they have acted as paid stock touts in the past, so investors ought to view their coverage of JMGE with suspicion.
JMGE was also touted here by another stock tout service, the Stock Braniac, which also has a history of paid promotion. Stock touts from services such as these are often indicative of a Pump and Dump scheme, as highlighted by the SEC here.
Millions of Dollars of JMGE Shares Have Traded Recently Despite the Almost Total Lack of Information Regarding the Financial Condition of the New Entity
JMGE's stock has been the subject of a significant increase in trading activity following the April 20, 2012 announcement of the company's intent to execute the reverse merger with Ad-Vantage Networks. Since that time, the company's stock price has increased from around $0.70/share with almost no daily volume to a stock trading over $3.50/share. In the four trading sessions following the April 20 intent to execute a reverse merger, the stock advanced almost 200% from $0.70 on April 20 to $2.00 on April 26. Despite the fact that it is now over 5 months later and no financials have been filed on the RTO target, Ad-Vantage Networks, the stock has not traded below $2.00 and has recorded over 2 million shares of trading volume in the interim. This represents at least $4 million, but probably more like $6-7 million.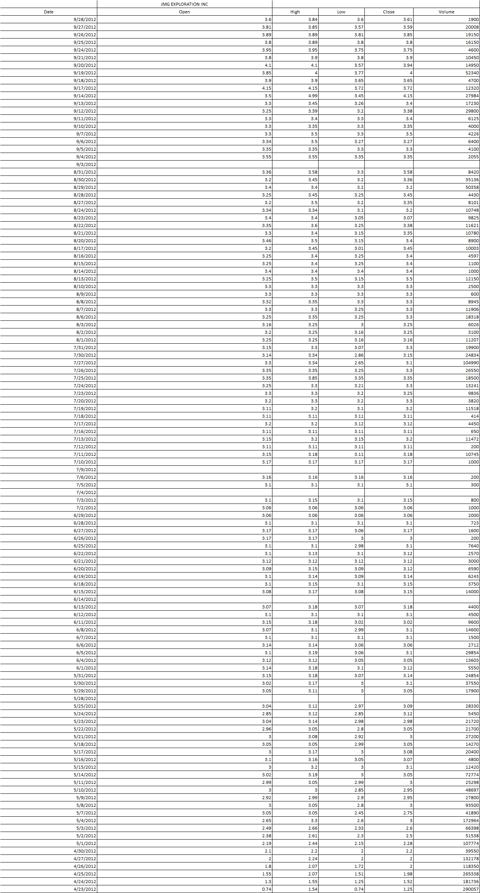 Click to enlarge
At present, after accounting for the dilution set to occur upon the completion of the automatic conversion of Class M preferred stock set to take place when the merger is fully closed, JMGE will have 19,726,603 shares outstanding. Based on the September 28 closing price of $3.61 per share, this represents a market capitalization of $71.2 million. This frothy valuation is highly suspect, particularly in light of the red flags and the near complete lack of information available on the company more than 5 months after the initial RTO announcement.
A Major Holder of JMGE's Common Shares Has Been Convicted by the SEC for Illegal Penny Stock Distribution Offenses and Appears to be Selling His Shares to the Public
One of the most reliable indicators of the pump and dump scheme is association with figures that have previously been involved in pump and dump schemes and/or other illicit penny stock shenanigans. As with many of the scams that I have exposed, the situation at JMGE is no different.
Charles F Kirby, a major shareholder of JMG, as viewable on this 13D filing here and this 14F-1 filing here, has had major run-ins with the SEC regarding illegal penny stock dealings. Details of the case are available in the official SEC ruling available here.
To summarize, Kirby was convicted by the SEC of willfully violating Sections 5(a) and 5(c) of the Securities Act of 1933 through the unregistered sale of shares of the common stock of Golden Eagle International, Inc. He was:
"barred from association with any broker or dealer and from participating in any penny stock offering. Subject to a right to reapply after five years"
Ordered to:
"disgorge the amount of $31,352.60 as a result of his involvement in an illegal distribution of securities"
And:
"assessed civil money penalties of $200,000."
The docket also reveals in section (V.) that Kirby is a multiple repeat offender having previously
"been twice sanctioned by the National Association of Securities Dealers, Inc."
The nature of the conviction against Kirby is especially troubling in light of the current nature of his association with regard to JMGE and the company's nature as a reverse merger which is issuing many shares to the public.
Another troubling development is that based on recent filings with the SEC, it appears that Kirby has been taking advantage of the current information vacuum and high price of JMGE stock to sell down his shares to the public, although he has not filed any 13D to this effect. What is known is that as recently as September 6, 2012, Mr. Kirby appears in a 14F-1 filing and is listed as having 1,505,345 million shares and a 7.6% ownership stake (after accounting for future RTO related dilution). However, in the most recent company filing, a September 28 PRE 14C filing, Mr. Kirby is no longer listed as a 5% holder of the stock.
This is either an omission by the company, which would be very problematic in itself, or it is an indication that Mr. Kirby has sold a large number of shares: at least 2.6% of the total 19,726,603 diluted shares used to calculate the ownership stakes. This represents at least 512,891 million shares or at least about $1.5 million keeping in mind that JMGE hasn't traded below $3.00 since the end of July.
Ad-Vantage Has a Significant Number of Recently Issued Shares to Undisclosed Parties at Negligible Valuations
One common thread among reverse merger scams is a significant amount of stock recently issued for prices significantly below the artificially inflated price of the publicly traded shares. This situation appears no different for JMGE. It is disclosed on page 25 of the 8-K regarding the RTO that Ad-Vantage closed a series of financings between July 2010 and April 2012:
"In July 2010, ADVN closed a placement of 3,492,061 shares of Series A Preferred Stock at $0.1575 per share for total proceeds of $550,000.

In November 2011, ADVN closed a placement of 2,191,838 shares of Series B Preferred Stock at $0.4562 per share for total proceeds of $1,000,000.

"In April 2012, ADVN closed a placement of 528,070 shares of Series C Preferred Stock at $1.14 per share for total proceeds of $602,000."
In total, over the last 2 years, Ad-Vantage appears to have issued 6,211,969 million shares for $2,152,000, representing a weighted average price of $0.346 per share.
Looking at section 2.1 of the amended merger agreement filed on September 6, 2012, we can see that each share of preferred stock is convertible into 0.01 of a share of Class M preferred stock. From Page 2 of the September 6, 8-K regarding the RTO, we can see that the conversion ratio of Class M preferred stock to common stock is 100-to-1, i.e. following a full close of the merger the preferred shares will be converted into 6,211,969 million shares of JMGE common stock with an average cost of $0.346 per share. This cost base represents only 9.5% of the $3.61 closing price of JMGE's stock on September 28, 2012.
These shareholders will likely look to realize their average 1000%+ returns on investment as soon as possible and this will likely introduce additional selling pressure onto the stock going forward. This intention to sell is further confirmed in the risk disclosures issued by Ad-Vantage on page 17 of the 8-K regarding the RTO:
"When shares we are obligated to register and shares that are subject to lock-up restrictions become readily tradable the market price for our stock may drop and you may lose money.

ADVN has committed to register all 16,997,398 shares of common stock issued to Ad-vantage shareholders in the Merger. 6,380,619 of those shares of common stock are subject to registration by the Company as soon as reasonably practicable, with the remaining shares one year following the Closing of the Merger."
Perhaps not coincidentally, the number of shares with immediate registration intention is 6.38 million, not far off from the 6.21 million sold to the undisclosed investors. The millions of shares issued by Ad-Vantage to undisclosed parties for negligible valuation represent a major overhang on the stock once the Class M preferred stock is converted into JMGE common shares.
Reasons to Be Doubtful of the Financial Condition of Ad-Vantage Networks
Despite the RTO having been announced more than 5 months ago, JMGE still has yet to file any financial statements for Ad-Vantage Networks. This in and of itself seems highly suspect and should be viewed as a red flag, at least as it relates to the financial reporting capabilities of Ad-Vantage. But there are other reasons to doubt the company's current financial condition and profitability.
Although JMGE has disclosed scant financial figures for Ad-Vantage, it is disclosed on page 9 in the 8-K regarding the RTO that Ad-Vantage is currently losing money and expenses are accelerating:
"We have a history of losses. We had a net loss for the year ended December 31, 2011, and for the year ended December 31, 2010. We also had an accumulated deficit at December 31, 2011 and at June 30, 2012. We have significantly increased our operating expenses by expanding our operations in order to grow our business and further develop and maintain our services."
No top-line or bottom-line figures for Ad-Vantage have ever been released by JMGE in any of its press releases or filings regarding Ad-Vantage, despite the fact that the original press release regarding the RTO was issued over 5 months ago. What is disclosed in the original July 12, 2012 press release regarding the RTO is a relatively vacuous statement regarding the huge potential of the market:
"Ad-Vantage Networks is a development stage, digital advertising technology company that offers internet access providers with proprietary networks new streams of revenues. In 2011, Internet advertising revenue in the United States jumped 22 percent to $31.7 billion setting a record high, and mobile advertising increased 149 percent to $1.6 billion in 2011."
Statements like this, devoid of any real information about the true operating performance of the companies in question are liberally employed in Pump and Dump schemes in order to whet the appetite of unsuspecting and/or unsophisticated investors. A key point here to note here is that Ad-Vantage is a "Development Stage" company, i.e. it is not generating any significant revenues or profits.
Despite the fact that it is a development stage company, the management team of Ad-Vantage appears to be awarding themselves generous compensation packages. Page 22 and 23 of this 8-K filing indicates that Ad-Vantage's CEO, CTO and CFO currently receive annual compensation packages of $250K, $240K and $175K, respectively. It is also revealed that these individuals all received substantial raises as of November 2011. For these 3 officers to receive raises and annual compensation totaling $665K seems suspect in light of Ad-Vantage's disclosed status as a development stage company. Page 18 of the 8-K reveals that these 3 individuals will hold a combined 12.9 million shares/deep in the money options in JMGE/Ad-Vantage; these equity holdings certainly seem as though they should be more than sufficient to incentivize management without the need for base salary raises to unreasonable levels.
Finally, it appears as though Ad-Vantage had a pressing financial need and borrowed $1.4 million at an annual interest rate of 10%, from the JMGE shell prior to the full consummation of the merger agreement. Details about this transaction are outlined in this July 13, 2012 promissory agreement. Such a transaction hardly inspires confidence regarding the financial well-being of Ad-Vantage. Readers should also keep in mind that this transaction is in addition to the 3 financings already highlighted earlier in the piece.
Generally, although specific public information regarding the financial status of Ad-Vantage has been relatively scant to-date, there are a number of indications that the company is not generating significant revenues, has a requirement to tap investors for financing on a fairly regular basis, and is likely running with unreasonably high overhead.
Conclusion
Despite indications that Ad-Vantage's financial condition is poor and a plethora of other red flags, JMGE's stock is trading for what appears to be an absurdly high $71.2 million valuation based on the September 28, 2012 closing price of $3.61/share. The company has over 6 million shares recently issued to undisclosed investors at less than $0.35/share; a major shareholder of the company has been convicted by the SEC for illegal penny stock distribution offenses and appears to be selling his shares to the public; JMGE is subject to a trading halt in Canada; the company has been promoted by penny stock newsletters and millions of shares have traded in the past several months despite no financials having been filed for Ad-Vantage more than 5 months after the initial announcement of the RTO.
All of these data points indicate that the company is likely the subject of a pump and dump scheme and that existing or prospective investors should be highly circumspect when it comes to placing their money in such a stock. After a run-up of over 400% in the past several months, the stock looks poised for significant downside in the months ahead.
Disclosure: I am short OTC:JMGE. I wrote this article myself, and it expresses my own opinions. I am not receiving compensation for it. I have no business relationship with any company whose stock is mentioned in this article.