"Life is one long process of getting tired." - Samuel Butler
As I noted in my last article titled "the Fall Catalyst of 2012, or the Great Cognitive Dissonance," I believe new all-time highs in the Dow (NYSEARCA:DIA) are coming in the next three months, accelerating fund flows into equities, and led by a weakening dollar (NYSEARCA:UUP) and strength in emerging markets (NYSEARCA:EEM). However, I have been giving a nod to intermarket trends signaling "corrective hesitation" in what could be a near-term period of weakness for risk assets as October begins. Our ATAC models used for managing our mutual fund and separate accounts completely positioned out of equities last week, sensing some potential weakness. It is unclear if this is a false signal or not given end of quarter noise, but price ratio trends do warrant some caution.
One of the dilemmas the market is faced with is how to interpret the effectiveness of the Federal Reserve's QE3 program. I have continuously argued all year that central bank paranoia is bullish, as it means continued attempts to spark risk-taking and force reflation. Now the question is if the crowd will think it can be successful at this. Take a look below at the price ratio of the SPDR S&P Homebuilders Index ETF (NYSEARCA:XHB) relative to the S&P 500 (NYSEARCA:IVV). As a reminder, a rising price ratio means the numerator/XHB is outperforming (up more/down less) the denominator/IVV.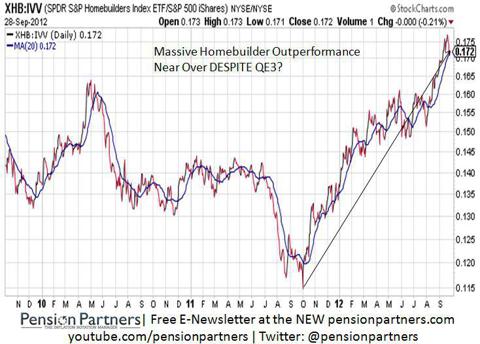 Homebuilders have been stunningly powerful following the October low of last year as the Fall Melt-Up of 2011 took place. The Fed's open ended purchasing of mortgage backed securities has sent 30 year fixed rates to another historic all time low, which one would think would cause homebuilders to continue leading markets. The problem is that Homebuilders may be tired. It seems the group has discounted a lot of good news already, given the magnitude and duration of the move. The implication here is that any kind of further advance in equities may NOT result in continued leadership by the industry even though QE3 directly targets it fundamentally.
What it boils down to now is if the trend in Homebuilders strength breaks from here, coinciding with continued strength in bonds, high dividend paying sectors, and a return of deflation fears. The change from hesitation to full blown correction comes through time itself in the coming two weeks continuing that trade of defensiveness. Should the corrective hesitation turn to a full blown decline, do not be surprised to see Homebuilders take it on the chin.
Disclosure: I have no positions in any stocks mentioned, and no plans to initiate any positions within the next 72 hours. I wrote this article myself, and it expresses my own opinions. I am not receiving compensation for it (other than from Seeking Alpha). I have no business relationship with any company whose stock is mentioned in this article.
Additional disclosure: This writing is for informational purposes only and does not constitute an offer to sell, a solicitation to buy, or a recommendation regarding any securities transaction, or as an offer to provide advisory or other services by Pension Partners, LLC in any jurisdiction in which such offer, solicitation, purchase or sale would be unlawful under the securities laws of such jurisdiction. The information contained in this writing should not be construed as financial or investment advice on any subject matter. Pension Partners, LLC expressly disclaims all liability in respect to actions taken based on any or all of the information on this writing.