IBM (NYSE:IBM) will report their calendar 3rd quarter, 2012 earnings sometime in the last two weeks of October, but two companies that are thought to be leading indicators for Big Blue -- Oracle (NASDAQ:ORCL) and Accenture (NYSE:ACN) -- just reported their quarter's ending August 31, and both appear to suggest that IBM's 3rd quarter will be just fine.
Typically, we always check ThomsonReuter's forward earnings estimates and revisions first, and for Big Blue, the 2012 earnings per share forecast has risen about 2.5% over the last 12 months from $14.76 per share to $15.14. 2013's consensus earnings per share estimate also has risen from $16.39 to $16.65 over the last 12 months. Thus the two calendar year earnings per share estimates have risen 2.5% and 1.5% respectively for the trailing 1-year time period. Hardly robust but not negative either, and about in line with the S&P 500's estimate increase.
Oracle just reported their fiscal first quarter, and is thought to be a good look into IBM's software business. Even though ORCL is evolving their business model, software is still 70% of ORCL's total revenues. New software licenses for ORCL -- about 20% of the company's total revenue -- grew 11% year-over-year (y/y) in constant currency, pretty decent growth in an environment where enterprise (large company) tech spending has been low single-digits.
Software is now 24% of IBM's total revenue and was flat for the 2nd quarter in terms of year-over-year growth, as IBM pushes more towards software and services / consulting and away from the "Big Iron" (hardware) mentality. A recent note from Deutsche Bank notes that today, hardware is just 18% of revenue and 15% of gross profit, where it was 33% of revenues and 28% of profit in 2004.
Accenture PLC, a company whose consulting biz is thought to give investors a good look into IBM's global services and tech businesses reported financial results Thursday night and the stock was up nicely on heavy volume on Friday.
For IBM, in q2 '12, the financial and public sectors grew 6% and 5% respectively, while ACN's q3 '12 financial services sector revenue growth was +16% in constant currency. Could ACN be gaining share vis-a-vis IBM ? Yes, but that kind of strong revenue growth might portend better strength for all the competitors.
A note out of BMO Capital Markets on Friday, September 28th regarding ACN's strong quarter and its link to IBM said that, "We don't think that Accenture's strong bookings performance automatically implies better bookings growth for IBM, given that Accenture's sole-sourced deals proportion, has increased 20% to 60% over the past few quarters. That said, we think that positive comments about Accenture's ability to close more than +$100 million deals and increased activity in transformational deals should be a positive for IBM, given that we think very few service providers such as IBM and Accenture can compete effectively for such large global transformational projects."
There you have it. We think IBM will have at least an inline quarter despite general skepticism around 3rd quarter, 2012 earnings in general as presaged by two important leading competitors of IBM.
That share buyback is key for Big Blue and with their cash-flow and free-cash-flow generation, that isn't likely to slow down anytime soon.
According to the attached chart, we would buy IBM on a pullback to the mid $190's, under $200. The 50-week moving average resides right at $195.
IBM has a technical breakout of it trades above $210 on heavy volume. A trade below $192 on heavier volume and we'd be nervous.
We like this chart. IBM was up 6% in q3 '12, about in line with the S&P 500.
Fundamentally IBM is still inexpensive, and technically the chart looks good, although we'd hope for a small pullback to buy more. IBM's two leading indicators, signify that the quarter should at least be inline for Big Blue.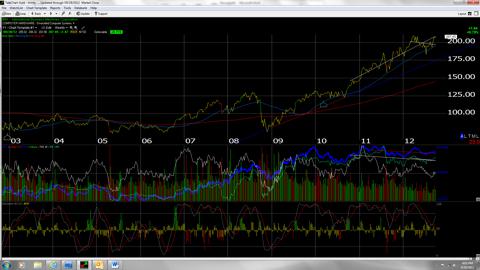 Disclosure: I am long IBM, ORCL. I wrote this article myself, and it expresses my own opinions. I am not receiving compensation for it (other than from Seeking Alpha). I have no business relationship with any company whose stock is mentioned in this article.