Can you actually make money in online or digital radio? That's the question investors in Pandora Media (NYSE:P) and Sirius XM Radio (NASDAQ:SIRI) need to be asking themselves. These companies have vastly different models, yet they face some of the same problems.
Pandora has registered phenomenal sales growth. Sales were up by 99.1%, so they almost doubled. The only problem was that income growth at Pandora fell by 79.9%, which indicates the company is not making any money. The company actually had negative earnings per share (20¢) and a negative profit margin of -9.81%.
Things are not going to get much better for Pandora judging by its fundamentals. The company has a Forward P/E ratio of -182.17 and a P/E ratio of -121.44. Pandora's future looks pretty dismal if you just read the numbers. The interesting thing is that Pandora's share price is going up, despite the horror story the ratios tell.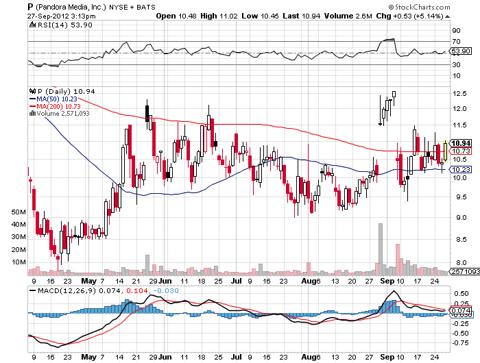 Congress Riding to Clear Channel's Rescue?
So why is Pandora's share price going up even as the numbers indicate it is bleeding cash? Oddly enough, Congress is actually lending Pandora's share a hand with a piece of legislation called the Internet Radio Fairness Act, which was introduced in the House of Representatives on September 21. If it goes into effect, this law will require the music industry to charge satellite, pay TV, and online content providers the same royalties.
Right now Pandora pays out about 50% of the revenue it brings in, in the form of royalties, according to Bloomberg Business Week. Business Week estimates that the act will cut Pandora's royalty expenses by about 40% if it passes.
It will take some time for the Fairness Act to benefit Pandora because it will have to go through both the House and the Senate and get signed by the President to become law. If it passes, the law will benefit all digital music providers, including Pandora, Sirius, Clear Channel, and Spotify.
Google, Apple, and Amazon Cloud Pandora's Horizon
By lowering royalty costs, the Fairness Act may hurt Pandora by giving it more competition. Media buzz indicates that Apple (NASDAQ:AAPL) is already in talks with major recording companies to set up its own music service. It is unclear if Apple will set up its own version of Pandora or simply sell the songs through its App Store. It is obvious that the only way they can make money through such a service is with lower royalty payments.
If it passes, the Fairness Act might prompt Apple's competitors, Google (NASDAQ:GOOG) and Amazon (NASDAQ:AMZN), to launch their own music services. Both Google and Amazon have become major providers of digital content, so music services seem like a logical move for them.
This means that all the people trying to hold Pandora long term might be mistaken. The company might never reach a state in which it can actually make money. Unlike Sirius, Pandora creates no content of its own and offers nothing but music.
Changing Relationship Between Musicians and Services Might Benefit Pandora
One possible way out for Pandora is to follow Clear Channel's lead and cut deals directly with artists. Clear Channel is signing deals in which it pays musicians a cut of the gross or the revenue it makes from music rather than royalties. Clear Channel has already signed up big name country stars, including Taylor Swift, Tim McGraw, and Reba McEntire. This gives Clear Channel operates the digital service, iHeartRadio, music content it can control directly.
Pandora might be able to get musicians to sign exclusive deals by offering them a cut of its growing advertising revenue. Some analysts are estimating that Pandora's mobile advertising revenue will grow to $400 million by 2012. A cut of that revenue might be the incentive Pandora needs to lure musicians to exclusive deals.
Sirius has a similar arrangement with big name entertainers, such as Howard Stern, but not with musicians. Sirius might be in a better position to set up exclusive digital music deals because of its experience dealing with the likes of Howard Stern.
Yet this exemplifies the dilemma that Pandora poses for investors. It is essentially a speculative play because it is still developing a business model. The company's success is dependent on an act of Congress and potential changes to the entertainment industry. If these factors don't work out, Pandora will not be able to generate any cash, and it won't be able to survive.
That makes Pandora simply too speculative and risky to be a value stock. This company needs to demonstrate that it can actually turn digital music into revenue in order to be a true value play. Unfortunately there is no indication that is going to happen anytime soon.
Disclosure: I have no positions in any stocks mentioned, and no plans to initiate any positions within the next 72 hours. I wrote this article myself, and it expresses my own opinions. I am not receiving compensation for it (other than from Seeking Alpha). I have no business relationship with any company whose stock is mentioned in this article.