For many years, the poster child for Israeli ingenuity was clearly Given Imaging (GIVN). The company which produces a disposable, miniature video camera contained in a capsule, which is used for gastrointestinal diagnosis, is well-known for this ground-breaking technology, but has disappointed investors with trouble growing sales aggressively. The hype of the technology has been way ahead of the company's actual execution of its business model. But, after its recent earnings report, that may have changed.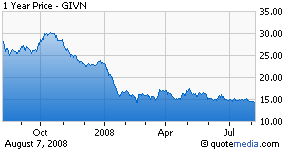 The company reported Q2 revenue off $33.1 million, an increase of 19% of last years Q2 and a 22% increase over Q1 '08. Gross margins remained strong coming in at 75.5%, and net profit came in at $0.09 a share, and the company raised guidance for the rest of '08.
Commenting in the press release, CEO Homi Shamir said:
We are very pleased with our robust second quarter financial results. "Expanding market penetration and stronger global demand for PillCam SB in our three operating regions helped increase sales by 19%. We are especially pleased to be back on track with revenue growth in the Americas region which increased 25% on a sequential basis while PillCam reorders increased 28% sequentially in the region. In the first six months of 2008 total revenues grew 18.3% over the same period last year, which positions us to meet our 2008 revenue guidance. Looking ahead, we are confident in our ability to expand the global market for PillCam SB, as well as to develop the market for our other next generation PillCam products.
Maybe, just maybe, the company has turned the corner.
Disclosure: The author's fund has a position in GIVN. He has no position in any other stock mentioned as of August 7, 2008.