Apple (NASDAQ:AAPL) has experienced extreme volatility recently and I have capitalized with option strategies since 2010 with positive results (past performance is not indicative of future returns). For reference, please view the first and other articles in the series to understand the strategy and its potential returns. This strategy is to simultaneously generate income and reduce your effective cost basis by selling out-of-the-money options to generate weekly income without sacrificing long-term returns. Even if you have no plans to engage in the options market this is your one-stop primer for the critical Apple developments from the past week.

(Source: Yahoo Finance)
A brief recap of this week in Apple, which was down $19.75 (-2.9%):
What should I do with Apple? If I could summarize my inbox that would be the most common question that I am posed. Apple touched a fresh all-time high of $705 on September 21 before launching the iPhone 5 in the United States the following day. The launch was wildly successful with over five million new iPhones sold in the launch weekend; however, the launch was constrained by a lack of supply. Numerous Apple and AT&T stores had stockouts throughout early last week and it will be a lengthy wait until the phone is readily available in stores. Issues related to the complexity of the touchscreen panel and disruptions at a primary Foxconn plant have made the iPhone 5 a very hot commodity. Analysts were expecting approximately eight million iPhones sold in the launch weekend but I am not overly concerned by the miss because the demand is far outstripping supply thus far. The iPhone 5's killer features of speed, lightness, and thinness are proving insatiable for potential consumers. The iPhone 5 and New iPad are certainly going to be on the top of potential customers holiday shopping list and Apple should benefit. I am going to take this opportunity to revise my eight month $720 price target to $750.
The only potential blunder with the iPhone 5 launch was the removal of Google (NASDAQ:GOOG) Maps as a native app. Apple decided to include their own map offering as the default to add features such as 'turn-by-turn' navigation but the underlying data is not as sophisticated as Google's offering. This is a very real issue but the backlash appears to be overblown at this point. In a couple of months there will likely be a Google Maps app and Apple's map offering is not nearly as bad on a day-to-day basis as the media makes it seem. Just like "Antennaegate" with the iPhone 4, this early controversy will blow over and Apple will continue its climb. Investors would be wise to take advantage of the stock's recent five percent pullback and initiate a position. Concerns over the success of the new iPhone as well as typically Apple "sell the news" mentality are providing the opportunity to get aggressive with Apple. At the end of this article I suggest covered call and cash secured put strategies but these large Apple declines are well aligned with purchasing long Apple calls. I suggest January 2013 $695-$705 calls currently trading between $28.70 and $32.50. These calls are attractive because they magnify your potential returns and do not require the upfront commitment of capital when buying the associated shares. Remember that you do not need to hold the calls to maturity and can freely trade them for a profit well before January.
Below I present three possible scenarios and the potential returns for the Apple options. The first scenario represents a negative outlook for Apple while the final two scenarios are more reasonable. These scenarios are forecasts and there is no guarantee that they will come to fruition. Even if you are optimistic it is important to consider both positive and negative circumstances in order to stress your assumptions. As a general rule, selling calls with higher strike prices has greater potential return but additional risk of loss due to the lower (or lack of) downside protection. For more information on the fundamentals of covered calls, consult Investopedia.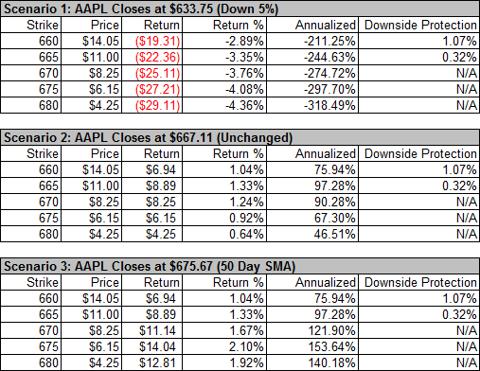 Additionally, if you would like even more information, I have prepared a sensitivity analysis for absolute return and percent returns, respectively. After studying the information above, these two charts make it easy to pick a strike price based on where you believe Apple will close at the end of the week. Estimate where you believe Apple will close and select the strike price with the highest return.

With this information, executing a buy-write on AAPL October 5 (Weekly) 675s is the optimal risk-return strategy as an opening Apple transaction. If you are uncomfortable with this strike I would consider a buy-write in the range of 660-700. Even if you are extremely bullish you can still profitably sell covered calls; Apple is volatile enough that you will have opportunities to repurchase on further dips. An alternative approach is to sell out-of-the-money 665 puts and collect the premium without having to purchase the stock outright. The 665s are currently trading around $8.75 and appear to offer the best risk-reward profile for the week. The long calls discussed above entail much more upside potential but the drawback is the higher risk assumed. Note that if the stock declines to the strike price, you are obligated to buy the stock (or closeout the position). You should always consider the risks (particularly with naked calls or puts) raised in this article in light of your personal circumstances (including financial and taxation issues) in consultation with your professional financial adviser.
Disclosure: I am long AAPL, GOOG. I wrote this article myself, and it expresses my own opinions. I am not receiving compensation for it (other than from Seeking Alpha). I have no business relationship with any company whose stock is mentioned in this article.
Additional disclosure: Author is long AAPL Jan 2013 $705 Calls.