Optimal Group, Inc. (NASDAQ:OPMR) expects to divest itself of its remaining U.S. Optimal Payment assets within the next 12 months. This means that the company will be focusing primarily on the growth of its WowWee subsidiary.
OPMR management indicated that they expect OPMR to be well capitalized going forward with their WowWee business, which was recently acquired last year. WowWee is a leading designer, developer, marketer and distributor of technology-based consumer robotic, toy and entertainment products. A video collection of WowWee's 2008 expanded product lineup can be viewed at the following link.
WowWee revenues are seasonal, with approximately 80% of revenues booked from shipments in the second half of the year.
WowWee Revenue and EBITDA:

2005 rev: $131 million
2006 rev: $117 million

2007 rev: approx. $104 million

2008E rev: $130 to $140 million guidance today (8/6)

2005 EBITDA: $27.5 million
2006 EBITDA: $5 million

2007 EBITDA: TBD


2008E EBITDA: TBD
Finally we can move on to focusing on WowWee, and put Optimal Payments in the rear view mirror.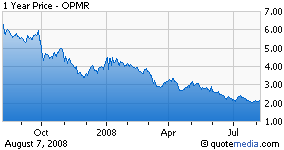 Say goodbye to the bean counters and hello to the tech growth investors.
Having taken all the expected Optimal Payment goodwill charges, management likely views the PPS relative to its book value of $5.70 per share as oversold, which I concur with. OPMR will likely eventually be priced at between 1X and 2X WowWee revenues, with an expected revenue CAGR of 25% to 35% this year.
WowWee generated $27.5M of EBITDA in 2005 for $131M of revenue. Management is conservatively projecting $130M to $140M this year. Although manufacturing costs have increased in China, there is likely significant margin fluff on the distribution side to be realized in future revenues going forward. That will likely accelerate revenues more than what most folks are expecting.
Management said that they will be well capitalized going forward and did not see DOJ as a problem in the divestiture of Optimal Payment assets. That tells me that some folks may have been over emphasizing the DOJ issue and future impact on cash. Personally, I am not even factoring the DOJ issue in the valuation of OPMR. My biggest issue is management compensation and their anti-takeover staggered-board/golden-parachutes.
Disclosure: Long OPMR