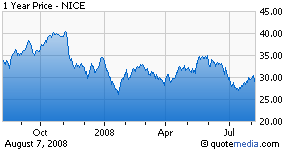 Investors in the Israeli company Nice Systems (NASDAQ:NICE) can breathe a sigh of relief, as their earnings came in as expected. Some traders that we had spoken to were worried about how Nice's exposure to the financial sector, and the slowdown in spending would impact the numbers. Well, it turns out that its security business is doing nicely.
The company came in with revenues of $155.3 million (a record) an increase of over 20% YOY. The company also showed an increase in margins and raised revenue numbers for the rest of '08.
According to PR Newswire, CEO Haim Shani said:
The demand for NICE's solutions remains strong in our two market sectors, enterprise and security, across all regions. "We continue to execute well on our strategy of leading the market with our advanced applications solutions in the enterprise sector and of winning large-scale deals in the security sector.
Overall, it's a pretty NICE report.
Disclosure: The author's fund has a position in NICE. He has no position in any other stock mentioned as of August 6, 2008.