I first wrote about Triangle Petroleum (NYSEMKT:TPLM) in June when it was trading at $5 a share. The stock has moved up past $7 since then, but based on recent positives TPLM still has substantial upside.
Here are several positives for Triangle that have occurred since the June article was written:
The company announced a joint venture with Caliber Midstream Partners to build pipelines in the Williston acreage in North Dakota and Montana. This will improve the margins from the company's production in those areas and is a solid strategic move.
The median analyst price target on TPLM has moved from $9 to $10 a share.
Imperial Capital initiated the shares as an Outperform in August.
The company reported earnings last quarter that beat consensus earnings estimates by 3 pennies a share.
Production guidance continues to be very positive, as does the direction of the ratio of oil and liquids production. There is a great graph of this in this recent article.
M&A activity continues to be strong in the shale regions and particularly in the Bakken. Triangle continues to be mentioned as a possible buyout candidate.
After bottoming in June and July, the shares have gained technical strength and are solidly above their 200-day moving average (see chart below).
Click to enlarge image.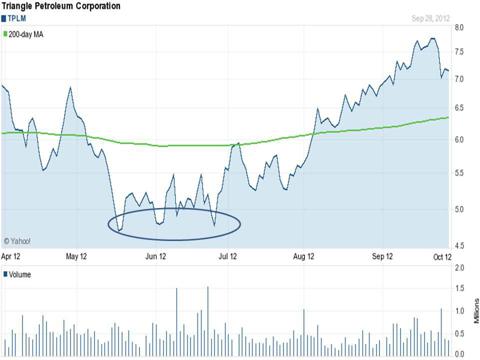 Click to enlarge
Disclosure: I am long TPLM. I wrote this article myself, and it expresses my own opinions. I am not receiving compensation for it (other than from Seeking Alpha). I have no business relationship with any company whose stock is mentioned in this article.