Two of the biggest losers in Wednesday's trading were Freddie Mac (NYSE:FRE) and Fannie Mae (NYSE:FNM). Freddie Mac had reported a second-quarter loss of $821 million. The company stated that the potential of newly imposed federal capital requirements or limits to its portfolio purchases might pose further dangers to its recovery.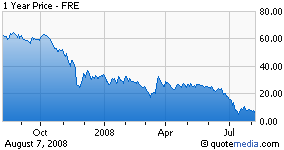 Freddie Mac closed at $6.49, down 19.28% for the day, and down an incredible 93% from its 52-week high of $67.20. At this point, however, it has almost doubled from its low of $3.89. The company is reportedly planning to slash its dividend to five cents a share or less for the third quarter — down from the previous payout of 25 cents. FRE is pondering to raise capital by selling a "substantial" amount (at least $5.5 billion) of new capital by selling shares to meet regulatory capital requirements — which most certainly will dilute current shareholder values even further.
Fannie Mae fell 14.71% to $11.60. That's 83.5% below its 52-week high, but almost a double over its 52-week low. Pundits believe that the U.S. Treasury will have to buy as much as $30 billion of preferred shares in both Fannie Mae and Freddie Mac.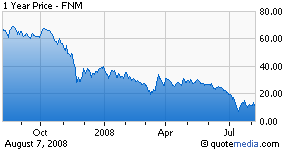 Looking at FNM's stock chart over the last couple of days, it becomes quite obvious that the company got shellacked by the fall-out of FRE's earnings announcement, which knocked it down from its August 5 closing price of $13.60. Aftermarket activity Wednesday indicated further losses of a percentage point on Thursday.
But I believe there is the definite potential of a 10-20% rally from yesterday's closing price. Look for a close above $13 in the next two days.
Disclosure: None