We all know that Warren Buffett likes big banks like Bank of America (NYSE:BAC) and its competitors, Wells Fargo (NYSE:WFC) and U.S. Bancorp (NYSE:USB). Buffett bought $5 billion worth of Bank of America last year. Does that make these institutions a wise value investment in a lousy economy and an unstable financial system? Banks today face a wide variety of risks that could destroy revenues and threaten future cash flow.
The kind of risks faced by banks today are underscored by Bank of America, which has agreed to pay $2.43 billion to settle a lawsuit brought by former Merrill Lynch investors. The suit will reportedly cut Bank of America's third quarter earnings by $1.6 billion. This suit demonstrates the precarious position even big banks are in these days and raises questions about their worth as a value investment.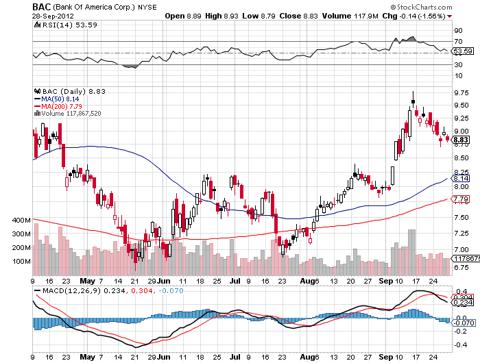 Click to enlarge
As you can see, Bank of America's share prices fell throughout September. Press reports indicate that they fell by 10¢ on September 28, 2012, the day the lawsuit story hit the wires. Yet Bank of America's low price will obviously attract some value investors. It's cheap, and it does offer some interesting fundamentals.
Financial Highlights as of 12/31/2011 in USD (Thousands)

| | |
| --- | --- |
| Total Revenue | 115,074,000 |
| Net Income | 1,446,000 |
| Revenue per Share | 11.35 |
| EPS from Continuing Operations | 0.01 |
| EPS - Net Income - Diluted | 0.01 |
| Net Interest Income | 44,616,000 |
| Share Outstanding | 10,535,938 |
| Weighted Average Shares Outstanding - Diluted | 10,142,625 |
| Weighted Average Shares Outstanding - Basic | 10,254,824 |
| Earnings per Share - Basic | 0.01 |
The company's revenue per share on December 31, 2011, was $11.35, which exceeds the share price, yet its earnings per share were pathetic. The figure above shows they were 1¢. So what is Warren Buffett looking at here? Something had to attract him to this company.
It was probably the cash flow that was, to say the least, pretty good for a company that's supposed to be in big trouble. Even though it didn't deliver earnings per share in 2011, Bank of America did generate a lot of cash, which attracts value investors like Uncle Warren.
| | |
| --- | --- |
| Cash Flow Statement | USD (Thousands) |
| Cash from Operations | 64,490,000 |
| Cash from Investing | 52,429,000 |
| Cash from Financing | (104,696,000) |
| Capital Expenditures | 1,307,000 |
| Cash Flow per Share | 6.29 |
| Cash & Cash Equivalents, Beginning of Year | 108,427,000 |
| Cash & Cash Equivalents, End of Year | 120,102,000 |
As you can see, Bank of America had almost $12 million more in cash at the end of the year than the beginning. More importantly, it was generating $6.29 in cash per share. This bank is churning through a lot of cash even if it is struggling with the mess left from the Great Financial Meltdown of 2007 and 2008.
The growth in cash flow is reflected in a growth of income at Bank of America. The company's income grew 102.63% in the last year, and its net profit margin reached 11.92%. So there is still money to be made in banking despite all the lawsuits and other toxic remains of the banking crisis.
Judging by the numbers alone and not the emotion generated by the meltdown, Bank of America looks like a good value buy because of its low share price. After all, the lawsuit is a one-time event, and the cash flow increases and revenue increases look permanent.
The question we have to ask ourselves is: Why is Bank of America able to generate so much cash? The main reason appears to be mortgages and mortgage backed securities. The mortgage, or at least the refinance, business seems to be booming thanks to Quantitative Easing Part III, the Federal Reserve's plan to buy $40 billion worth of mortgage-backed securities a month in an attempt to jumpstart the economy. The extra fees from all those mortgages and securities are expected to boost earnings for US Bancorp, JPMorgan Chase (NYSE:JPM), Wells Fargo, and Goldman Sachs (NYSE:GS). Unfortunately, Bank of America won't share in the bonanza until next quarter because of all the lawsuits it has to settle.
The Wall Street Journal's Deal Journal estimated that Bank of America has had to pay out $29 billion in settlements to investors and shareholders since 2009. The Merrill Lynch settlement was only the latest and the biggest. Obviously, these settlements are an opportunity for value investors because they are driving down B of A's share price at a time when big banks are generating more cash.
Bank of America is definitely a value investment. It has the ability to generate cash, but its reputation has been trashed by bad news and past mistakes. For value investors willing to take a gamble and wait, this bank is certainly worth putting in your portfolio.
Disclosure: I have no positions in any stocks mentioned, and no plans to initiate any positions within the next 72 hours. I wrote this article myself, and it expresses my own opinions. I am not receiving compensation for it (other than from Seeking Alpha). I have no business relationship with any company whose stock is mentioned in this article.