Commodity Chart Of The Day
Daily Sugar
(click image to enlarge)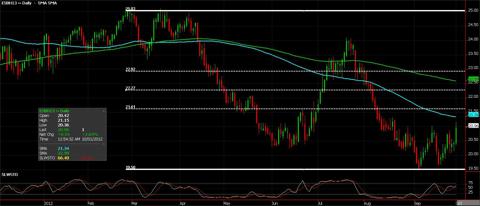 Click to enlarge
Sugar has been one of the worst performing commodities year to date, with prices currently 16% off their highs, but the idea is buy low, right? I've suggested scaling into bullish trade in recent weeks, and it looks like appreciation is underway with prices in March 13' futures nearly 8% off 12' lows. I like the idea of bullish positioning in futures while using options as a hedge, whether it is buying out of the money puts or selling out of the money calls 1:1. As long as prices do not make new lows, I like bullish trade.
My suggestion is to use the Fibonacci levels as your upside targets. The light blue line is identified as the 100 day MA, while the green line is the 200 day MA on this contact. In the coming months, I expect both levels to be penetrated. While the chart above is a daily chart taking a longer term perspective and investigating the weekly chart on sugar, it also supports my view of a possible change in trend in recent weeks. Ultimately into next year, though, it may take rolling into forward contracts. I think prices could be north of 26 cents.
Risk Disclaimer: The opinions contained herein are for general information only and not tailored to any specific investor's needs or investment goals. Any opinions expressed in this article are as of the date indicated. Trading futures, options, and Forex involves substantial risk of loss and is not suitable for all investors. Past performance is not necessarily indicative of future results.
Disclosure: I have no positions in any stocks mentioned, and no plans to initiate any positions within the next 72 hours. I wrote this article myself, and it expresses my own opinions. I am not receiving compensation for it. I have no business relationship with any company whose stock is mentioned in this article.