Now that Research in Motion (RIMM) has announced its second quarter (of FY2013) results and seen the surprising gain in its share price of 5%, post announcement, it is time to dive into the release, filings and earnings transcript for further cues.
What is to be expected?
1) A loss in the third quarter of FY2013 (quarter ending Nov 2012) i.e. fourth straight quarterly loss since the fourth quarter of FY2012. In the words of their CFO, "...And as a result, we expect to report an operating loss in the third quarter of fiscal 2013..."
2) Perhaps, a loss in their fourth quarter too, as the reduction in headcount continues. The CFO puts it very succinctly "...We expect the majority of the remaining reductions to occur by the end of the fiscal year..." However, as Blackberry 10 would be launched in this quarter, and assuming that translates to top-line revenues, the loss has a lower probability of happening.
What were the highlights? I will not cover the regular numbers, such as CapEx, OpEx, Cash and Cash Equivalents etc, since these have already been covered by other authors in SA. Instead, I will point out some discerning facts.
1) Revenue from other geographical segments (excluding Canada, US and UK) has fallen QoQ! So, where is the revenue that the CEO talks about (in the earnings transcript) when he says "...in markets such as South Africa, Saudi Arabia, the United Kingdom and Indonesia..." ?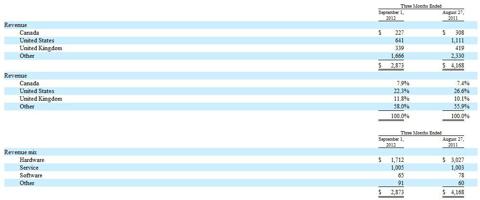 Click to enlarge
2) In fact, QoQ, the total revenue of this quarter was less than the hardware revenues of the reference quarter!
3) The company is involved in litigation, both as a defendant and as a plaintiff. Now, this ought to be a non-event in most cases. However, given the recent $1bn dispute between Apple (NASDAQ:AAPL) and Samsung , investors should pay attention to this section of the filing as well. In short, the company is involved in the legal battles with Nokia, Caltech and Eastman Kodak among others. To quantify these would not be easy. One lawsuit does stand out though. In fact, it might be worth close to $150mn!
"On October 31, 2008, Mformation Technologies, Inc. filed a patent infringement lawsuit against the Company in the U.S. District Court for the Northern District of California... On July 13, 2012, the jury found that the Company had infringed the asserted patent claims, awarding damages of $147.2 million. On August 8, 2012, Judge Ware overturned the jury verdict and granted judgment of non-infringement as a matter of law. On Sep. 5, 2012, Mformation filed a motion for a new trial. On Sep, 6, 2012, Mformation filed a notice of appeal to the US Court of Appeals for the Federal Circuit. Proceedings are ongoing."
In light of these 'known' facts, investors would be advised to stay away from the stock. But then, everybody is betting big on Blackberry 10. To paraphrase Samuel Johnson, investment in RIMM? The triumph of hope over experience!
Disclosure: I have no positions in any stocks mentioned, and no plans to initiate any positions within the next 72 hours. I wrote this article myself, and it expresses my own opinions. I am not receiving compensation for it (other than from Seeking Alpha). I have no business relationship with any company whose stock is mentioned in this article.