The outlook in Bp Plc (NYSE:BP) seems to be improving. The worst news could already be priced in the stock, and the outlook seems to be improving from a long term basis. Management has stated that they intend to complete exploration wells in Namibia, Angola, and the North Sea in 2012. Results from drilling in block 26 in Angola, where the company has a 40% stake are expected shortly. The results in these pre-salt fields could mirror those of Brazil's Lula field, which proved to be the biggest find in the Americas for over 2 decades.
The nimrod prospect where BP holds a 45% stake is estimated to contain 4.9 billion barrels of oil.
It obtained 43 new drilling leases in the Gulf of Mexico in June of this year and management wants to boost its operations in the Gulf around four production hubs with the intent of employing up to eight oil rigs by the end of 2012.
The company has major project ramp ups underway in Atlantis and Mad dog, which will likely boost output when these fields come online by third quarter 2012. In 2012, BP expects organic capital expenditure to be around $22 billion. This bodes well for the company's future as it will be beneficial for the expansion plans and help in increasing revenues. The availability of gas in the Taurt North and Seth South discoveries in the North El Burg Offshore Concession and the winning of two deepwater exploration and production blocks in Trinidad and Tobago are recent examples of organic growth.
Additional reasons reasons to be bullish on Bp Plc:
In the second quarter it commenced production at Galapagos in the GoM and Clochas-Mavacola in Angola. There are plans to bring another six projects online before the end of 2012. Management is also expected to deliver final investment decisions in over 10 new projects between 2012 and 2014.
It is getting rid of its non-core upstream properties while at the same time creating a portfolio with potential for stronger growth from a smaller base. It sold its refinery in Carson, California, and also plans on selling the Texas city, Texas refinery.
It has, however, kept three refineries with the greatest competitive advantage which should improve and boost returns. The refineries in question are Cherry Point,

Toledo

and Whiting. The Whiting refinery is being upgraded to process larger volumes of heavy crude from Canada. It should be fully operational by the middle of 2013.
It plans to drill 12 exploration wells in 2012, which should help improve production. The cash margins per barrel on these projects are projected to be double the average of its existing portfolio. If this comes to pass, it should boost cash flow. Management has stated that half of any increase in cash flow would be spent on growth

capex

, and the balance would be spent in increasing share value via an increase in dividends and or share buybacks.
A good yield of 4.50%
A great interest coverage rate of 22.8
Net income increased from $16.65 billion in 2009 to $25.7 billion in 2011
Cash flow per share increased from $9.67 in 2009 to $10.94 in 2011
Annual EPS before NRI increased from $5.01 in 2007 to $7.36 in 2011
Sales rose from $24.6 billion in 2009 to $38.6 in 2011
A low long term debt to equity ratio of 0.36
A strong levered free cash flow of $10.62 billion
A good retention ratio of 67% (it's calculated by subtracting 1 from the payout ratio). It is the proportion of net income that is not paid out as dividends. The higher the number the better as it means there is more money available to fund future growth.
A free cash flow yield of 2.2%
A low payout ratio of 33%
Charts and tables of interest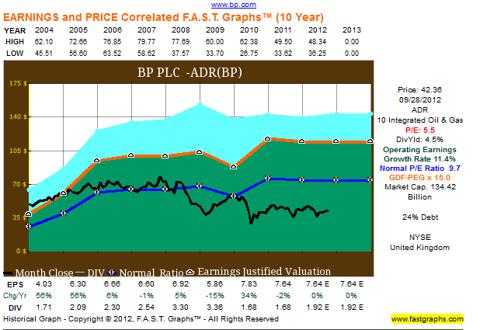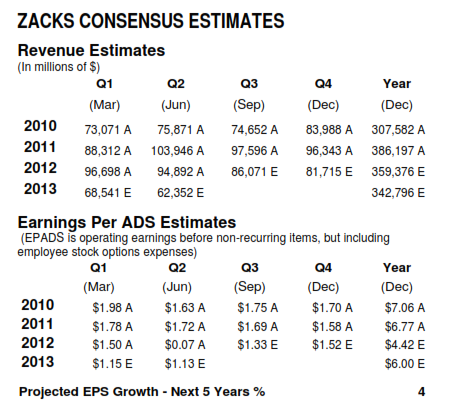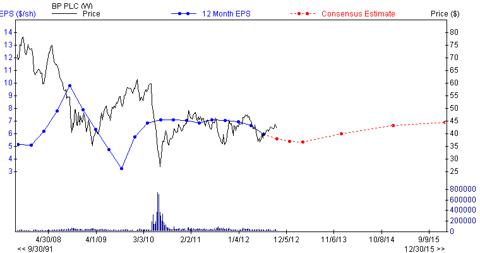 The outlook usually turns bullish when the stock starts to trend above the EPS consensus estimate line.
A look at the competition
BP Plc versus Chevron Corporation (NYSE:CVX) and Exxon Mobil Corporation (NYSE:XOM)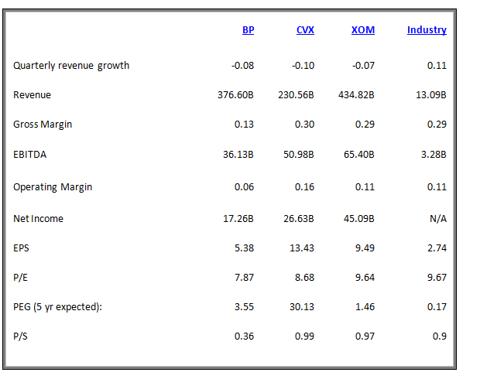 Company: Bp Plc
Growth
Net Income ($mil) 12/2011 = 25700
Net Income ($mil) 12/2010 = -3719
Net Income ($mil) 12/2009 = 16578
EBITDA ($mil) 12/2011 = 49969
EBITDA ($mil) 12/2010 = 6339
EBITDA ($mil) 12/2009 = 37230
Cash Flow ($/share) 12/2011 = 10.94
Cash Flow ($/share) 12/2010 = 10.5
Cash Flow ($/share) 12/2009 = 9.67
Sales ($mil) 12/2011 = 386463
Sales ($mil) 12/2010 = 308928
Sales ($mil) 12/2009 = 246138
Annual EPS before NRI 12/2007 = 5.01
Annual EPS before NRI 12/2008 = 7.08
Annual EPS before NRI 12/2009 = 5.76
Annual EPS before NRI 12/2010 = 9.17
Annual EPS before NRI 12/2011 = 7.36
Dividend history
Dividend Yield = 4.5%
Dividend Yield 5 Year Average = 5.6
Dividend 5 year Growth = -12.00
Dividend sustainability
Payout Ratio = 0.33
Payout Ratio 5 Year Average = 0.38
Performance
Next 3-5 Year Estimate EPS Growth rate = 4
5 Year History EPS Growth = 4.01
ROE 5 Year Average = 21.1
Current Ratio = 1.23
Current Ratio 5 Year Average = 1.09
Quick Ratio = 0.85
Cash Ratio = 0.33
Interest Coverage = 22.80
Conclusion
The worst news appears to be priced in the stock as it has bounced off nicely from its lows set in June, and appears to be poised to trend higher in the years to come. As long as BP does not close below $36.25 on a weekly basis, the outlook will remain bullish. A weekly close above $45 should lead to a series of new 52-week highs.
It has plenty of projects in the works that could significantly boost production in the years to come. For example, Block 26 in Angola has a similar formation to Brazil's massive Lula field. The nimrod prospect in which it has a 45% stake is estimated to contain 4.9 billion barrels of oil.
Investors should consider waiting for a test of the $39.00-$40.00 ranges before committing fresh funds to this play. An alternative strategy would be to sell puts at strikes you would not mind owning the stock.
EPS charts obtained from zacks.com. A major portion of the historical data used in this article was obtained from zacks.com. Competitors data sourced from Yahoofinance.com.
Disclaimer
It is imperative that you do your due diligence and then determine if the above play meets with your risk tolerance levels. The Latin maxim caveat emptor applies - let the buyer beware.
Disclosure: I have no positions in any stocks mentioned, and no plans to initiate any positions within the next 72 hours.
Business relationship disclosure: This article was prepared for Tactical Investor by one of our analysts. We have not received any compensation for expressing the recommendations in this article. We have no business relationships with any of the companies mentioned in this article.