Sergio Marchionne, CEO of Fiat, is on the Board of Directors of Philip Morris (NYSE:PM) and he just cannot get enough of PM stock. This article covered his buys till July of this year. Since then, he has purchased one more block of 1,000 shares at an average price of $88.50.
Granted, a $100K purchase from a multi-millionaire is nothing to shout about. But what is interesting is his continuous bullishness on the stock. Note that the purchases mentioned below are direct and not the typical "Non-Open Market" insider purchases you see in most cases. The table below lists his purchase date, number of share, buying price and the 3-month price change.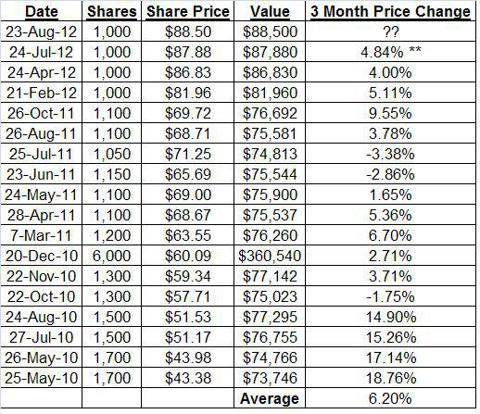 Click to enlarge
** - Shows the two month price change, as it's not yet 3 months since the purchase date.
Note that the 3-month price change above is strictly about the share price. If we include the dividends, the total return would be even more impressive. A lot of other insiders have been selling the stock, but Mr. Marchionne's bullishness stands out as he has not sold a single share, while the table above shows 18 continuous and regular buy transactions.
Bullish Takeaway: As mentioned in the previous article linked above, this stock has all the good qualities expected from a "forever" stock: good yield, great dividend growth, wide-moat and insiders who are bullish. However, there are so concerns that investors should be aware of.
Concerns:
High Debt: In some of the previous articles on PM, a few readers expressed their concerns over PM's debt. This is quite understandable if you take a look at the chart below. The debt/equity ratio has reached worrisome levels. Right now, with the Fed's low interest rate policy it might seem like the best time ever to borrow. But over the long term, PM should start focusing on reducing the debt instead of borrowing more to buy back shares.

Click to enlarge
(Source: Ycharts.com)
However, the interest coverage ratio is pretty impressive as shown in the table below. This should comfort the investors (and the creditors) about the company's ability to pay back its obligations.

Click to enlarge
(Source: http://www.stock-analysis-on.net/)
Europe: A lot has been said and written about the general weakness in Europe and how it affects companies like PM with big exposure to Europe. But PM, being so widespread can easily make up for lost sales in other parts of the world. Sadly (on humanitarian basis), 2/3rds of Indonesian men smoke according to this report and tobacco advertising is not banned in quite a few countries yet, including Indonesia. The chart below from Trefis.com shows where the bulk of PM's revenue comes from.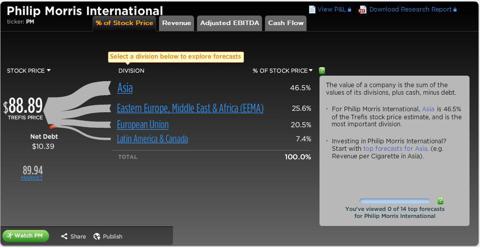 Click to enlarge
(Source: Trefis.com)
Conclusion: While this article in no way endorses smoking, from an investment perspective, Philip Morris has quite a few attractive aspects in spite of these concerns. Meanwhile, current holders will soon be getting their "smoking" hot new dividend of 85 cents a share in about a week's time. If you do not need that dividend money right away, you may want to consider reinvesting it back into PM.
Disclosure: I am long PM. I wrote this article myself, and it expresses my own opinions. I am not receiving compensation for it (other than from Seeking Alpha). I have no business relationship with any company whose stock is mentioned in this article.