The home security company, ADT (NYSE:ADT) is scheduled to spin-off from Tyco (NYSE:TYC) in October 2012 and join the S&P 500 index. This reverses Tyco's acquisition of the company in 1997. This article looks at the company's strategy, then determines its valuation.
Why Spin-Offs Are Worth Exploring
As Joel Greenblatt has written in his book You Can Be A Stock Market Genius, focusing on special situations such as spin-offs can be a way to outperform the broader market. Credit Suisse have quantified this intuition here, showing that the median spin-off outperforms the market by 22% in year one, though it is a volatile strategy so risk is also relatively high, though many spin-offs do very well there are also several that perform very poorly.
Background on ADT
ADT has 25% share in the highly fragmented residential and small business security market worth about $13B, with 1-2% market growth historically. ADT's strong market share is a clear strength when paired with their strong distribution network of almost 450 authorized dealers and 200 branches.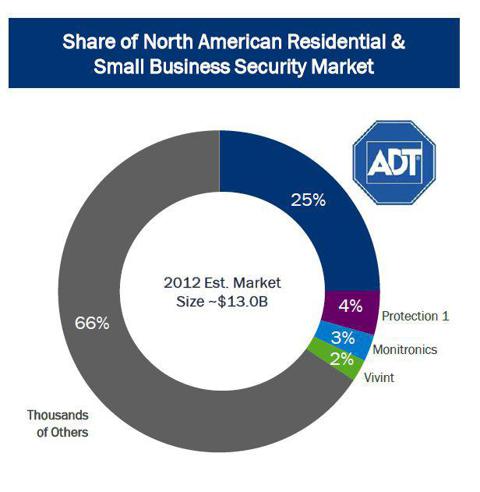 source: ADT analysis, IMS
Product Portfolio
ADT's business is primarily in residential security, though their monitoring capabilities extend beyond burglar alarms to other forms of monitoring (fire, carbon monoxide, flood) as well as medical alerts. ADT's systems can also be used by small businesses for security and surveillance. Increasingly, ADT is focused on web based and app scenarios e.g. setting and monitoring/viewing alarms remotely.
Strategic Priorities
ADT's strategic priorities are relatively uncontroversial, strengthening the core and extending leadership represent the fairly similar priorities of continuing to focus on the levers to drive the business. Investing for growth implies broadening the portfolio into scenarios such as the connected home and interactive services, essentially selling more to their substantial base of existing customers.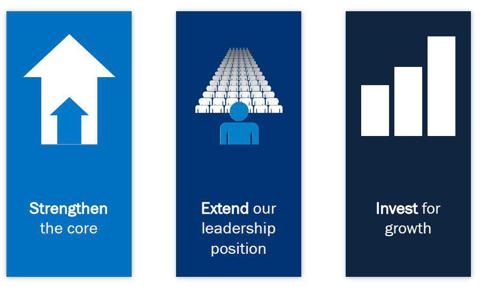 source: ADT
Acquisition Risk
However, this also makes acquisitions very tempting, which is often a negative for investors given the risk of overpayment. For example, ADT acquired the second largest player, Broadview Security in 2010 for $2 billion or about 3x Broadview's sales at that time. However, acquisitions cut both ways, and just as ADT was acquired by Tyco in 1997, so today there are rumors that AT&T (NYSE:T) may be interested in acquiring ADT accelerate AT&T's push into household security given the company already has strong relationships with many households via phone services.
Strategic Summary
ADT appears a sound business and is well positioned within its market. The home security market is likely to continue to grow in low single digits and ADT may continue to outperform the market given economies of scale through being the largest player. The main risk is overpaying for acquisitions, but equally ADT could be considered an acquisition target.
Next, we explore what the business is worth using multiple techniques:
Price to Earnings
In 2011 ADT earned $376M of net income and the market P/E is currently 15.48 yielding a valuation of $5.8B or $25.31 per share (assuming 230M shares outstanding).
Price to Cyclically Normalized Earnings
On challenge with just looking at a single year of earnings is that earnings vary through the business cycle, to normalize for this one can look at the average across multiple years (this is sometimes called a Shiller PE after the idea's main proponent). However, for ADT this approach is less helpful for two reasons (1) an acquisition in 2010 significantly increased earnings in 2011 (2) the business is relatively stable through the business cycle and therefore the need for normalized earnings is less acute.
An averaged net income value for the company for the past 5 years is $258M as the chart below shows. The current Shiller PE for the market is 22.59, which would suggest a valuation for ADT of $5.8B or $25.37 per share (assuming 230M shares outstanding).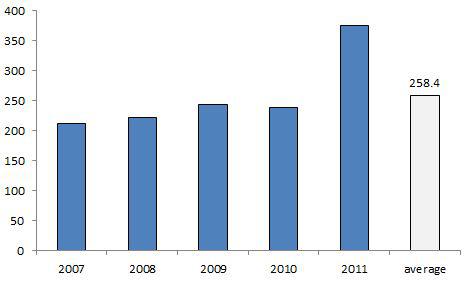 Dividend Yield
For page 9 of ADT's Form 10, ADT intends to pay a dividend of $0.50 per share annually.
We intend to pay quarterly dividends in an amount that approximates
our proportionate share of the $1.00 per share annual dividend that Tyco currently pays to its shareholders, or approximately $0.50 per ADT share annually (based on the number of Tyco shares outstanding on, 2012 and a one for two distribution ratio).
The average dividend yield on the S&P 500 is currently 1.97%. If ADT's yield were to equal that of the broader market, then a fair price per share on this basis would be $25.38 per share ($0.50/1.97%).
Price to Book
Shareholder's equity on a pro forma basis is $5.1B from page 60 of ADT's pro forma disclosures and if we assume that 1.5x book is a fair multiple for a company such as ADT, then the resulting valuation per share is $33.26.
Price to Cashflow
Free cashflow to equity from the most recent 4 quarters on a pro forma basis is $475M from page 73 of ADT's pro forma disclosures. I typically assume a 5% free cashflow yield represents fair value (unfortunately I don't have good comps for FCF) yielding a $9.5B valuation or $41.30 per share.
Conclusion
Though no valuation method is perfect and all have their strengths and weaknesses, we can average the five techniques above to obtain an estimate of ADT's value.
| | |
| --- | --- |
| Method | Valuation |
| P/E | $25.31 |
| Cyclical P/E | $25.37 |
| Dividend Yield | $25.38 |
| Price to Book | $33.26 |
| Price toCashflow | $41.30 |
| Average | $30.12 |
Prior to listing, ADT was trading on a when issued basis in a $36-38 range. This represents a 23% premium to my valuation and I would avoid the stock as a result. Note this does not mean I would short it because stocks trading within +/-25% of their fair value is very common and mean reversion can be a very slow process.
I would typically look for a 20% margin of safety on any purchase and therefore look to acquire ADT below $26 if nothing changed, or revise up (or down) my numbers dependent on ADT's performance as an independent company in 2012 and 2013.
Risks
There are two main risks to avoiding ADT based on this analysis
Acquisition - often when companies are acquired they are sold at a premium to their intrinsic value, given speculation that AT&T may acquired ADT, this may drive up the share price.
A lot of the valuation metrics used above are essentially backward looking in nature. However, ADT appears to be on track for a strong 2012, to the extent this materials and is sustainable in future years, it will drive up the valuation as a result.
Sources:
Disclosure: I have no positions in any stocks mentioned, and no plans to initiate any positions within the next 72 hours. I wrote this article myself, and it expresses my own opinions. I am not receiving compensation for it (other than from Seeking Alpha). I have no business relationship with any company whose stock is mentioned in this article.