Small Cap ETFs Lead the Way in Recovery Periods
Small-cap ETFs are leading the charge as the markets begin to show tentative signs of recovery.
The downtrend in July was bucked by the iShares Russell 2000 Index (NYSEARCA:IWM) with a 3.3% gain, reports Trang Ho for Investor's Business Daily. It handily outpaced the SPDRs (NYSEARCA:SPY), which lost 0.9%. Year-to-date, the Russell is down 6%, while the S&P is off by 13%.
Performing even better was the iShares Russell Microcap Index (NYSEARCA:IWC), which gained 4.6%.
If we continue to trend toward economic recovery, small-caps should perform best. That's because their small size makes them more nimble and quicker to act when the conditions are favorable. The opposite is true, as well: when the going gets rough, riskier investments tend to be the first to go as investors seek refuge in blue chips.
Other small caps include:
SPA Market Grader Small-Cap 100 (SSK), down 10.3% year-to-date
First Trust Small Cap Core AlphaDEX (NASDAQ:FYX), down 6.4% year-to-date
PowerShares Dynamic Small Cap (PJM), down 3.9% year-to-date
RevenueShares Small Cap (NYSEARCA:RWJ), up 2.7% since March 17 inception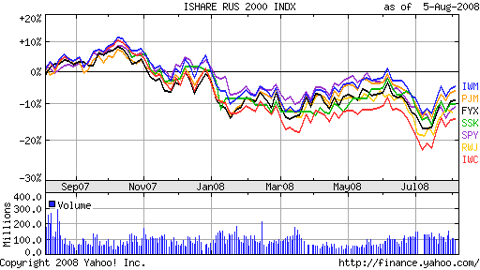 Click to enlarge
Foreign Currency ETFs Strong in July
Last month, the U.S. dollar staged a rally, but foreign currency exchange traded funds still pulled through with some decent performance.
The top performer was the WisdomTree South African Rand (NYSE:SZR), which returned 7.6% in July, reports Jesse Emspak for Investors Business Daily.
Although the dollar rose up against the British pound and yen, it fell against the rand by 5.4%.
Also ahead of the dollar were the BRIC currencies, particularly the WisdomTree Dreyfus Brazilian Real (NYSEARCA:BZF). The fund was up 3.3% for the month.
The dollar has fallen against the Mexican peso by 8.2% since the start of the year. CurrencyShares Mexican Peso Trust (NYSEARCA:FXM), up 13% year-to-date, reflects this.
Among the funds that have one-year records, the numbers are impressive:
CurrencyShares Euro Trust (NYSEARCA:FXE) is up 18% in the last year
CurrencyShares Australian Dollar Trust (NYSEARCA:FXA) is up 17.1% in the last year, although it has taken a hit in the last month by falling 1.3%
Some of the top-performing funds belong to currencies in emerging markets. Why? High interest rates.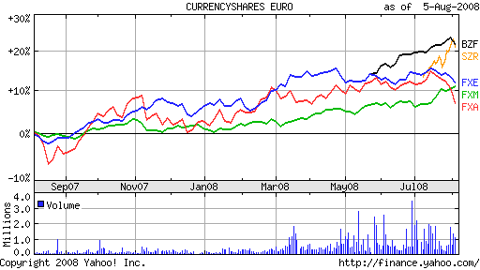 Click to enlarge
a