The market is approaching its highs of the past four years. That means the average buy and hold investor is approaching breakeven. It also demonstrates why most investors need to learn new tricks. One instrument that seems lacking in most investor's toolboxes is the use of options and option strategies. It is one of the most important methods to hedge risk and/or increase returns that serious investors need to learn to deploy. One of my favorite strategies is the use of the slightly out of money bull market put spreads on stocks I like at current levels. I love and have profitably initiated this strategy several times in the last year on Apple (NASDAQ:AAPL), which is one of my favorite tech stocks. I have found this strategy works well every time Apple has a 5% pullback (See Chart). I will sell a put roughly 5% below the current stock price while simultaneously buying a put approximately 10% under the current price on APPL. This lowers the collateral I have to put up in my brokerage account, hedges risks and enhances risk adjusted return.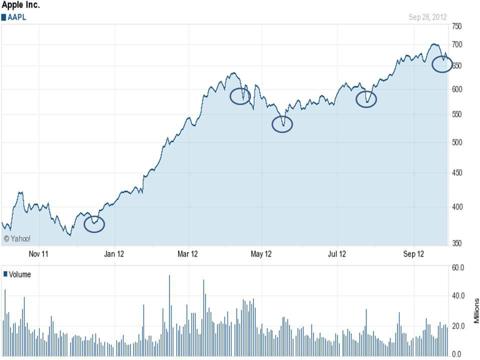 Click to enlarge
To demonstrate, on Friday I actioned a bull market put spread on Apple when it dipped under $670 (down from over $700) on concerns about the mapping issues in the iPhone5 (which I believe are overblown). I sold the Dec 640 puts while at the same time buying the Dec 610 puts. I pocketed the $9.50 per share spread.
If Apple stays above $640 when the option expires on December 22nd, my play will have an effective return of over 140% on my collateral posted (365/85 days until expiration * $9.50/$30 collateral required).
Obviously if Apple shoots up I will have less of an overall gain than buying and holding the stock, although the percentage return will be less due to having to hold the stock.
In worst case scenario and Apple craters to say $500 a share in any overall market meltdown, I get Apple shares for an adjusted $520.50 ($500 + $20.50 in temporary option loss) which a much better scenario than buy and hold. I can then sell call options against position should I choose as well.
4 reasons Apple is likely to be over $640 a share when my options expire in December:
Disregarding the mapping issues, preliminary sales of iPhone5 are encouraging and the company is just scratching the surface of a huge market (AKA, China).
Given its growth rate of earnings and revenues, less than 13 times forward earnings is ridiculously cheap for Apple.
The company has over $100B in net cash on its balance sheet and also yields 1.6%.
Apple is tracking to around 45% revenue growth in FY2012 and analysts have just under 25% sales increases projected in FY2013, which will probably prove conservative given Apple's history. The stock sports a five year projected PEG of under 1 (.65).
Disclosure: I am long AAPL. I wrote this article myself, and it expresses my own opinions. I am not receiving compensation for it (other than from Seeking Alpha). I have no business relationship with any company whose stock is mentioned in this article.