I sold the last of Goodrich Petroleum (GDP) Wednesday - what timing. I did not even realize earnings were out post close - they were ok (hedging techniques bit them) but Thursday morning an analyst came out and said GDP should be 83% higher. Gee thanks - you could of not told the world that anytime in the past month? :)
A Jefferies & Co. analyst on Thursday estimated that shares of oil and natural gas company Goodrich Petroleum Corp.

are worth about 83 percent more than their current value, despite the company's recently reported quarterly loss

.
Goodrich shares, which hit a high of $86.18 on July 2, closed Wednesday at $45.95.
Jefferies & Co. Analyst Gary Nuschler Jr. rates the stock "Buy" with a

price target of $84, citing Goodrich's report of encouraging results from two of the company's vertical Haynesville wells in East Texas

.
I said the stock was dead to me until it closed back over $52... of course within 24 hours its back up over $52. Ah, markets....
We did not have a large enough position where this would of had a material impact but ... it's still ironic. I still think this whole complex is a hostage to oil which aside from flipping a coin heads or tail each morning I have no idea on the direction so I'm not adding back - just commenting. That's one thing about transparency - you're going to see some "ironic" trades along with some good ones. 
Independent oil and gas explorer

Goodrich Petroleum Corp (GDP)

posted an

eight-fold increase in its second-quarter net loss as it was hurt by charges on derivatives trading

.
The company reported a net loss applicable to common stock of $39.0 million, or $1.21 a share, compared with a net loss of $4.8 million, or 19 cents a share, a year earlier.
The Houston-based company said the latest second-quarter results include losses of $48.9 million on derivatives not designated as hedges, which include non-cash, unrealized losses of $46.9 million.
Revenue more than doubled to $65.2 million, as production rose 64 percent to 6.1 billion cubic feet equivalent. Average sale price of oil doubled to $121.51 per barrel and the average sale price of natural gas rose 38 percent to $10.18 per thousand cubic feet.
It is sort of funny to see - I guess many people in the natural gas industry never assumed natural gas prices could spike as high as they did, because just about every company in the space I caught an earnings report on, reported massive hedging losses. Of course that does not change the base business but it appears you need to be a good commodities trader as well as run your operations to make money quarter to quarter in the natural gas space. ;)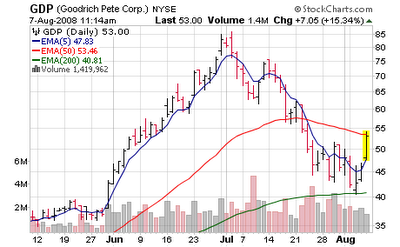 Disclosure: Author has no position.